Yesterday, we kicked off our Zoobean Hangouts on Air series with beloved children's book author and illustrator, Todd Parr. 'Tis the season to be grateful, and no picture book sends that message better than Todd's The Thankful Book. Meeting Todd and confirming that he is a likable, kind person was not a surprise (his books sort of give that away). But when he told us, "I was a horrible student and a slow reader," well, that stunned me. What's more, Todd is incredibly humble and self-deprecating, referring to his work as "chunky monkey art," and "not better than a 6 year-old." The irony is too much to take. Todd had trouble with reading throughout his childhood. And as anyone with little kiddo and a Todd Parr book will tell you, Todd's own books are inspiring kids everywhere to get excited about reading. Sounds like little Todd Parr needed, well, Todd Parr. Our hangout with Todd was brief but meaningful. What did we learn from Todd?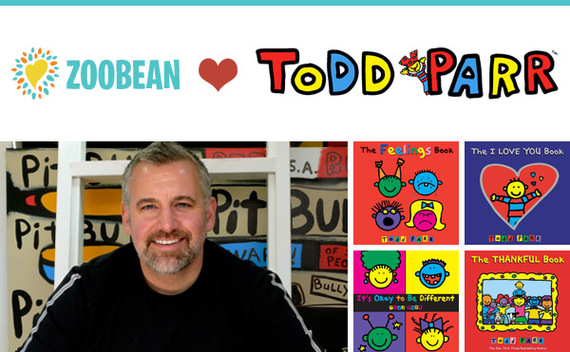 Reading time is not quiet time!
"Reading time is not about quiet time, it's about engaging kids. It's about bringing them into the process, asking questions, asking them if they want to write their own book... I make them a part of the process."
Todd suggested that we too often associate reading with quiet, sitting down, and utter calmness. He said he can see many adults get nervous when he truly engages auditoriums full of kids in zany, engaging activities during what are supposed to be his straightforward readings. Todd, someone who himself struggled with reading, intuitively recognizes the need for kids to get excited about books and reading. That means being okay with kids going a little bit nutty during storytime, especially at home!
Teachers are just teachers... to little kids.

"I love teachers. They do so much and give so much and when you're younger, a teacher is just a teacher. You just have to go to school but they are these wonderful people that make huge differences in people's lives...they were just trying to help me."
In retrospect, despite his troubles in school as a child, Todd still appreciates all of his teachers. He gave a good reminder to us parents. Sure, we know that our kids' teachers are doing incredible, oftentimes thankless, work for them. For many children, however, teachers do not naturally hold this special place. We have to remind our kids often about the incredible gift that education is and how lucky we are to learn and engage, thanks to our teachers.
Encourage your kids to be who they are.
"I didn't want to draw a bowl of fruit!"

We can all see what a talented artist Todd is, and yet, he didn't feel like he was talented at all as a kid. His style was different, and he didn't want to draw still life, or do the exact project presented in art class. Thankfully, Todd had family members who encouraged his artwork, despite these early challenges. That encouragement ultimately led to Todd becoming an artist and now writer.
Keep it simple. Be kind. No matter your circumstance.
"My dad and my grandma, they always reminded me, no matter what happened, for me to be nice and for me to be kind...I love to help kids and make a difference."
Todd's mom passed away at a young age, and his grandma played a major role in raising him. He is a doting grandson to say the least, and in many ways has her to thank for inspiring him to pursue his artwork. Todd said he felt like he was the weirdest kid in town, simply out of place. But despite that, despite the teasing and difficulty in school, he was always kind to others. Now, he spreads that message through his books.
Since the moment I picked up a Todd Parr Book, I've simply loved his work and style. After hanging out with Todd, I'm even more inspired by his humility and kindness. My son calls Todd, "Love Todd," because of the notes in the back of all of his books. You know what? I would say that is just about right.
Below you can watch the whole video (with 7 seconds of technical difficulties at the start -- oops :).