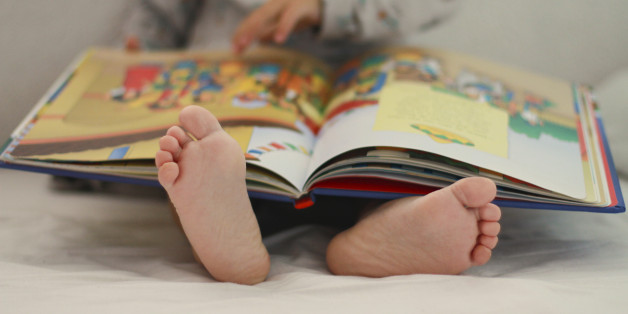 As a part of our Zoobean Experts on Air series, I sat down this week with Jason Boog, author of Born Reading: Raising Bookworms in a Digital Age. When his daughter Olive was born, Jason used his skills as a journalist and his "investigative toolkit" to identify the resources and skills he needed to make himself "a better parent." Jason compiled his findings into this playbook for parents, which teaches us on how to easily become interactive readers with their kids." For those who aren't already reading in this way with their children, it can take a few readings to get comfortable with this style, but the benefits are immense.
According to Jason, the most important keystones of his Born Reading Playbook, are:
Read together. Make sure you are sitting there reading or using the app with your child. That's where all the benefits happen, when there is a human being reading to the child. Apps that read to you are great, but don't count that as your interactive reading time.
Ask lots and lots of questions. When you're reading the book, at each step of the way, ask a question. How would you feel... what do you think about... what colors do you see.... where is something red... Ask questions, and let them know if they have questions, they can ask you. Once you model that behavior, they learn how to practice it themselves.
How long does it take to process and practice the tools in his playbook? About 30 minutes. And with that, we can boost our kids' learning (and apparently IQ scores) significantly.
For all of the tired parents out there who struggle to fit in the 15-30 minutes of read aloud time with kids each day: "But isn't it enough to just read each day?"
Yes! Jason stressed that "any kind of reading is good for your child. The most important piece is to read with your child," and the playbook simply augments that experience. As Jason noted, "We've had this research for 25 years. The core techniques [for interactive reading] you can learn in a half an hour to an hour. Once you learn them, you'll never read to a child the same again...But I couldn't figure out why no one was talking to me in the hospital about this."
My sister is due in October with her first child. And while I expect she'll leave the hospital armed with information on breastfeeding and basic development milestones, I'm not so sure that she will leave with some of the most important information needed for building literacy in her new child's life. I remember my own initial experiences in the hospital and then at the pediatrician with my first child. We talked about everything from the color of his poop, to how to bathe him. But we never discussed the importance of reading, and how to read to our kids. With the new American Association of Pediatrics recommendations to read to our kids starting at birth, this should change. Still, for many parents, the idea of reading to a newborn seems a bit odd, and knowing what to read or how to read as they grow up can be a daunting task. Jason's book (and of course Zoobean!) help make this important parental role easier and more accessible for all of us.
Jason noted that with the onset of widespread use of devices for reading, we are living in a bit of a dangerous time. We could "accidentally" stop modeling behaviors and reading habits that our kids need to see, without even thinking about it. I'll let Jason have the last word on how we can avoid that reality:
The future of reading is in our children's hands. And it's up to us to show them why [reading] still matters in this world with lots of bells and whistles and other devices that will show you other ways to have those experiences... I wouldn't be a reader unless my parents had read to me. It's a set of motions you have to learn and have to model over and over and over for many, many years to produce someone who loves books. It's not inborn [in us]. You have to learn it. And you learn it from your parents and your caregivers.