The Andrew Luck vs. Peyton Manning comparisons have been made time and time again. Now Luck gets his chance to do what one of the greatest never could: win a playoff game in Foxboro.
Manning lost two of those during his 13 seasons with the Indianapolis Colts. On Saturday, Luck -- whose Colts fell 59-24 last season at New England -- gets a shot at Indy redemption. Meanwhile, for Tom Brady and the Patriots, it's business as usual, despite the absence of All-Pro tight end Rob Gronkowski.
Let's take a look at the keys to each offense in one of this weekend's most anticipated Divisional Round match-ups.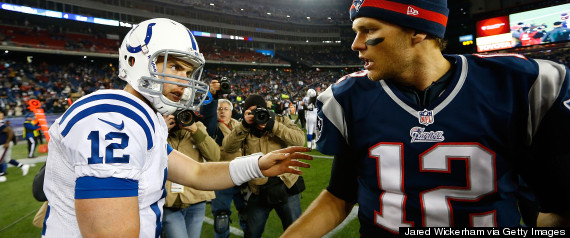 When Luck is on the field:
Luck's mobility has become a real weapon. Don't forget that he ran 40 yards in 4.6 seconds at the NFL Combine, and whether it was breaking free for a big run against Kansas City or simply extending a play with his legs, he has been extremely dangerous on the move.
But the Pats, anchored by defensive end Chandler Jones, possess an elite pass rush that ranked fifth in the NFL in sacks this season with 48. If Luck is not protected, his checkdown passes to running back Donald Brown, along with the screen game, will play a huge role in Indy's ability to consistently move the ball. Remember, the Pats' Pro Bowl cornerback Aqib Talib will be matched up with Indy's T.Y. Hilton the entire game, and the Pats are going to do everything they can to limit Hilton's vertical attempts.
When Brady is on the field:
Speaking of elite pass-rushers, look no further than the Colts' All-Pro Robert Mathis, who had 19.5 sacks this season. And for the first time since 2001, Brady was sacked 40 times during a full season. Last week, after being lit up in the first half against the Kansas City Chiefs, the Indy defense settled down, as expected. Having held opponents to 17 or fewer points seven times this season, that defense might be better than you think.
Still, Brady is sure to find holes in the secondary, just as the Chiefs' Alex Smith did. We can point to his 87.3 passer rating -- his lowest in a decade -- but a lot of those struggles came without receiver Danny Amendola working the slot. Amendola and Julian Edelman (105 catches, 6 touchdowns) provide Brady with two terrific options in the short and intermediate game.
Brady will also look to victimize Indy's defense with a slate of play-action passes, because running backs LeGarrette Blount and Shane Vereen -- an excellent option to receive out of the backfield -- should be able to consistently run the ball. As a team, New England tied for second in the league with 19 rushing touchdowns.
Email me at jordan.schultz@huffingtonpost.com or ask me questions about anything sports-related at @Schultz_Report, and follow me on Instagram @Schultz_Report. Also, be sure to catch my NBC Sports Radio show, "Kup and Schultz," which airs Sunday mornings from 9-12 ET, right here.