He may have said it was just another game, but Kansas City head coach Andy Reid's return to Philadelphia Thursday night certainly did not feel like a normal game.
It was a night of nostalgia for Eagles fans. Former quarterback Donovan McNabb had his No. 5 retired by the team at halftime, and Reid -- who won 130 regular-season games with the Eagles -- returned in the unfamiliar orange and red of the Chiefs. Both men were well received by the notoriously roisterous Philly fans.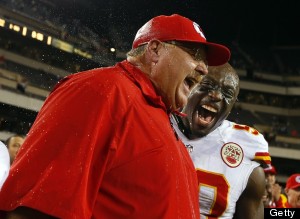 Reid celebrates after the win with linebacker Justin Houston.
With the gadget-happy, quick-triggered head coach Chip Kelly leading the team that had been Reid's for more than a decade, the latter's cool demeanor seemed to emanate a sense of calm to his new Chiefs. One couldn't help but be struck by the stark contrast in the coaching styles on display: Reid, the model of consistency, facing off against Kelly, of the odd formations and failed swinging-gate 2-point conversions.
Kelly, for his part, having dominated college football at Oregon with his robust offense and forward-thinking style, has now seen his offense work for only two of 12 NFL quarters. All the hype from the Week 1 game against Washington has subsided, and the team has now dropped two straight at home. To be fair, Kelly hasn't exactly been dealt the best hand: Jeremy Maclin, a highly capable and game-breaking receiver, is out for the year, and the Eagles defense is porous.
It's too early to deem Kelly's pro tenure a failure, just as it's too early to deem Reid's new chapter in Kansas City a success. But at the very least, one should take note of Reid's ability to connect with his players, both current and former.
Many Chiefs players talked before the game about needing to win for their leader. And while it may seem odd that they dumped a bucket of Gatorade on him after a win in September, Reid simply inspires that kind of enthusiasm. Even after the convincing 26-16 loss, the Eagles players, including Michael Vick, approached Reid with pure joy.
And the Chiefs -- who are now 3-0 for just the eighth time in franchise history
-- could not be happier to have him.
Email me at jordan.schultz@huffingtonpost.com or ask me questions about anything sports-related at @Schultz_Report. Also, be sure and catch my NBC Sports Radio show, Kup and Schultz, which airs Sunday mornings from 9-12 ET, right here.