For the first time in his young career, San Francisco 49ers quarterback Colin Kaepernick is going through a rough patch. And while it's probably to be expected, Kaepernick had been so good that it almost seemed for a moment like he might be immune to such a stretch.
To see such a typically dynamic young player look so ordinary raises a red flag. In Sunday's 27-7 home loss to Indianapolis -- San Francisco's second-straight blowout defeat -- Kaepernick threw for a measly 150 yards, completing just two passes in the first half. On one hand, the 25-year-old is missing his favorite target in Michael Crabtree, who, along with the speedy Mario Manningham, is out with an injury. Then again, Kaepernick embarrassed Green Bay in Week 1 with over 400 yards through the air, so their absence hasn't totally held him back. By contrast, against Indy -- not exactly a defensive stalwart -- Kaepernick ran for 20 yards and looked uncomfortable in the pocket for the entire 60 minutes.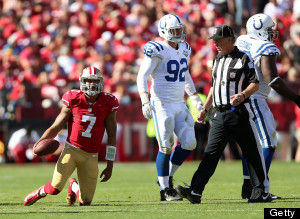 Colin Kaepernick looks on against the Indianapolis Colts on Sept. 22 in San Francisco. (Photo by Jed Jacobsohn/Getty Images)
Sunday's game was also his first home loss since taking over as the starter last November. The 49ers are now 1-2, and two games back of the very impressive 3-0 Seattle Seahawks, who trounced them on Sunday Night Football last week. When you're a rising star in this league, as Kaepernick surely is, uneven performances can be magnified -- particularly when you have a losing record.
Oddly, the 49ers, who ran the read-option all the way to the Super Bowl last season, have abandoned the tactic for a more traditional look. And Kaepernick, who last year completed 55.6 percent of throws 10 yards or more (per ESPN Stats & Info), has seen that number plummet by 20 percentage points through the first three weeks of this season.
Whether or not the 49ers return to the read-option, something has to change. Keeping Kaepernick bottled up in the pocket is like keeping a Ferrari in the garage. He is too talented and too special to be merely a drop-back passer, and even a slightly conservative offensive game plan is a waste of that talent. Let Kaepernick loose, or Jim Harbaugh's first pair of consecutive losses could stretch out into a dangerous trend.
Email me at jordan.schultz@huffingtonpost.com or ask me questions about anything sports-related at @Schultz_Report. Also, be sure and catch my NBC Sports Radio show, Kup and Schultz, which airs Sunday mornings from 9-12 ET, right here.