Tuesday night in Chicago showcased college basketball's most-anticipated tipoffs of the season, with a scout from every NBA team attending, as ESPN noted. Kentucky boasts an NCAA-record six McDonald's All-Americans, Kansas is backing up its incessant Andrew Wiggins hype and Duke is highlighting Jabari Parker, the second-ranked player in the 2013 freshmen class. All of these players could become the top pick in the 2014 NBA draft, but while several freshmen made statements with their play Tuesday, it was Parker and Kentucky's Julius Randle who made the loudest ones with their performance.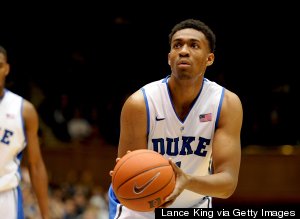 Jabari Parker couldn't have been more impressive against fifth-ranked Kansas. (Getty Images)
Both Parker and Randle are NBA ready today -- right now, either one could step on a professional court and be effective.
Let's start with Parker, because despite Duke's 94-83 loss, he was sensational, totaling 27 points and 9 rebounds on 9-18 shooting. At 6-foot-8, Parker has remarkable versatility. He will gladly take you outside and bury a 3. He will jab at you from the high post and go right by you. And then, just when you think you've figured him out, he will go on the block and use his superior footwork and basketball acumen to beat you once more with his soft touch. And, as we saw Tuesday, he uses that deft handle on the ball, along with his big frame, to get anywhere he wants on a one-man break. While the comparisons to Carmelo Anthony may be overplayed, they aren't exaggerated. Parker doesn't possess Anthony's hyper-explosive element in his own game, but he's so smart, skilled and unselfish that it doesn't matter. I would argue that he's already a better passer than Anthony, not to mention a more committed defender.
As for Randle, he's only 18, but on the court, he's a beast. He tore up a monstrous Michigan State frontline -- including potential first-round draft choice Adreian Payne -- that prides itself on defense and rebounding under head coach Tom Izzo. Randle, at 6-foot-9, can control a game both on the glass (he had 13 boards against the Spartans), and also with his overall scoring game (he's averaging 24 points). He doesn't have the range of Parker, but he is clearly comfortable out to 16 feet where he will take you left with two dribbles, then put his head down and find a way to score or draw a foul. But what may be most impressive about Randle is how he repeatedly runs the floor and finishes in transition. He has great hands and will consistently beat other big men down the floor in the transition game, something most NBA bigs struggle with.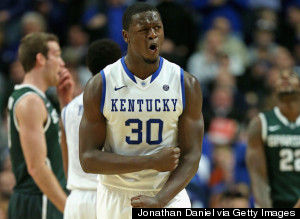 Randle is just a lot to handle, and the potential first overall draft choice come June. (Getty Images)
The evaluation process for both Parker and Randle -- not to mention Wiggins and the rest of this superior freshmen class -- will continue all the way throughout March and into pre-draft process for those who declare. But these early season games are a great test to see how guys respond under the brightest lights against the most elite competition. Clearly, on Tuesday, Jabari Parker and Julius Randle were the most ready.
Email me at jordan.schultz@huffingtonpost.com or ask me questions about anything sports-related at @Schultz_Report. Also, be sure and catch my NBC Sports Radio show, Kup and Schultz, which airs Sunday mornings from 9-12 ET, right here.