The Dwight Howard sweepstakes have come and gone. On July 10, the former Lakers player will officially become a Houston Rocket. Howard's boundless indecision over his decision has been met with appropriate terms like "Dwightmare" and a palpable sense of confusion. But the questions still remain: What does the decision mean for fans? And what will Howard's choice mean for his future?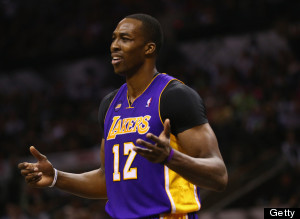 Dwight Howard heads to Houston, where he will have his fourth head coach in three seasons. (Getty Images)
For starters, Howard's decision proves what we thought all along: His situation in Los Angeles was so fractured that not even an extra $30 million could entice him to remain in Title Town. He's been adamant that Houston's ability to offer a contending roster from day one was the deciding factor.
"Financially, [I am] leaving that much money on the table, leaving a storied franchise, but this is an opportunity for me to write my own story," Howard told ESPN.
Howard may very well write his own story in Houston, but the petulant 27-year-old and his inability to make a decision made Brett Favre's debacle in Green Bay look like a walk in the park. In fact, Howard, who was once a media darling and beloved young buck in Orlando, has in many ways become the NBA'S newest version of LeBron James from three years ago. James, on the heels of two straight titles and yet another MVP, has moved past the vitriol many fans of the game once associated with his name. But Howard has been unable to move away from what seems to be a growing sense of entitlement and arrogance -- including running Stan Van Gundy out of Orlando only to pretend like he didn't, and an 82-game pouting session in LA.
Of course, all of that can disappear. Just as James has done in Miami, Howard can rectify his tarnished image -- by winning. Systematically, it's rather hard to argue that the Rockets do not offer an ideal fit. Head coach Kevin McHale has already drawn rave reviews from players and fellow coaches, and he would seemingly understand how to utilize Howard's gifts given his background as a three-time champion and Hall of Fame power forward. James Harden is an emerging superstar, Chandler Parsons is one of the best young stretch 4s around and Omer Asik is a premier defensive center who can save his minutes -- if he doesn't end up being traded. GM Daryl Morey, the sabermetrics leader of this league, has demonstrated a real knack for extracting value from players who are not as highly regarded -- with Parsons as the prime example -- and Howard was clearly attracted to the future there.
But how Howard responds to Houston's dynamic pick-and-roll game with Harden will be a vital factor in determining if this marriage ultimately works. In LA, Mike D'Antoni essentially designed a carbon copy of what Van Gundy ran for Howard in Orlando by utilizing D12 in a pick-and-roll. Yet Howard -- who has ranked in the 99th, 99th and 96th percentile the last three seasons as the screener, per Synergy -- has made it clear that he wants to be a more classic, post-up big. Despite his obvious gifts, Howard has never become an elite back-to-the-basket center, and his sinuous paths to the rim are much more efficient as a screening or slipping pivot man. These are legitimate shortcomings for an All-NBA performer stepping into an organization, and could cause trouble for a fan base expecting nothing less than a world championship in the near future.
Email me at jordan.schultz@huffingtonpost.com or ask me questions about anything sports-related at @Schultz_Report. Also, be sure and catch my NBC Sports Radio show, Kup and Schultz, which airs Sunday mornings from 9-12 ET, right here.