Game 4 of the Finals marked the first time during the 2013 NBA Playoffs that Dwyane Wade wasn't dragging. He wasn't timid either. Wade, who has been dealing with an injured right knee, came out with the fire, intensity and brashness that we normally expect from the former Finals MVP, aptly nicknamed "Flash," yet haven't really seen in months.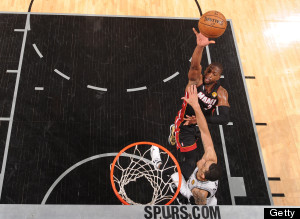 For the first time since March 4, Heat star Dwyane Wade recorded a 30-point game. (Getty Images)
LeBron James is the Heat's best and most gifted player, but as I've highlighted before, his sidekick's ability to attack the defense often dictates how well LeBron will play. Miami head coach Erik Spoelstra has said that Chris Bosh is the most important player for his team, but Wade is the unquestioned warrior. Simply put, Wade -- who was nothing short of sensational in Game 4 with 32 points (his first 30-point outing since March 4) and six steals -- is a the type of guy you want to go to battle with.
Meanwhile, the 31-year-old is averaging the fewest minutes, points, field goal attempts and, perhaps most telling, free throw attempts of his nine playoff appearances.
"I needed a game like this," he said Thursday night, after the Heat evened up the series 2-2 with a 109-93 win. "No, I don't feel like it's 2006. But it felt good."
San Antonio had a golden opportunity to go up 3-1 at home on the defending champs, but it wasn't a wasted game for the Spurs. They came out guns blazing, jumping out to a quick 10-point lead, as if to say, "Our foot is still on that pedal."
But James -- after seeming detached in Game 3 -- attacked the lane with reckless abandon, becoming a single-man fast break, and Wade was hyperactive on defense with those super quick hands. The enigmatic Bosh actually ran the floor and protected the rim, playing by far his most complete game of the series.
During the Heat's 27-game winning steak this season, these Big 3 players were so dominant and so well in tune with one another that it almost seemed unfair. Yet Wade's health issues, coupled with James' surprising struggles and Bosh's inactivity, made the Spurs -- even in their Game 2 loss -- seem like the more complete and more cohesive team three games into the Finals. After 48 minutes on Thursday, though, that seems like an old memory.
This isn't to say that this can't change come Game 5; it can. But take a moment to consider just how special the Big 3 were in Game 4: Wade went 14-25 and James finished 15-25. All in all, they combined for 85 points, 30 rebounds and nine assists. The Spurs, who had been packing the lane on both James and Wade, were unable to discourage the attack-minded duo and surrendered far too many transition buckets. Remember that through the first three games against Miami, San Antonio had held James to 18 points or fewer.
On the topic of Big 3s, we would be remiss to ignore the staggering ineffectiveness of the third member of San Antonio's own Big 3, Manu Ginobili. While Gregg Popovich has stolen minutes from both Danny Green and Gary Neal, Ginobili has been mired in a 35-percent shooting stretch against the Heat. More important, four games have passed and he's yet to discover any consistent gaps in the paint for his trademark knee-jerk drives. Aside from Tony Parker, he is really the only threat the Spurs have in terms of putting pressure on the Heat defense in a drive. But Ginobili, who will be a free agent this summer, is averaging just 7.5 points in the Finals, despite playing lots of minutes.
With the 2-3-2 Finals format, the Spurs still have a good chance to head back to South Beach having to win only one of two on the road. That all depends on Sunday night in South Texas though, where questions surrounding Wade's health -- can he bounce back with the extra day's rest? -- along with LeBron's mindset and Bosh's willingness to once again be a two-way player, will be answered.
Email me at jordan.schultz@huffingtonpost.com or ask me questions about anything sports-related at @Schultz_Report.