October and November are sports nirvana -- and for good reason: Football is in full swing, baseball is building toward the World Series, and the NBA and NHL are getting started. But the fall is always hectic in real life, too, and you don't always have the time to take note of which marquee match-ups and less heralded games you don't want to miss. Perhaps it's only fitting then that on the weekend after Halloween, there are some spooky good games and story-lines!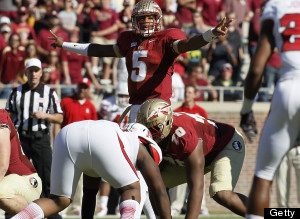 Quarterback Jameis Winston, Florida State's redshirt freshman, has the nation's best touchdown-to-interception ratio at 23-4. (Photo by Don Juan Moore, Getty Images)
College Football
With all due respect to Andrew Luck, "Famous" Jameis Winston might be the best quarterback prospect to come along in decades. The Florida State redshirt freshman was the consensus top-ranked high school player in America two years ago. Less than two months into his collegiate career, Winston has elevated himself into the Heisman discussion with a video game-like 23-to-4 touchdown-to-interception ratio and has earned himself a cool new Twitter friend:
This guy Jameis Winston made me a believer after 1 half of football

-- Kevin Durant (@KDTrey5) September 3, 2013
Meanwhile, the Seminoles find themselves firmly in the national title picture with a monumental matchup against in-state rival Miami, which leads the all-time series 9-3. And for those looking to make a wager, consider that the point spread -- currently at 22 in favor of FSU -- is the single biggest between two top-10 teams at this point in the season, according to Pregame.com.
NBA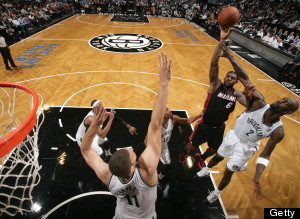 Kevin Garnett faces off against LeBron James and the Heat Friday night in Brooklyn. (Getty Images)
The Brooklyn Nets have put themselves nearly $90 million over the salary cap in their quest to dethrone the Miami Heat in the Eastern Conference. The Heat are trying to become just the third team in the modern era to win three consecutive titles, while the Nets (perhaps foolishly) believe they have what it takes to contend. After a rather chippy preseason, the Nets host their rivals Friday night at Barclays Center.
English Premier League
No other soccer league in the world has the depth and superstar power of the EPL. And a new deal with NBC is going to bring nearly 70 games over for broadcast stateside. On Saturday, check out a classic showdown between elite clubs Arsenal and Liverpool. The Gunners are first in the league and feature a robust and relentless scoring attack. The Reds are much improved this season with the addition of Kolo Toure, who played in 326 games over seven seasons for Arsenal, until the club sold him in 2009. They also have a red-hot Daniel Sturridge, who leads the league with eight goals, as well as the always-fiery Luis Suarez, who had a hat trick last weekend -- and is the same Suarez who was suspended for going all Mike Tyson and biting some poor guy's arm.
NFL
None of the match-ups in Week 9 of the NFL look great on paper, but one unexpectedly worthwhile game should be the New Orleans Saints against the New York Jets, whose 4-4 start has surprised everyone. The Saints have picked up right where they left off two years ago when head coach Sean Payton was suspended. Drew Brees' offense is averaging nearly 30 points a game, thanks in large part to tight end Jimmy Graham, whose Herculean efforts this season are threatening all-time records. Jets head man Rex Ryan has said that the Saints offense can "flat out embarrass you," but so can the Gang Green defense, a stout unit that ranks first in the league in defending the run (despite what Cincinnati did to them last weekend).
Another notable game is Miami vs. Cincinnati Thursday night, which finds two teams headed in very different directions. The Bengals have a red-hot Andy Dalton, who ranks fourth in the league in total yardage; he is also available in over 40 percent of fantasy leagues, which is just ridiculous.
A few other fantasy tips: Stay away from running backs Trent Richardson and Chris Johnson, and definitely stay away from Kansas City wide receiver Dwayne Bowe. Start wide receivers Denarius Moore and Darrius Heyward-Bey, Bengals running back Giovani Bernard and quarterback Terrelle Pryor. Moore has a great rapport with Pryor, Heyward-Bey should get a ton of targets against Houston, Bernard is expected to see double-digit touches, and Pryor is becoming a top-12 play every week.
Set those DVRs and settle in with a bucket of Halloween candy. The leaves can rake themselves this weekend, because this time of the year is special. You can thank me next week.
CORRECTION: A previous version of this article stated incorrectly that Luis Suarez bit an opponent's ear. He in fact bit Branislav Ivanovic's arm. Language has also been amended to clarify that Toure last played for Arsenal four years ago.
Email me at jordan.schultz@huffingtonpost.com or ask me questions about anything sports-related at @Schultz_Report. Also, be sure and catch my NBC Sports Radio show, Kup and Schultz, which airs Sunday mornings from 9-12 ET, right here.