With every Indiana miss, every questionable coaching decision or substitution by Frank Vogel and every lackluster defensive possession, the concern mounts. The Pacers, after posting a miserable 11-13 second-half record, have seen their top-ranked defense surrender 103.2 points per 100 possessions -- compared to 96.8 for the season -- over the past six weeks. But even after falling to sub-500 Atlanta in Game 1 (which the statistics do not reflect), the Eastern Conference's top seed shouldn't panic. Instead, making the necessary adjustments will prove crucial for the 40-year-old Vogel to avoid disaster.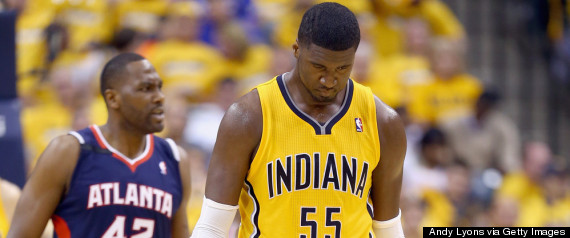 The first step is to force-feed All-Star center Roy Hibbert (pictured above) in the paint and see if he can't finally get his engine started again. Hibbert scored a mere 8 points in Game 1, most of which came after the outcome had been decided. The Pacers have struggled throughout the season to score in the half-court, but Hibbert is both a skilled scorer and passer from the block. The Hawks (or any opponent really), will look to counter with double-teams, but only when he shows effectiveness, which has hardly been the case over the past six games, where the 25-year-old has missed 30 of 37 shot attempts.
Vogel can overload the opposite side of the floor and allow his two best players -- Hibbert and Paul George -- to play a two-man game. Such a philosophy has been successful and yet, abandoned far too long since March. Hibbert must look to be more aggressive and show that he can score, because it will in turn force the defense to be honest. The Pacers were inexcusably outscored by 11 points with him on the floor during Game 1. What is even more surprising is the lack of defensive prowess they have displayed, but if Hibbert is feeling good about his offensive game, perhaps it will extend to the other side of the floor. When a team feels like it can't score, defensive effort -- even for a battle-tested team like Indiana -- can become difficult to muster.
From a defensive standpoint, one of the marquee ways that Atlanta and the rest of the league wants to attack Indiana is by spreading the floor and mitigating the size advantage with a rim protector like Hibbert. This proves especially effective with big men who can stretch and make perimeter shots, which Atlanta has in spades with All-Star Paul Millsap and Pero Antic. Vogel, to his credit, prefers to dictate the terms of his lineup. "There's risk in being who you're not," he told ESPN. "I'm not saying it's not necessary [to make changes]. I'm not saying it's something we won't do."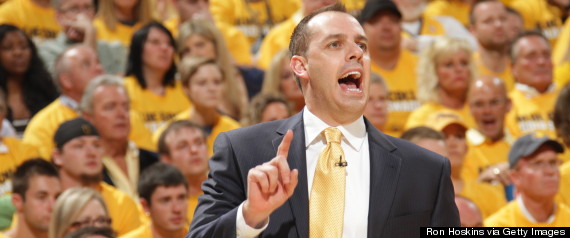 Removing Hibbert from the lineup entirely would be a mistake, but cutting his minutes and working around him would not. Chris Copeland was signed in the offseason to be a four-man spreading the floor, but Vogel has kept him in the doghouse ever since. And George, for all his greatness, has not been the same player since the break. The 23-year-old has seen dips in his shooting percentage, scoring and overall efficiency, but continues to be the focal point of the offense. George is a terrific player but he's a jump-shooter, and when jump-shooters go cold, defenses feast.
Vogel needs to reduce Hibbert's minutes to the extent that he remains fresh and the Pacers can matchup with Atlanta's quicker lineups. But when he is on the floor, post-touches for the 7-footer are extremely important. Indiana's seemingly faded title chances depend on it.
Email me at jordan.schultz@huffingtonpost.com or ask me questions about anything sports-related at @Schultz_Report and follow me on Instagram @Schultz_Report. Also, be sure and catch my NBC Sports Radio show, Kup and Schultz, which airs Sunday mornings from 9-12 ET, right here.