When John Brooks etched his name into American sports history Monday night with a game-winning header to beat Ghana 2-1, it proved once again why the World Cup matters so much. What didn't matter was the fact that the 21-year-old had virtually no international experience, or that his coach, Jurgen Klinsmann, was criticized for even including him on the 30-man roster. And what mattered even less was that when Brooks made the final 23-man roster, it meant Landon Donovan, the most decorated U.S. player ever, would not be going to Brazil. This is, without question, the essence and beauty of the World Cup.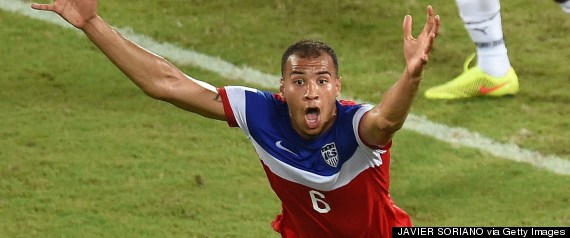 The United States, a country dominated by basketball, baseball, American football and even hockey, is galvanized every four years to root for the red, white and blue. And it's OK if you don't understand the 4-4-2 formation, why we say "nil-nil" instead of "zero-zero" or what the term "false 9" means. (Note: neither do I.) The best part about the World Cup is that you can scream, dance, sweat and cry for 90 minutes and have a great time doing so even if you don't know what precisely is happening.
Both the NBA Finals and Stanley Cup Finals just ended, which means there are no other distractions for the next month. Your fantasy football season is still around the corner, as is the timeless tradition of college football. You can worry later about whether or not to take a quarterback in the first round, just as you can dream come August about the first college football playoff. Right now, though, it's time to root for your country. Unlike the NBA, for example -- where you can justify being a Miami Heat fan even if you're from Sacramento -- you can't really justify rooting for Brazil if you're an American.
The World Cup is a global rite of passage that graces us with its presence every four years, only to disappear in a flash. The American side of 2014 is especially likeable, starring Clint Dempsey -- the first U.S. player ever to score in three different World Cups -- along with the now unmistakeable baby-faced Brooks and Mr. Reliable himself, Michael Bradley.
The Americans have never been past the quarterfinals. It's a feat they accomplished back in 2002 only to lose to Germany, a team they will face after Portugal during group play. If you missed the Ghana game, no problem. Just don't miss the U.S. taking on Cristiano Ronaldo and Portugal come Sunday. Better yet, don't miss another minute. Skip work, take extra-long lunches and stream the games from your desk. Take it from one soccer convert: You won't regret it.
Email me at jordan.schultz@huffingtonpost.com or ask me questions about anything sports-related at @Schultz_Report and follow me on Instagram @Schultz_Report. Also, be sure and catch my NBC Sports Radio show, Kup and Schultz, which airs Sunday mornings from 9-12 ET, right here.