The championship window for the Oklahoma City Thunder may or may not have closed -- but that is a debate for another day. With the return of a healthy Kevin Durant, however, we're once again looking at one of the most lethal trios in the NBA: Durant, Russell Westbrook and the ever-improving Serge Ibaka. Not coincidentally, we're also looking at a six-game win streak.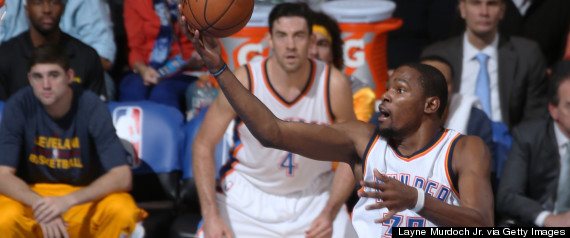 What we can gather from a small sample size (seven total games), is Durant's willingness to defer to others. In the past, particularly under the microscope of playoff defeats, the reigning MVP has been criticized for not controlling late-game situations and for not demanding the ball. Thus far in 2014, Durant has been remarkably efficient, but his shot attempts are shockingly low. Scoring 1.7 points per attempt, a league best, he is off to the best statistical start of any season in his eight-year career. The Thunder, meanwhile, are scoring nearly 17 points more per game while shooting 47 percent, up from the subpar 42 percent without their superstar in the lineup. The transformation has shot OKC right back into the conversation about the postseason conversation, albeit an early one considering we haven't yet reached Christmas.
Durant's unselfishness is a rare trait for a player of his caliber. Think about Carmelo Anthony; he's another prodigious scorer, but one who needs to be a volume shooter at all costs. At 26 years old, Durant will have a chance to become the game's all-time leading scorer, but he shoots at such a high rate, we are left wondering why he isn't more aggressive. Would a more selfish Durant benefit a team that has yet to fully maximize its potential with a world championship?
The answer, given the otherworldly ability and bashfulness of Westbrook, is murky at best, and one that has proven elusive in the past. Through seven games this year, KD has attempted 13 shots per game, down from his career average of 19. While his assists are up slightly, the team assist average is up dramatically, nearly 3 per game, since his return. Part of the challenge for head coach Scott Brooks is figuring out how to delegate the scoring opportunities with an alpha-male lead guard in Westbrook. Regardless, the offense this season has been augmented to better serve the always-dangerous Westbrook and Durant, who both excel by attacking the paint and applying added pressure to the teeth of opposing defenses.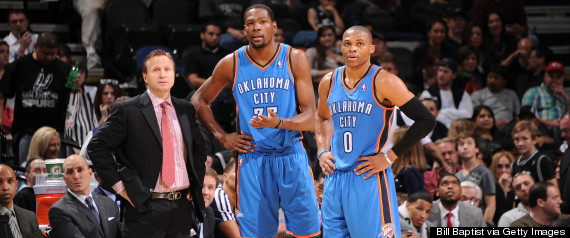 More cutting -- and maybe more importantly, more screening -- has been the key focus for Brooks and his offense, especially with a healthy roster. (Westbrook missed 13 games with a hand injury.) Durant summed it up well this week when he told ESPN.com, "I feel like everyone is touching the basketball and cutting hard. We are playing with a lot of force."
Player and ball movement is often overlooked in today's NBA game, where isolation basketball becomes the default, particularly in late shot-clock situations. That was very true during OKC's disappointing conference final exit at the hands of a San Antonio team that penalized a stagnant offense lacking identity in the waning moments of games. We really don't know what type of commitment Brooks will get from his team when things go awry, but with Durant reassuming his MVP ways, the Thunder appear to be a team that can potentially challenge San Antonio, Golden State or Memphis and the Clippers in a prolonged series. After a 5-13 start to the season, that's about all you can ask for.
Email me at jordan.schultz@huffingtonpost.com or ask me questions about anything sports-related at @Schultz_Report, and follow me on Instagram @Schultz_Report. Also, be sure to catch my NBC Sports Radio show "Kup and Schultz," which airs Sunday mornings from 9 to 12 EST and 12-1 for fantasy football, right here.