Amid the Dwight Howard free agent sweepstakes, the mystique of the Los Angeles Lakers has been replaced by an all-out effort by upper management, Kobe Bryant and Steve Nash to convince the team's center to sign again for five years.
But after a season that can be described as embarrassing and downright shocking for the NBA's highest payroll -- a season during which Howard often acted like a petulant child -- the Lakers have resorted to a sad state of desperation to get a player who may not turn out to be worth the expenditure.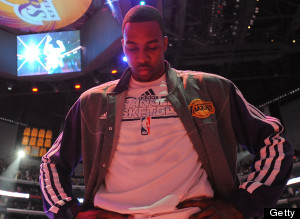 The Lakers, winners of 16 world titles, have made a big mistake in their approach to convincing Dwight Howard to re-sign. (Photo by Andrew D. Bernstein/NBAE via Getty Images)
This is not what we have come to expect out of Title Town. The gold and purple uniforms and the cache of an organization that has won 16 world championships usually sells itself. Part of free agency, of course, is to wow potential signees. Anybody can understand that. But the Lakers, with a barrage of #StayD12 billboards, newspaper ads, tweets -- and of course, the promise of offering Howard his very own television show -- have lost every drop of leverage in these negotiations.
But, here's the thing: Howard is not Elgin Baylor, or Kareem, or Jerry West, or Shaq, or Wilt, or Magic, or Kobe. He is not even in the same vicinity of those guys, and yet, the Lakers are treating him like royalty.
Howard, when he's healthy, is undoubtedly a very good player -- maybe even a great one. But during his one season in LA, about the only thing he proved was that he cannot be relied upon when things turn sour.
Howard is a player with a track record for selfish behavior. He feuded with Stan Van Gundy in Orlando, then pretended like it didn't happen during this press conference. He didn't love Mike Brown, who was canned after a feckless start. And he didn't appreciate that Mike D'Antoni tailored nearly a carbon copy of the offense he ran in Orlando.
Howard has also made it clear that he does not want to be a pick-and-roll center; but this is a guy who during the past three seasons has ranked 99th, 99th and 96th in that category, per Synergy Sports.
Meanwhile, the Lakers, in a flash, have gotten very old, very fast. They can thank GM Mitch Kupchak for that. Kobe, Nash and Pau Gasol -- the core trio -- may not have ten years left between them. Nash is the only guy on the entire roster who will be under contract after next season -- and Howard, whose ailing back is questionable at best, is remarkably far from a sure thing for a guy who's still just 27 years old.
Free agency is clearly a high-stakes game and an unpredictable seesaw battle of emotions. It's the only time of the year when teams have to convince 20-somethings to sign multimillion-dollar deals. But the Lakers, arguably the most storied franchise in American pro sports, have lost sight of themselves throughout this process. They have not merely bent their own set of rules, but have fully broken them.
Perhaps this is an effort to save face with a rabid fan base used to nothing less than superstars and titles, or the fear of losing Howard and Andrew Bynum in back-to-back offseasons. Maybe the front office has lost its compass after the passing of longtime Lakers owner, Jerry Buss, earlier this year. But whatever the reason, it's a maddening approach for an organization we normally think of as having a steely resolve and backbone.
Howard had a full season to show the the team why he's worth a maximum deal over five years. He failed miserably to do so, and the Lakers -- yes, the Los Angeles Lakers -- have preposterously stooped to his level.
Email me at jordan.schultz@huffingtonpost.com or ask me questions about anything sports-related at @Schultz_Report. Also, be sure and catch my NBC Sports Radio show, Kup and Schultz, which airs Sunday mornings from 9-12 ET, right here.