It has been a highly disappointing summer for the Los Angeles Lakers. First they were swept out of the postseason in the first round for the first time in over 40 years (for seasons in which they made the playoffs), and then Dwight Howard left town for Houston. The Clippers, meanwhile, fresh off their first ever season sweep of the Lakers, seem to have finally changed the outlook for pro basketball in LA by re-signing the game's premier point guard, Chris Paul. All is not lost for the Lakers, even if it's unclear when it will be found again.
Here are five crucial moves the team should consider moving forward:
1) Amnesty World Peace
The team is well over its salary cap, and Metta World Peace is well beyond his best years. By amnestying him, GM Mitch Kupchak will save $21.5 million in salary and unload an aging defender who takes a significant bite out of the budget: At 33 years old, MWP has an absurd $7.7 million player option next season.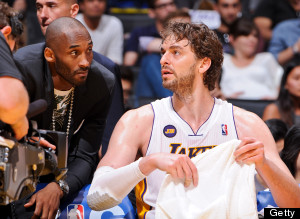 The Lakers have some serious decisions to make regarding both Pau Gasol and Kobe Bryant. (Getty Images)
2) Do Not Trade Pau Gasol
ESPN LA is reporting that the front office wants to keep Gasol, who is set to earn $19 million next season. Despite a reputation for soft play (which he validated by turning in the worst season of his career), Gasol is still one of the most skilled pivotmen in the NBA today. If the Lakers don't deal him, they get a nice expiring contract. Steve Nash is the only contract on the books after next season, and the Lakers will have about $50 million to spend toward the 2014-2015 season, when free agents like LeBron James, Dwyane Wade, Dirk Nowitzki and Carmelo Anthony all become available.
3) Think Tank?
It seems preposterous that a franchise like the Lakers, with their 16 world championships, would deliberately tank a season. But the 2014 NBA Draft, with Andrew Wiggins, Jabari Parker and Julius Randle as the headliners, could be the best since James' class of 2003. With Kobe Bryant coming off a torn Achilles, it's hard to imagine a scenario in which this team can lock up anything better than an 8 seed in the playoffs next year. So what is there to lose?
4) Do Not Amnesty Kobe
Forget the finances and the cap -- consider the message it would send to the rest of the league if the Lakers were to amnesty Bryant. As I've written before, with so little loyalty in the contemporary game, keeping your five-time champion around to end his career as a Laker is a very, very good thing (assuming he's willing to finish out his career with a reasonable contract).
5) Fire Mike D'Antoni
D'Antoni seemed to have lost his locker room last season. He is a very talented offensive coach but lacks the personnel to run the system he wants to run, since Steve Nash is not what he was in Phoenix, where the Suns had active pick-and-roll bigs and knockdown shooters to spare. Plus, free agents don't look at D'Antoni the same way they look at a guy like Doc Rivers. Cut him loose and start over.
Email me at jordan.schultz@huffingtonpost.com or ask me questions about anything sports-related at @Schultz_Report. Also, be sure and catch my NBC Sports Radio show, Kup and Schultz, which airs Sunday mornings from 9-12 ET, right here.