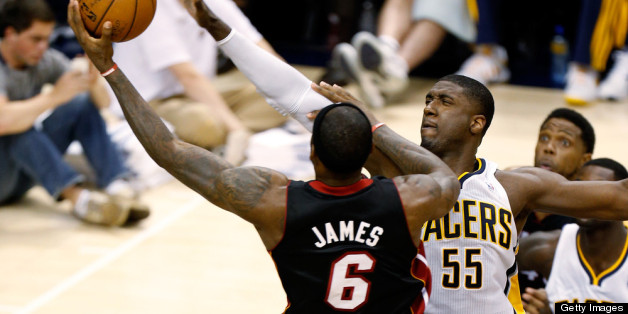 It sounds a tad strange, but, if Monday night's Game 7 tilt in South Beach between Indiana and Miami comes down to who is playing the best basketball, then the Pacers will represent the Eastern Conference in the NBA Finals. In fact, the Pacers have held the lead for over 60 percent of the series, according to Elias, a sports information research organization. This has been a nip-and-tuck series between LeBron James and a struggling supporting cast compared to the widely balanced Pacers. Most importantly, Indiana, which features the league's 22nd highest payroll, is proving why possessing size -- and size with skill -- does indeed matter.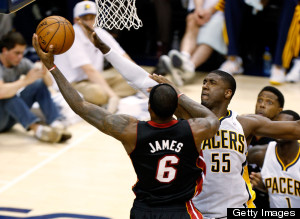 LeBron James and Roy Hibbert have been the two best players throughout the 2013 NBA Playoffs. (Getty Images)
When I spoke with Pacers GM Kevin Pritchard last July, the team had recently been knocked out of the playoffs by the Heat in the East semifinals. The big story, though, was that Pritchard had awarded his young restricted free agent center Roy Hibbert with a massive four-year, $58 million extension. "We knew what his max was," Pritchard told HuffPost. "We knew if it got to there, we were going to match it."
Consider that Hibbert makes $4 million less than Chris Bosh this season and at one point during their respective contracts, will make $7 million less. Make no mistake: This is absolutely a slight to Bosh, who is Miami's highest paid player and perhaps its biggest conundrum as well. While he continues to float around the perimeter as nothing more than a floor spacer, this is the first three-game stretch since Bosh's rookie season in 2004 that he's had three consecutive games where he's failed to register 10 points.
Meanwhile, there is Hibbert, who has dominated the paint with his shot-blocking presence, nifty post moves and consistent rebounding prowess. His 23 points and 11 rebounds on 55 percent shooting compared to Bosh's 11 and 4 on 41 percent shooting have defined the East finals as much as anything. Indiana -- the league's top rebounding team -- has dominated Miami -- the worst rebounding team -- so much so on the glass that it could conceivably overcome a less than stellar shooting night in Game 7 on the road and still advance.
Because we know the Pacers, above anything else, will be buoyed by a great defensive effort Monday night, the toughest element for Erik Spoelstra and the Heat is figuring out how to generate more offense to support LeBron James. Bosh has been awful, and Dwyane Wade continues to find himself thwarted by a defense and perhaps most importantly, a bum right knee, neither of which has allowed him to find his normal scoring touch in the paint. The 31-year-old is enduring the worst postseason of his career, highlighted by his least-efficient performance in the paint and the fact that he has not scored 20 points since Game 1 ... of the Milwaukee series.
Of course, all of Miami's problems can at least be temporarily mitigated if LeBron turns in another Herculean performance, something none of us would be even the slightest bit surprised to see. James has been terrific for most of the series and throughout the playoffs, but countering him in the middle will be the 7-foot stalwart Hibbert, patiently yet eagerly awaiting his arrival.
Email me at jordan.schultz@huffingtonpost.com or ask me questions about anything sports-related at @Schultz_Report.