After San Antonio's impressive Game 1 victory over Miami, Spurs head coach Gregg Popovich spoke about his team's defensive game plan and how he wouldn't alter it until it proved ineffective. On Sunday night, after receiving a 103-84 drubbing, that time seems to have already come.
LeBron James was held to 18 points or fewer for just the seventh time all season and for the second consecutive game (per ESPN Stats & Info). James, who has connected on just 42 percent of his field goal attempts during the NBA Finals, has played more of the facilitator role, disregarding the critics who have suggested he needs to be more assertive and even a tad selfish.
But while James may have gone just 7-17 from the floor, the much maligned Chris Bosh had one of his most efficient games of the postseason, and Mario Chalmers looked more like the swashbuckling Tony Parker.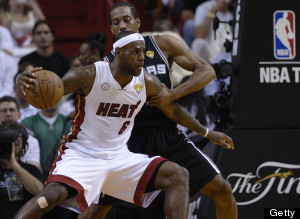 For the second straight game and just the seventh time all season, LeBron scored 18 points or fewer. (Getty Images)
As a team, the Heat shot 53 percent from three, which enabled them to overcome yet another poor rebounding performance. So talk all you want about the Spurs' improved defense -- Miami's ability to spread them out with the long-range threat forces Popovich's hand, if ever so slightly. Even amidst the struggles of Dwyane Wade, who totaled just 10 points, all in the first half, Miami was pristine and nearly perfect in its half-court execution. Maybe it's as simple as Bosh making shots, but head coach Erik Spoelstra deserves more credit then that.
One of the key adjustments he made in Game 2 was to load the weak side of the floor with Mike Miller and Ray Allen (see video below), two of the most feared catch-and-shoot guys in the league. In turn, the Spurs had to choose: Either thwart James in the lane with extra bodies, or play him straight up and hope he doesn't go for 40. Popovich, as he did in Game 1, chose the former and paid for it. Miller and Allen combined to go 6-8 from distance, hitting one back-breaking bomb after another. And in a flash, what was nip and tuck for three quarters turned into a rout when Miami unleashed a devastating 33-5 run.
As the series shifts to San Antonio for the next three games, starting with Game 3 on Tuesday night, Popovich is in a bind. The Spurs do not possess the stalwart defense of Indiana because they don't have an elite rim protector. Tim Duncan and Tiago Splitter may be terrific, but they're not as intimidating.
Other than James, Miami doesn't have a single guy right now that can go get 30. If James lets the defense define his style and refuses to impose his will, the Heat must continue to rely on perimeter shooting to win this series. Not to say that Game 2 was a complete aberration, but shooting 50-plus percent from three is a big ask -- during the regular season, the Spurs allowed 35 percent from downtown.
The Heat have been down this road before, during the 2011 playoffs and ultimately in the Finals against Dallas, when it lost in six games. During that postseason, James attempted 17.8 shots per game; in these playoffs, he is attempting 17.5 -- he hovered near 22 during last year's title run. Do the math.
Email me at jordan.schultz@huffingtonpost.com or ask me questions about anything sports-related at @Schultz_Report.