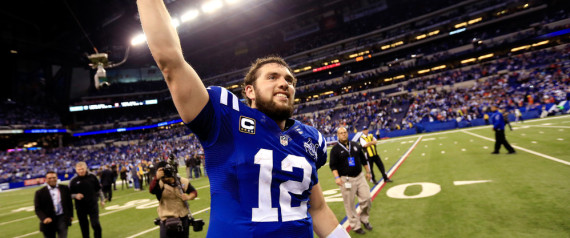 Just as hoped, wild-card weekend was as wacky and unpredictable as ever. Indianapolis, down 28 at the start of the second half to Kansas City, came back to win in the second-largest playoff comeback ever. But then again, history was with them, as the Chiefs haven't won a playoff game in 20 years.
1) Game Management Rules
One may well question Andy Reid's strategy to keep throwing the ball rather than to milk the clock, when his team was up 38-10 with 13 minutes left in the third quarter. (During his tenure in Philadelphia, Reid was regularly criticized for the same thing.) Against the Colts, Reid continued to use misdirection and screen passes to try to add to the lead, which resulted in a fumble by quarterback Alex Smith and a couple of quick punts. The Chiefs also had to burn all three of their time-outs at inopportune moments, including after the two-minute warning.
One could make a similar criticism of Eagles coach Chip Kelly's game management decisions. Kelly had difficulty controlling the tempo, as All-World running back LeSean McCoy had 25 touches, or about 10 too few, especially with red-hot quarterback Nick Foles (195 yards passing) struggling and wideout DeSean Jackson blanketed by the Saints secondary for much of the game.
Kelly and Reid both have tremendous offensive minds and find creative ways to get the ball to their best playmakers. But sometimes a team just needs to kill some time and keep the ball out of the hands of their opponents, especially when one's opponents are quarterbacks like Andrew Luck or Drew Brees.
2) Speaking Of Luck
In all of the discussions about the talents of 2012's number-one pick, what perhaps goes overlooked is Luck's remarkable ability to come through in the clutch. Luck tossed three interceptions against Kansas City, but he seemed unfazed by the miscues, turning it around to lead his team to the second-biggest comeback in playoff history. His fumble recovery inside the five that he carried into the end zone was vintage Luck, as well.
"He's a second-year guy, so technically he's still a kid in the league, but he plays like a grown man," Colts linebacker Robert Mathis told ESPN. "As long as we have 12, we have a chance."
Indy has some glaring holes, particularly in its secondary with the injury concerns around cornerback Vontae Davis. So the pressure will be on Luck again next weekend. Of the four divisional matchups, Indy vs. New England is the only one that isn't a rematch from the regular season; and the one previous occasion that Luck traveled to Foxboro, he threw three picks in a 59-24 loss as a rookie.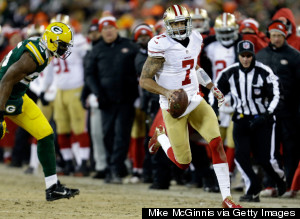 49ers quarterback Colin Kaepernick ran wild on the Packers, for 98 yards on seven carries. (Getty Images)
3) Cold Enough For You?
It's January! Winter! The weather is cold! Analysts tend to overreact to the cold and suggest that freezing temperatures drastically affect the outcome of games, especially when dome teams are forced to go outdoors. Of course the windchill matters, but it's not going to matter as much if a team can't defend or run the ball in the first place.
Former NFL running back Lorenzo Booker told "Kup and Schultz" that while the weather does matter, "It's cold for everybody." So naturally the weather will be a consideration throughout the playoffs -- the Super Bowl is in New York and this could happen -- but don't make the mistake of overestimating the significance of the cold.
4) The Chargers Belong
... even if Vegas listed Cincinnati as the 6.5-point favorite. The Chargers are now winners of five straight games, including wins against Denver and Kansas City. Their balanced offense and shut-down defense (which held Cincinnati's All-Pro receiver A.J. Green to three catches and 34 yards) controlled the tempo throughout most of the 27-10 upset. Quarterback Phillip Rivers has enjoyed a career resurgence with first-year Chargers coach Mike McCoy, as evidenced by his 119 passer rating, and his play helped to clinch the franchise's first postseason win since 2008. Meanwhile, the Bengals are winless in the playoffs since 1990.
5) Colin Kaepernick Has Green Bay's Number
His statistics from Sunday are not quite as outrageous as some of his previous performances against the Packers, but Kaepernick got yet another big win over Aaron Rodgers and company. He was lethal on the ground (rushing for 98 yards) and led the crucial game-winning drive in the so-called frozen tundra.
That said, the 49ers this season rank 30th in the league in passing, and now must go on the road to face a terrific Carolina defense that feasts on one-dimensional offenses. The Panthers have won 11 of their last 12 games.
Email me at jordan.schultz@huffingtonpost.com or ask me questions about anything sports-related at @Schultz_Report and follow me on Instagram @Schultz_Report. Also, be sure and catch my NBC Sports Radio show, Kup and Schultz, which airs Sunday mornings from 9-12 ET, right here.