Let us get one thing straight: Intent does not matter in MLB obstruction. In the first ever playoff game in MLB history to be decided by obstruction, the umpires actually got the call correct. The Boston Red Sox complained after their 5-4 loss, but the truth was they deserved to lose Game 3.
Catcher Jarrod Saltalamacchia made a ridiculous decision to throw the ball down the line. That was one mistake. Another mistake? Red Sox manager John Farrell electing not to double-switch and take out Brandon Workman -- a reliever who had not only never had an at-bat, but who was already finished pitching. Let us also not forget about Farrell pitching to Jon Jay instead of walking him to create a force-out for the struggling Pete Kozma. Farrell, to be sure, has been brilliant during his one season in Boston, taking a sluggish team with seemingly aging stars to a pennant. And yet, these are all the little things that really add up. Maybe Farrell going to a National League stadium is an excuse, but it was his mistakes that were unacceptable, not the umpires'.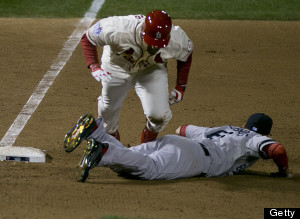 MLB got the obstruction call correct and Allen Craig was rightfully awarded a free pass to home plate. (Getty Images)
Perhaps Cardinals outfielder Carlos Beltran summed it up best after the game when he said: "Oh, man, honestly, I didn't know what happened. I saw the guys celebrating, so I just went out there and celebrated. But I'm like, 'We win. I don't know how we win. But we did.' It's amazing, man."
Win they did, and rightfully so. The umpires refused to let the game's high stakes affect their decision. While the argument will be made that the obstruction rule is flawed -- and I'm not going to argue with it either -- the rule itself was properly applied. MLB has been chastised for not having instant replay and for making mistakes that have changed the outcomes of games. But this was not one of those situations.
Umpire Jim Joyce made the interesting point after the game that "the baserunner has every right to go unobstructed to home plate, and, unfortunately, for [Will] Middlebrooks, he was right there, and there was contact, so he could not advance to home plate naturally." Chances are, Middlebrooks had zero intent to obstruct Allen Craig, but that is completely irrelevant. What is relevant is that the Cardinals took a critical 2-1 lead in the series with two more games at home.
Then there was Red Sox pitcher Jake Peavy: "That's a joke, that's an absolute joke," he said. "Find me one person who says it's OK, other than Cardinal fans. It's not OK." Peavy's point that a game of this magnitude should not be decided by a technicality is clear, but it is also wrong. MLB has an extremely clear rule in place that was properly applied.
And to be sure, that is all we can ask for.
Email me at jordan.schultz@huffingtonpost.com or ask me questions about anything sports-related at @Schultz_Report. Also, be sure and catch my NBC Sports Radio show, Kup and Schultz, which airs Sunday mornings from 9-12 ET, right here.