Serge Ibaka has changed the Western Conference Finals, and his presence has made all the difference for the Oklahoma City Thunder at both ends of the floor.
Ibaka's defensive role is well defined: He is one of the league's best shot-blockers, on and off the ball. His quickness and length, at 6-foot-10, completely change the Thunder's defense.
In the first two games, when Ibaka was dealing with a calf injury, the Spurs averaged 117 points per game. Tony Parker, who has become the captain of the Spurs' offense, was able to make plays from any point on the court. Ibaka's return has limited the Spurs' pick-and-roll opportunities and closed off Parker's driving lanes. More significant than Ibaka's six blocked shots (OKC had just four total in Games 1 and 2) is the way he alters shots. Parker and the Spurs' big men, particularly Tim Duncan, must contribute for the Spurs to win this series, and they have been far less productive with Ibaka in the game.
But, with the series knotted up at 2-2 and shifting back to San Antonio, Ibaka's offensive game has been the real story. As the Thunder's only front-court player who can consistently step away from the basket to make shots, Ibaka, as he's done for the last two years, completely opens up the court for the Thunder.
His importance to the OKC offense is considerable: In Games 1 and 2, the Thunder shot 43 percent from the floor, 30 percent from 3 and averaged a measly 91 points in two losses. Its two stars, league MVP Kevin Durant and Russell Westbrook, shot 45 and 35 percent, respectively.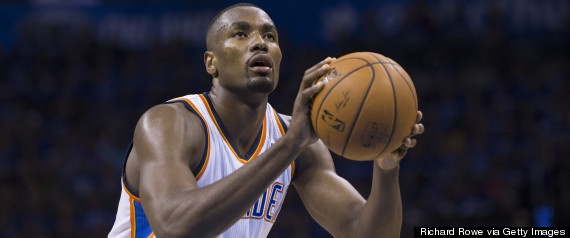 Since Ibaka's return, however, OKC's spread-out attack has led to the team shooting nearly 48 percent from the floor, while Durant and Westbrook have combined to average 58 points per game. In the current series, Ibaka is averaging 12 points on 10-17 shooting, mostly from his usual mid-range area, where he thrives off of pick-and-pop.
A playoff series gives coaches and players the chance to make adjustments one game at a time. Gregg Popovich's first move was to push the tempo and allow Parker to dictate the game. Thunder coach Scott Brooks, with Ibaka back in his arsenal and reserve guard Reggie Jackson in the starting lineup, has now forced the Spurs to score in the half-court and defend the entire floor.
The key for the Spurs will be to find a way to neutralize Ibaka on either side of the ball -- if not both.
Email me at jordan.schultz@huffingtonpost.com or ask me questions about anything sports-related at @Schultz_Report and follow me on Instagram @Schultz_Report. Also, be sure and catch my NBC Sports Radio show, Kup and Schultz, which airs Sunday mornings from 9-12 ET, right here.