The Tim Tebow drama begins again: Tebow has officially signed with the New England Patriots, his third NFL team in four years. And the real surprise is that he was reportedly signed to play not halfback, not tight end, not even a gunner on the punt team -- but quarterback.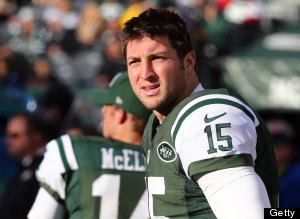 The Patriots signed Tebow to play quarterback, likely as a third-stringer. (Getty Images)
Drama, after all, goes hand in hand with enigmatic 25 year old, and the media will blow the signing way out of proportion. Tom Brady is the starter, which means that unless some crazy, unforeseen thing happens, Tebow will never get on the field. Honestly, what other backup (most likely third-string) quarterback could generate any editorial buzz in June? June! Yet the strange and rare reality of Tebow -- whom the New York Jets quite literally could not give away -- is that the media love to cover him, to criticize him, but perhaps most importantly, to try to make sense of him.
What's interesting about his signing to the Patriots is his relationship with offensive coordinator Josh McDaniels, who, as head coach in Denver, inexplicably traded up and selected him 25th overall in the 2010 draft. The following season also happens to have been Tebow's one successful pro season, when he led the Broncos to a playoff win over Pittsburgh, only to get thrashed 45-10 by Mr. Brady and the Pats.
Bill Belichick, the Pat's stone-faced head coach, has gotten remarkable value out of unwanted players in the past, like Wes Welker, Danny Woodhead and the oft-troubled Randy Moss. But he also tried to turn around the once-thriving careers of Chad "Ochocinco" Johnson and Albert Haynesworth, two Pro Bowlers who hit rock bottom in Foxborough. Haynesworth was cut after six unproductive games in which he registered a mere two tackles, and Johnson caught a grand total of 15 passes in his single season with the team.
But Tebow is far less talented than Johnson or Haynesworth, despite what the attendant media circus suggests or anything that Belichick might say. NFL.com reports that his two-year deal has zero guaranteed money, but owner Robert Kraft and the New England organization don't make moves simply to generate hype or increase jersey sales. In other words, Tebow will almost assuredly be on the roster come Week 1, and the incessant headaches created by his presence will follow a team that prides itself on its no-nonsense approach that's geared exclusively toward winning.
So the only Tebowing fans should expect to see this fall will come during the postgame prayer group.
Email me at jordan.schultz@huffingtonpost.com or ask me questions about anything sports-related at @Schultz_Report.