The Kansas City Royals are in the World Series for the first time in nearly three decades, but it still won't save one of the greatest events in sports. This is the harsh reality for Major League Baseball, which routinely used to draw more than 50 million viewers to the crowning of its champion -- like it did in 1985, when the Royals last made it this far. But this time it very likely will sink below the 20 million mark, where it has stood for a decade.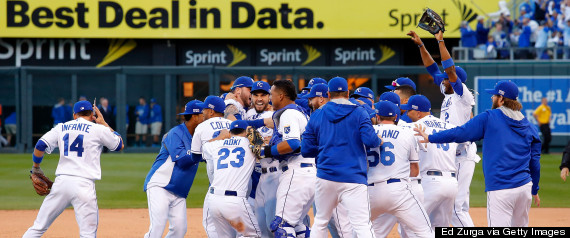 This past summer, I had the good fortune of attending the game's most sacred venue, the Hall of Fame, during its most sacred time, induction. Cooperstown at that time is priceless. The superstars of old align for a weekend of fabled stories and memories that perhaps only baseball has. Baseball has a unique generational value that even America's current pastime -- pro football -- simply lacks. In an August column for ESPN, Hall of Fame president Jeff Idelson wrote, "The museum is forever evolving. As America evolves, so does baseball. And as baseball evolves, so, too, does the Hall of Fame. After all, it remains our national pastime."
That may be true, but along the way, something about baseball has been lost. Perhaps it was the combination of 162 games filled with 4-hour affairs, inter-league battles, batter's box idiosyncrasies and mind-numbing pitching changes. Perhaps it's the availability of games across a wide range of cable stations that has hurt ratings. As we stand today, though, the viewing public has largely moved on from the sport.
In the 1980s, when games were shorter and the league had not been so corrupted by steroids and strikes, the World Series was like a prolonged Super Bowl. Ratings -- no matter who was playing and no matter what other sports were on TV -- were sky high. During the 1982 series, individual games drew nearly 50 million viewers. To put that number in perspective, you would have to combine the entire 2012 World Series -- not individual games -- to top that.
When Kansas City and San Francisco take the field Tuesday night, they will be fortunate to eclipse the 13-million viewer mark (compared to the 5-6 million that Sunday Night Football routinely draws for a regular season game). Granted, this is not the all-Missouri, Kansas City-St. Louis matchup that most wanted, and which would have drawn much higher ratings. But it still pits one of the game's oldest franchises against a mid-market upstart that has yet to lose a playoff game in 2014.
Where we go from here remains to be seen. With the ancient Bud Selig's retirement, the league finally has a desperately needed changing of the guard in the commissioner's office. It is trying to get younger, fresher and more relevant. The addition of instant replay this season was a strong move, as was the added Wild Card in each league. But the relevancy of Major League Baseball remains in serious decline, and there is no perfect solution for fixing that. The Royals-Giants World Series is teeming with young stars like Eric Hosmer, Madison Bumgarner and Buster Posey, and could be one of the game's best in a decade, but that's not the question. The question is: Does anyone actually care? And if so, will they actually watch?
Correction: A previous edition of this article incorrectly spelled the name of Giants star Buster Poser. It has since been corrected to read Buster Posey.
Also, a previous edition stated that the 2014 World Series would be lucky to draw 3 million viewers for Game 1. It has since been corrected to state 13 million viewers. It also stated that you would have to combine the previous four World Series to top a single game rating from 1982. It has since been corrected to reflect that by combining the entire 2012 World Series, you could top the single game rating from the 1982 World Series.
Email me at jordan.schultz@huffingtonpost.com or ask me questions about anything sports-related at @Schultz_Report, and follow me on Instagram @Schultz_Report. Also, be sure to catch my NBC Sports Radio show "Kup and Schultz," which airs Sunday mornings from 9 to 12 EST and 12-1 for fantasy football, right here.