Reading and watching Rob Shuter is my escape from the doom and gloom of the news. I look forward to his daily "Naughty But Nice" column because he has the best celebrity scoops. In addition to his column he has weekly show on HDNet in which he interviews celebrities and brings his column to life. He has such a genuinely funny personality and he always makes me smile and laugh. I met up with Rob last week to talk about everything from how he got started to Twitter.
Jordana Zizmor: Do you love your job?
Rob Shuter: I have the best job in the world. I'm not even sure it's a job. I can't believe I get paid to do this. I love it so much that I get into a tailspin where I don't feel like I'm even working. We have all had bad jobs where every day and every minute you are aware that you are working. I don't feel aware that I'm working.
JZ: Where are you from?
RS: I'm from Birmingham, England. I tell Americans it's like Chicago because it's technically the second largest city outside of London. It's really more like Detroit than Chicago. It's an industrial town that's down on its luck. You don't feel like it is when you are growing up. You just feel like it's a town filled with joy and characters. There are lots of stories there and that's how I learned to be a gossip columnist and a storyteller. Everybody in the town had a story. Regardless of where you went everyone was always telling stories.
JZ: Do you remember your first paycheck?
RS: Yes I was a paperboy in Birmingham, England. I got a penny a paper and I had to deliver 40 papers a day.
JZ: What's your routine everyday?
RS: I wake up at 6 am. I'm lucky to have a pool in my building so I go for a swim. Then I read every single online publication that I love and every single one that I hate. It takes me about two hours to go through that. I'm a good reader. If you give me 12 papers I will find the 4 most interesting stories really quickly. After that I will have coffee and start hitting the phones to find out my stories for tomorrow.
JZ: How did you get in the entertainment business?
RS: My first job was in a Broadway press office and I ended up running the entertainment division. After that I got a green card and a job at Bragman, Nyman Cafarelli. I left there to run the entertainment group at Dan Klores Communications. There I represented Britney Spears, J.Lo, Jessica Simpson, Alicia Keys, Naomi Campbell, Bon Jovi, Barry Manilow and many others. I had an extraordinary 15 years of seeing the inner workings of celebrity that no other journalist has ever got to see. I've seen first hand how a story gets told through a press release and how as a publicist you don't necessarily always tell the whole truth. So now as a columnist I'm really good at knowing what's the truth and what isn't. I have sources and contacts that I never would have met had I not been in the inner circle of these celebrities. I'm good at what I do because I wasn't always a columnist and I worked in a different job first.
JZ: When did PopEater start?
RS: After years of being in publicity I just got bored of it. Celebrity was changing so much and it was becoming all about the reality shows. I was aware that the world had changed and I was looking for the next thing. I used to do publicity for magazines. OK! Magazine had just launched in America and I approached the owner to see if I could be the publicist for OK as a way in the door. He was gracious enough not to make me the publicist but the entertainment director. That was the opportunity for me to change careers. After being at OK! Magazine for two years PopEater called and asked if I would be interested in being their entertainment columnist. Jason Kaufman of PopEater knew it was important to hire a columnist who could everyday produce a few original stories. So he asked me to do that. It was a time when magazines were starting to decline and again I knew the industry I was in was changing. I jumped at it because I knew it was all about being online. About a month ago PopEater became Huffington Post Celebrity so that's where you can find Naughty but Nice.
JZ: How did the Naughty But Nice show on HDNet come about?
RS: Amy Rosenblum, who is the executive producer of New York Live, asked me if I would come on the show once a week to do entertainment stories. I went on and I was really bad at it.
JZ: I'm sure you weren't really bad.
RS: No I wasn't good at it. I was good enough to know I needed help. I'm never ashamed to ask for help. So I asked Amy to help and she sat me down and really taught me how to slow down and pick my words more carefully. She also taught me how to cut to the chase because TV is even faster than online. TV is get to the chase in 10 words or less. She taught me all this and the viewers seemed to like me. It went from being on one day a week to now where sometimes I'm on 4 days a week. It's great because I can bring my column alive on TV. After a while someone from HDNet saw me and called to see if I was interested in having my own show on a Saturday night. I did a pilot and was offered a 2-season deal. Now I have just renewed for my third season. It's good to because it gives me a new medium for my entertainment stories and helps my column.
JZ: Is it easy for you to write?
RS: Yes, the hard part is reporting and keeping it fresh and relevant everyday. Especially, when there are so many reporters out there. It's intimidating when you look at something like People.com and you see there are hundreds of reporters that work there. There are bigger organizations but for celebrities they probably have the most reporters. Sometimes I go to an event and I see six reporters from People and then there is me. It can also be a thrill because we all see the same event but it depends whose eyes you see it through for it to be interesting. I'm good at walking into a room and seeing something that I hope will be interesting that some other people wouldn't see.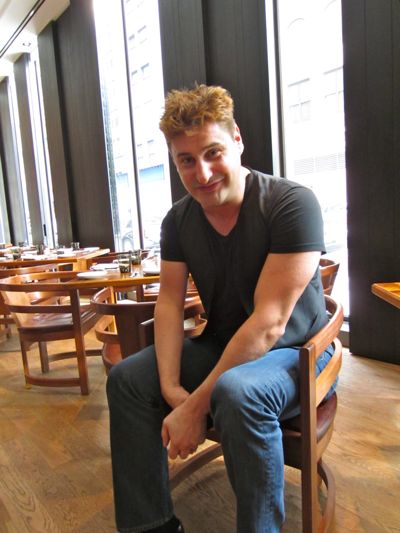 JZ: You are on New York Live, HDNet, The Today Show and Rachael Ray. How do you handle it all?
RS: You have to really like what you do and be very organized. That's one of the most surprising things about me. That as clumsy as I come across I'm really organized. My desk is not a mess and I know where to find every e-mail and piece of paper.
JZ: Do you have a motto?
RS: Yes, it's to laugh out loud every single day.
JZ: How important is it for you to be engaged in social media?
RS: It's vital. It's a great way to break and keep up with stories. Also, it's really great to learn about stories. It's amazing that these celebrities that I interview that wont tell me anything are quite happy to finish the interview then tell me 20 things over Twitter. The amount of information you can get about the people you cover is extraordinary. I get a lot of tips on Twitter and sometimes people will say things that don't add up. I was in Chicago for a cable convention and I knew that Kendra Wilkinson was also in Chicago. It happened to be the weekend that Hugh Heffner had broken up with Cristal. Kendra was writing on Twitter that she was going over to Hef's house. Eventually she deleted it but it taught me that you couldn't believe what Kendra puts on Twitter because it might not be true. She gave me the tip that she and Hef don't have such a close relationship. It's not like I'm giving a source away because she posted it on Twitter. You can get all these insights about people over Twitter.
JZ: What do you know now that you wish you knew when you started?
RS: That tomorrow is a new day and if you just shut up and listen long enough people will tell you everything. I've also learned that questions aren't as important as being engaging.
JZ: What would people be surprised to know about you?
RS: That it takes a lot to upset me. I don't take anything too seriously. I'm very aware that I'm reporting on celebrities. I'm not a cruel person and I have no tolerance for bullies. There are so many brutal stereotypes about columnists and I'm not any of them. There are lots of things that I find out about that I won't report. If it breaks in someone else's column I'm not jealous. I will not do stories on people's health or if I find out something really awful. It doesn't make me a better person and I'm not saying it to be nice. It's just that you can't be someone at 6 o'clock onwards and someone else during the day. That's an exhausting way to live your life. I don't have a work mode. Part of the success of the column is that it's happy and upbeat.