With the opening of the new Seamless headquarters in Midtown I thought it would be meaningful and relevant to interview the CEO, Jonathan Zabusky. Seamless is an exciting company that's constantly innovating, and that is a reflection of Jonathan. Seamless makes it easy and convenient to order food online and through their essential mobile app. Recently, I caught up with Jonathan to discuss how he makes it work.
Jordana Zizmor: How many restaurants are on Seamless?
Jonathan Zabusky: We currently have around 8,000 restaurants. We recently bought MenuPages. MenuPages has about 40,000 menus listed. One of our goals is to make sure that online ordering is available to at least the vast majority if not all of those restaurants.
Jordana Zizmor: Why did you change the name from Seamless Web to Seamless?
Jonathan Zabusky: It was more than a name change. It was really a rebranding and a repositioning of where the business was going. We saw so much promise in the name Seamless. It's authentic and it's really our roots. It says everything we need to say about the company at this point in time. The word web just felt antiquated
Jordana Zizmor: What have you learned from running Seamless that you did not expect or anticipate?
Jonathan Zabusky: What has been most interesting is really the love and affinity people have for this company and what we do on a daily basis. When you think about the sites you interact with and use everyday Seamless is one of those sites for a lot of people. Food is already so interconnected to the emotions of life and being part of Seamless is a responsibility.
There are some great companies that put customer care at the top of their list but it will always be number one for Seamless. It really has to be because there is a real urgency when you are ordering food. We have an opportunity to either delight or for the restaurants to fail. It's just a very emotionally charged purchase. What surprised me the most is how people really want us to be successful and how much user feedback we get. It makes our job easier on one dimension but the expectations are pretty significant.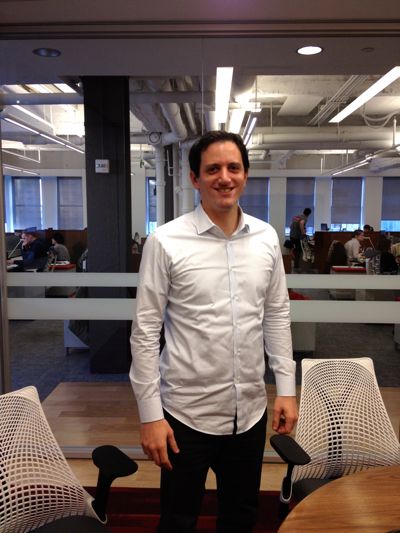 Jordana Zizmor: What would people be surprised to know about Seamless?
Jonathan Zabusky: E-commerce sites usually do well because the customer doesn't have to talk to anyone and that makes it more efficient. What people don't realize is what it takes from a customer care perspective. The lion's share of the people that work at Seamless are dealing with real orders that sometimes get messed up. Restaurants make mistakes and people sometimes change what they want.
There is some level of interaction that needs to happen and we take customer care very seriously. We are here to build relationships with people and those interactions are critical to building loyalty. Another thing that would be surprising especially, for people who have known us for a long time is how big a pivot Seamless has made. We started out in 1999 as a service catering to corporations. Now the majority of our business is direct to consumer. Our corporate business is still growing but so much of Seamless is about helping consumers with discovery. People don't realize how big and important the consumer business is to us.
Jordana Zizmor: How does the economy impact Seamless?
Jonathan Zabusky: There are a lot of factors that impact Seamless. Right now the biggest factor we are facing is the conversion from offline to online. No matter what kind of economy we are in, people are buying iPhones and shifting from using paper menus to using Seamless. The focus on mobile is critical. Eighteen months ago less than 1 percent of our transactions were mobile. Now on a peak weekend day over 25 percent of transactions are mobile. A shift from platform to platform like that in an 18-month period is incredible. Mobile has really helped us be where our customers are.
Even in a down economy we have growth. In general we don't really see a correlation with the economy. What we are seeing are a lot of restaurants that used to be considered only dine out are now making delivery and pick up available. You are seeing restaurants make use of their kitchen capacity and start to develop their own delivery forces. The choices for food delivery are just expanding as the economy has had some challenges.
Jordana Zizmor: How important is social media to Seamless?
Jonathan Zabusky: What used to be an outbound marketing and branding channel for us is now more about customer care. It's a huge change. Our customer care people used to come here and learn how to answer the phones and now as many of our inquiries and interactions are coming through Twitter. We actively market but the best way to build community is to make it as easy as possible for people to engage with Seamless and that why social media is so important.
Jordana Zizmor: What inspires you?
Jonathan Zabusky: Honestly, it's fun to build a company and be part of something that is innovating and defining something as opposed to being in a business that is already defined, and we are trying to claim our fair share. I also get excited by helping small businesses. Restaurants need help right now especially, when they are going up against the likes of Domino's, which spends a lot of money on marketing. Our business exists to level the playing field with these restaurants and help them compete against these big brands.