I look forward to watching Rosanna Scotto on Good Day New York every morning. Her genuinely happy energy is contagious and sets a great tone for the day. The segments on the show range from breaking news to pop culture, and they are different from what's on every other morning show. It's a local show that has a pulse on what's going on in New York. Rosanna has been on Fox for over 25 years and she is the real deal. Regardless of how intense the story is, she handles it gracefully. While the news is serious, Rosanna and co host Greg Kelly will always keep it real and look for the moments to make you smile. I met up with Rosanna at the studio last week to talk about everything from her early morning schedule to Twitter.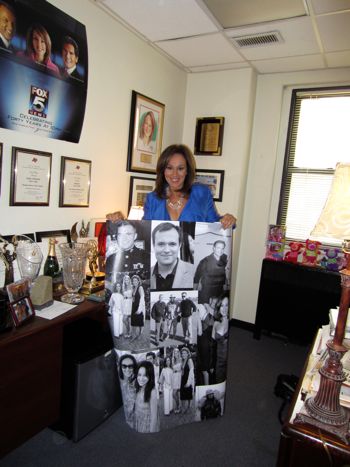 Cortney and Robert Novogratz were on the day I was there and they made the wallpaper printed with photos of Rosanna and Greg Kelly.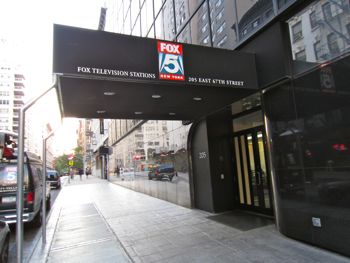 Jordana Zizmor: Do you love your job?
Rosanna Scotto: I love my job. After doing it a number of years it's a job, but I love it as if I just started yesterday. I'm still excited by the people we have on the show and the challenges we face and try to solve everyday. It's so much fun, and it's an energizing show. You have to be on your toes. We have newsmakers from 7-9 and pop culture and lifestyle from 9-10. It piques my interest all around.
JZ: You have done the ten o'clock news and Good Day New York in the morning. What schedule is better for you and for family life?
RS: When I worked the ten o'clock news I worked from 3-10. I would go home every night to have dinner with my family then come back to the studio. I tried to make it a normal schedule. It's not normal but it worked during the time. Now as much as it hurts to get up at 4:30 in the morning I am home when my kids get home and we can have a more leisurely dinner without me having to look at the clock and we can do more things. The only difference is my kids tuck me in at around 9 or 9:30 and I sleep with an eye open to make sure they are not going out.
JZ: How is doing Good Day New York different from the news?
RS: There is a difference. The news is mostly scripted and you know what you are in for. On Good Day New York for the three hours you are just going by the seat of your pants. You are dealing with breaking news and sometimes we just throw out the scripts and we talk the stories out. We are both well read and try to stay up to date and know the issues.
JZ: Do you eat breakfast everyday? What do you snack on?
RS: When I get up I have a cup of coffee at 5 am. I usually bring fruit from home and that keeps me going during the show. After the show if I'm hungry I will get an egg white omelet or usually I will have a granola bar. I try not to eat too much during the day because I tend to eat more as the day goes on. I know it's the opposite of what every nutritionist and doctor recommends but that's just what my body is used to.
JZ: Also, you have a great family restaurant.
RS: Fresco by Scotto is great. We live to eat, and it's fun because it's my family. I know where my mom is and my dad, my brothers and my sister. My kids love it too because it's such a gathering place.

JZ: Does having a restaurant background make you more interested and a better reporter on food stories?
RS: I've always been interested in food stories. On this show we have the privilege of bringing in some of the greatest chefs in the country and chefs who want to be the greatest. We also have lots of local chefs who are doing good work in the community. There was a time especially during the recession when we wanted to highlight restaurants that were struggling and give them publicity to hopefully help with their business. I always take pleasure and pride in those stories.
JZ: What advice do you have for people working with their family?

RS: We are like any family. We get along but we also argue. At the end of the argument we love each other and hanging out together. We know we are a family and try not to let anything come between us. It's ingrained but as you get older you realize you have to nurture it. It's a very special thing to have a great family support system.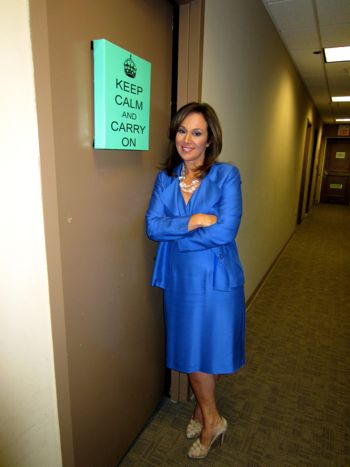 JZ: Do you have a motto?
RS. I don't have a motto but I told this to my daughter when she was starting college. You really have to find your passion. Work is work but if you love what you do it's an adventure and it's interesting. This is my passion and I'm so grateful I'm able to do it.
JZ: Is there anything you know now that you wish you knew before starting Good Day NY?
RS: Getting a good night sleep helps a lot. I did the ten o'clock news for so many years and I was never really able to go out to dinner and events. Now I find myself going out all the time to everything from parties to community service events and I'm out till 10 at night. Now I realize the sleep is something that should be nurtured and appreciated. When I have a good night sleep it's amazing the difference I feel when I wake up in the morning.
JZ: I love following you on Twitter. How important do you think it is to be engaged in social media right now?
RS: You know I'm not sure. I don't know if it helps our show and we see a big bump from my tweeting. What is does do though is make you more accessible to the people who are watching. If there is time during the show and I get a tweet from someone about an interview or segment I will respond to them. Maybe this will make them want to watch more and they will tell their friends that I'm accessible and the show is real. I'm all for it.