This blog is part of a series organized by The Huffington Post and the NGO alliance InterAction around the London 2012 Olympics.
The universal language of soccer is spoken in the Croix des Bouquets community near Port au Prince, Haiti, home to some 70,000 people still displaced by the devastating 2010 earthquake.
As happens around the world, youth here learn lessons of fair play and peaceful resolution of conflict as they call sides, take turns, guard goals -- not on sparkling new fields as in London, but on the hard packed earth of San Charles Borromee School, our local partner. View them in action.
Along with pure play, these youth are participating in a unique educational transformation -- one of learning how to make peace on purpose, a concept that spreads from the fields to the families and communities in the camps.
San Charles Borromee is switching from a strictly academic approach to one that stresses peaceful co-existence and conflict mediation not only in school and on the soccer fields, but also in the camps. The American Friends Service Committee (AFSC) formed a partnership with the school shortly after the earthquake and in December 2011 began a project to "strengthen spaces of peace for youth, children and community." The six-member project team strives to connect sports with collective reflection on nonviolence.
With a goal of building a strong network of young leaders who actively promote peace in the region -- even as the nation struggles to rebuild -- AFSC currently supports two soccer teams, one basketball team, and ping pong lessons, as well as other activities that encourage dialogue, job training and play. More than 100 youth are being trained in conflict resolution skills through these activities.
One young man, 16-year-old Jean Pierre Ben Sumao, has been instrumental in taking peaceful coexistence to his community.
"Before the soccer games, we saw tension and several conflicts. But gradually we are learning to know each other better, and I have a better relationship, and friendship, with my partners at school," says Jean Pierre.
Building on that experience, Jean Pierre and others are participating in "Micro Peace Platforms," a system of small groups that promote peace in the neighborhoods and communities near the school. In a way, he is a bridge between his father, a well-known community leader, and the next generation of peacemakers.
Natalie Raphael, also 16, also uses sport -- ping pong, in her case -- to find positive ways to work with her peers. "I used to argue with my mates, but when I remember I will be playing with them, I try not to argue or shout at them," says the aspiring nurse. She so impressed her classmates that she was unanimously chosen to represent the seventh grade on the school's mediation committee - which was created by the youth themselves.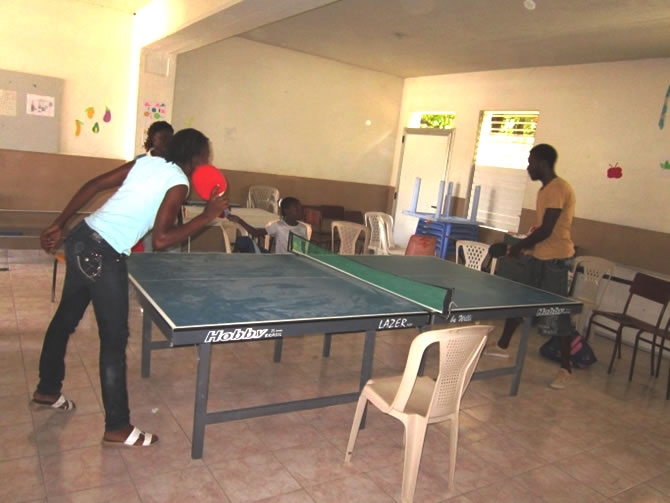 So as Jean Pierre, Natalie and their classmates practice and play, shout and laugh, they are modeling a better way to live with their families and neighbors and to build a just and healthy community. Celine is another graduate of AFSC's work in Haiti who has vowed to help build that community.
Their journey is long, but it is one we continue to take alongside them as we help Haitians create the conditions for lasting peace and prosperity. Learn more about AFSC's work in Haiti.
They, too, represent the Olympic ideal of peace through sport. Let this Olympic season mark their blossoming as leaders of peace and justice in Haiti.

Photos courtesy of American Friends Service Committee