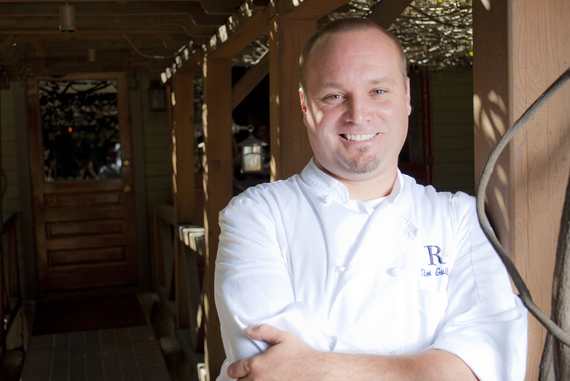 I love to trust in the recommendations of a good chef. When done right, there's nothing better (taste-wise) or more exhilarating than a carefully crafted tasting menu. I like to think of it as a journey that satisfies all the senses, but sometimes, just a nudge in the right culinary direction will suffice.

At The Raymond in Pasadena, Chef Tim Guiltinan has been leading the kitchen at this cozy gem since 2008. Laid back and affable, I think it would take a lot to get this Orange County local into full raving chef diva mode. I've trusted in Chef before and he's always lead me on a first rate seafaring dining sojourn, but that's because Chef loves seafood. So much so that he boasts he serves the best seafood in all of Pasadena. And I'm not about to argue, as the proof has been in his spectacular pudding on numerous occasions.
But recently, I challenged Chef to make me a steak dinner. Chef likes to say, "I don't have to sell meat. It sells itself." And his dynamic dry-aged bone-in-rib eye for two was one of the best steak dinners I've had in recent memory. Indeed, dining at The Raymond hits on all cylinders.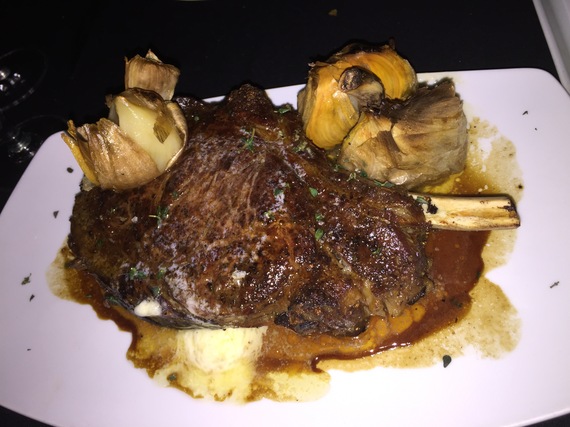 The Raymond actually sits on the site of the former caretaker's cottage of the once lofty Raymond Hotel where entrepreneur Walter Raymond would entertain the likes of Charlie Chaplin and Buster Keaton. Lately, it is where drinkers in-the-know have flocked to 1886 Bar--the tiny restaurant bar that pours grand drinks. Arguably one of the best mixology bars in Southern California, the heralded bar program used to outshine The Raymond but things have really changed. The restaurant has upped its game, first with creating a stellar Starters menu and then by coming up with large, sharable entrees that really let Chef Tim shine, from plates like Foie Gras Sushi to Cromesquis with truffle infused balsamic.
Working in kitchens since the age of 16, Chef Tim says, "I was working in a bowling alley and needed help making pizzas," recalling how he first started in the kitchen. Since then, he's worked from bartender to service manager in the food industry before going to culinary school in 1999. Wearing his influences on his chef's uniform, Chef says his favorite cuisine is Korean food and its influence can been seen in his "Oi Kimchi" dish where Persian cucumbers are stuffed with Korean chili and radish. Recently he's even created a Clams in Fermented Black Beans dish. Below Chef talks about what it takes to drive a kitchen and even offers a solid piece of culinary advice.

What do you like best about being a chef?
It's a fun, dynamic job. Every day is a different day. It's never dull. The artistic side is very fulfilling for me, as is leading a team. I really like putting a plate together. I enjoy being part of a team and I enjoy guys working hard for me.
You trained with Chef Mark Gold. What did you learn from him?
I learned some good and some bad. Mark was very ingredient driven and before I was very recipe driven. In the year we worked together I came to really understand and appreciate what it takes to create a dish.
Now that you're 'the man' in the kitchen, how do you train or mold young, aspiring chefs?
You have to find somebody that wants that. The creating and physical aspect of cooking is not difficult, but the other side of it, finding someone that wants to learn what you want to do, that's the hardest part to do. There are people that are fine cooks who are going to mossie their ass when they should be rushing.
The Raymond has a history of being a place for a fine steak. How big of a challenge was it to change its perception as the place to go for seafood in Pasadena?
When I came we had to make that change, it wasn't that difficult. I've always been passionate by other things instead of meat. I went in wanting to change the style of the menu. If this job is not fun, believe me, it is a bear of a job.
The Raymond has really come into its own and is no longer the restaurant where 1886 Bar is.
The restaurant was here long before 1886 Bar. 1886 is like the cherry on the top. We'd be here with the same food without the bar. Now the bar really helped get eyes looking at us. I never wanted people to come here and eat bar food. I want dinner menus and bar food menus on every table.
What would you say are The Raymond's must-have dishes?
You can eat all of it. See what looks good. Seafood is a focus for us. The scallops are always fantastic. Our seafood is always good; albacore, shrimp, mussels, oysters, ahi, salmon, cod. And we always evolve with the season. Just come and have a good time sharing. We're not pigeonholed in anything. If you come here and can't find anything to eat, that's not my fault.
What direction would you like to see The Raymond go?
I'd like to see a second concept. Like all restaurants, it is hard to reinvent one thing. I'd rather see us open another restaurant before we get stuck in a rut. I'd like to see us evolve in the way I see food.
What's the best advice or lesson you've learned about being a chef?
I learned that you can't do it alone. If you're not a good leader where you get people to follow you, then you're not going to succeed.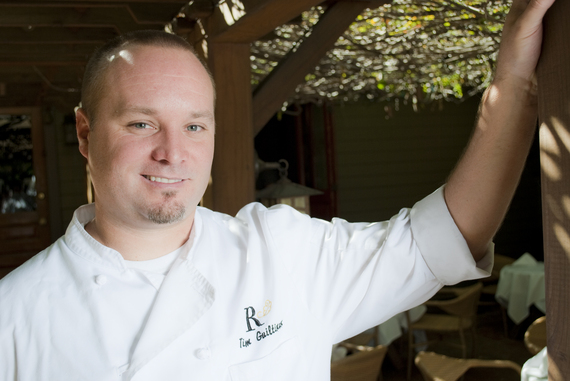 What would you like people to take away from dining at The Raymond?
I just want them to have a real good time. I want them to leave thinking that's a fun, unique place to be.
The Raymond is located at 1250 S. Fair Oaks Ave in Pasadena. Call 626-441-3136.
Click here to read a dining feature on The Raymond by Jose Martinez.
Chef Tim Photo Credit: acuna-hansen