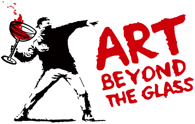 Do you remember that joyful feeling Christmas Day when you were a kid, readying to tear open all the gifts under the Christmas tree with your name on it? I'm getting that same feeling in anticipation of Art Beyond the Glass III (ABTG lll), the biggest cocktails event of the year in Los Angeles. Does that mean I have a problem? Honestly, I don't care.
This is that most magical time of the year when L.A.'s best bartenders gather for cocktails, community and a great cause. This year, the festivities will return to the lovely Sadie Kitchen & Lounge in Hollywood on Sunday, June 29 from 3-7pm.

As they did for the inaugural fundraising event, Sadie is once again donating its space, staff and food. Art Beyond the Glass lll will be raising funds for the Mural Conservancy of Los Angeles, an acclaimed arts nonprofit that works to restore, preserve, and document the murals of Los Angeles. Proceeds from ABTG lll will help restore Luchas del Mundo (Struggles of the World), a landmark mural created for the 1984 Olympics by famed artist Willie Herrón lll.
I still remember attending the first Art Beyond the Glass, showing up with a hangover (seriously, do I have a problem?) and slowly making the rounds starting with a Sailor Jerry based Bloody Mary made with barbeque sauce, beer and a stick of bacon. And then things only got better when I tried a lovely mezcal and mole sauce cocktail. Last year, at the second annual event, I fell in love with snow cone cocktails and a slew of other daring and delicious drinks.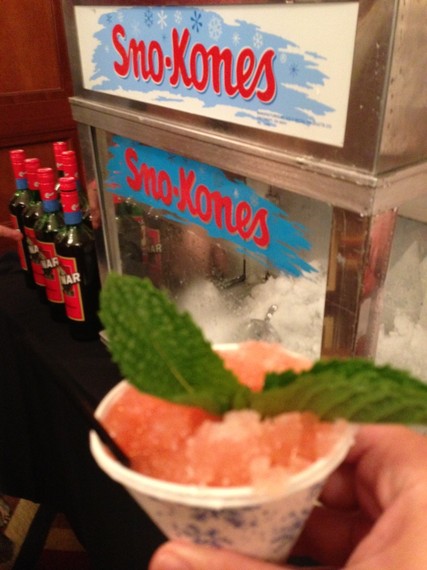 This year, ABTG lll features an expanded lineup of top bartenders from across the L.A. area that will mix and showcase their art, music, photography and much more. Among the bartenders returning for Art Beyond the Glass lll are Chris Amirault (Harlowe); Julian Cox (Soigné Group); Chris Day (Tipple & Brine); Beau Du Bois (The Corner Door); Dave Whitton (Sunset Marquis); Karen Grill (Bestia); Giovanni Martinez (Sadie); Dan McClary (Reiss Co); Francois Vera (Pour Vous), and Brady Weise (1886).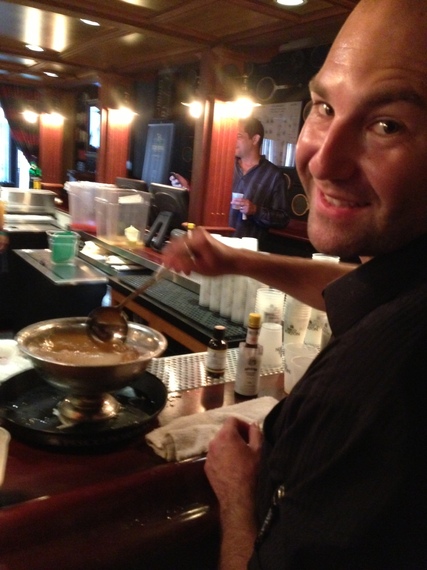 First time participating bartenders include: Ken Baranda (Hakkasan); Mary Bartlett (Honeycut); Talia Gallina (A-Frame); Josh Goldman (Soigné Group); Jason Hubert (Black Market Liquor Bar); Kelly Merrell (Trader Sam's); Elizabeth Mickiewicz (Sadie); Alex Barbatsis (Rivera); Eva Pelczer (Honeycut); Alex Straus (The Bon Vivants); Jeremy Lake (Crossroads); Brian Summers (Black Market Liquor Bar); Sofia Szabo (The Spare Room); Joe Valdovinos (The Playground); Nick Meyer (Soigné Group), and Christine Wiseman (La Descarga).

Art Beyond the Glass was co-founded in 2012 by bartender Zahra Bates (The Pikey) and Daniel Djang, Founder and Editor of the cocktail and spirits blog Thirsty in LA. "It's hard to believe we're in our third year of Art Beyond the Glass," says Djang. "What's really amazing is that the legacy of this year's event--restoring one of the freeway murals from the 1984 Olympics--will be appreciated by future generations of Angelenos. It's something that everyone, from our incredible bartenders and generous sponsors, to volunteers and guests, can look back on with pride."
"I am in awe of how many bartenders said yes again and so incredibly proud to be working with Daniel Djang, Allan Katz and Danielle Crouch this year," Bates adds. "A group of people dedicated to the idea that together we can make a visible change for the better."
The ABTG lll all-inclusive ticket includes cocktails, art, entertainment, and bar bites from Sadie and Guelaguetza, which is also donating food. In addition, guests will be able to purchase bartender art, buy raffle tickets and bid on silent auction items, including artwork, photography, rare spirits and much more. All proceeds will be donated directly to the Mural Conservancy of Los Angeles.
Bartenders will even take to the Sadie stage to perform live, including singers Kiowa Bryan (Eveleigh), Luke Ford (Seven Grand) and Erik Trickett (Caña); Higher Flux featuring Ali Huleisy (Melrose Umbrella Co) and Robbie Gregg (Copa D'Oro); Matt Mann & The Shine Runners featuring Josh Curtis (Copa D'Oro); magic by Joshua Lucas (Honeycut) and Jordan Gold (littlefork).

Art Beyond The Glass lll will take place Sunday, June 29 at Sadie Kitchen & Lounge, located at 1638 N. Las Palmas Avenue, in Hollywood from 3 pm to 7 pm. Tickets for the event are $50 per person and are available exclusively until 6 pm on Saturday, June 28. Click here to buy tickets. Tickets will not be available for purchase at the door on the day of the event.