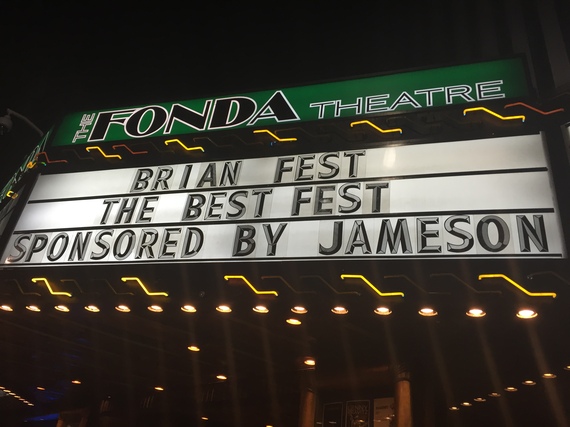 The music of Brian Wilson and the Beach Boys is all about harmony. It's lush and expansive and has stood the test of time. So it made perfect sense when Jameson Irish Whiskey and the Cabin Down Below Band teamed up for Brian Fest, a night to celebrate the music of Brian Wilson to benefit Sweet Relief Musicians Fund.
Maybe it was the soothing sounds of Wilson or the ever flowing Jameson, but it was impossible not to have a good time at Brian Fest. Past fests have paid tribute to the music of Bob Dylan, Tom Petty, and The Rolling Stones. Brian Fest also coincided with the release of Wilson's No Pier Pressure next week. But this night wasn't about promoting new projects or stars on soap boxes, instead it was all about the music of Brian Wilson and his stellar and groundbreaking career -- in this case that message was clearly in let the music do the talking format.
Special guests to join the house band to take on Wilson's rich catalog included Devandra Banhart, M. Ward, Local Natives, Ke$ha, Wilson Phillips, Boz Scaggs, Al Jardine, Wayne Coyne of Flaming Lips, Norah Jones, and Ann Wilson among others. But the star of the night was clearly Wilson, who still loomed larger than life when he took center stage late in the evening.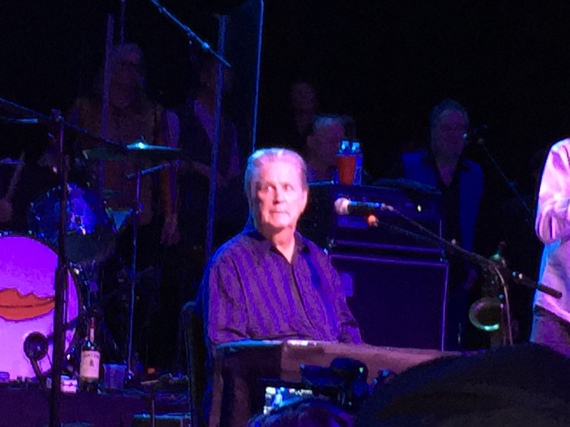 The show actually started on a somewhat rocky note as some of first guest singers couldn't master the harmonies that Wilson is so famous for. Maybe due to nerves or lack of prep time, but some of the vocals were just off, enough so that good vibrations were a little slow to come by. But come they did.
Kudos to Devandra Banhart for really getting into the spirit of the night dressed as a carrot while singing "Vegetables". But it was the performances of bands, maybe because of their familiarity or because of the multi singers, like Local Natives who really shined on "I Get Around" and The Punch Brothers on "Surf's Up" that were able to master the harmonies and really get the crowd fired up. Likewise Ke$ha, a last-minute sub for Brandon Flowers of The Killers, on "California Girls" and Boz Scaggs on "Sail on Sailor" and Norah Jones on "God Only Knows" delivered solid performances. Wayne Coyne of The Flaming Lips was his usual free spirit self while taking on "Good Vibrations" and Ann Wilson delivered on "Warmth of the Sun."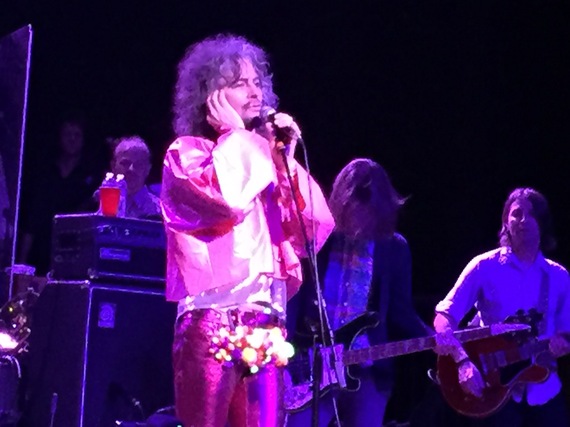 I consider myself a casual Brian Wilson fan. I'm more Beatles than Beach Boys and lay my allegiance to Lennon and McCartney when it comes to songwriters, but listening to Wilson's songs and watching the audience (sure, they were sloshed on fine Jameson) absolutely lose themselves in Wilson's wondrous music, I can say without fear of contradiction that his music is timeless and without limit.
And by the time Brian Wilson performed, well that was just magic. Behind his familiar piano, he delighted on "Surfer Girl" as well as "Fun, Fun, Fun", "Surfin' USA" and "Barbara Ann" proving that even at age 72 and somewhat frail; his presence still casts a large shadow.
Set list:
Do It Again (Cabin Down Below Band)
Surfin Safari (Cabin Down Below Band)
Till I Die (Lucius)
Be True to Your School (Adam Busch & Danny Masterson)
I Just Wasn't Made For These Times (Jade Castrinos)
Meant For You (Devandra Banhart)
Vegetables (Devandra Banhart)
Surf's Up (The Punch Brothers)
Wouldn't It Be Nice (Joy Williams)
You're So Good to Me (M. Ward)
Don't Talk Put Your Head on My Shoulder (M. Ward)
Let Him Run Wild (Local Natives)
I Get Around (Local Natives)
Caroline, No (Karen Elson)
California Girls (Kesha)
Wild Honey (Blondie Chaplin)
In My Room (Wilson Phillips)
Feel Flows (Doyle Bramhall II)
Sail on Sailor (Boz Scaggs)
Sloop John B (Al Jardine)
Good Vibrations (Flaming Lips)
Little Bird (Norah Jones & Gingger Shankar)
God Only Knows (Norah Jones)
Warmth of the Sun (Ann Wilson)
Our Prayer (Cabin Down Below Band)
Surfer Girl (Brian Wilson, Norah Jones, Boz Scaggs)
Fun, Fun, Fun (All)
Surfin' USA (All)
Barbara Ann (All)