Amidst the competitive and ever evolving L.A. bar scene, you'll be hard pressed to find a better and more consistent bar than Pasadena's 1886 Bar; the little bar that could and did in a big way. Yes, this does mean you'll have to trek out to Pasadena to get the best cocktails in the L.A. area.
Sure, some bars may have more panache or prettier bells and whistles, but for those who strictly care about the quality of their cocktail, this is the spot. With its ever-changing cocktail menu, which morphs from season to season, bartender Gillian Georges stands out as this winter's VIP. Her kick-ass seasonal drinks (which range from shaken, stirred, and hot) are tops across the board. Indeed a star is born this winter.
A former Food & Wine editorial assistant at L.A. Times Magazine, Gillian started as an intern at Susan Gordon's Lucques before getting hired as a line cook. As a brazen 18-year-old, she approached the chef at Bazaar during an L.A. Times photo shoot and asked for a job. Chef said yes and Gillian worked there for four years.
"It was one of the most amazing experiences," she says.
Keep in mind, this is still when Gillian thought she was going to be a career chef so she made the big move to New York and helped open Tom Colicchio's Topping Rose House and then decided she wanted to move back to L.A. and get into cocktails.
That's when she fell under the tutelage of cocktails guru Marcos Tello -- a much sought after handcrafted cocktails consultant.
"Marcos took me under his wing and I went through his program and training," Georges recalls. That led to her tending bar at 1886 Bar at The Raymond in Pasadena. The unassuming and charming little bar aims big with its forward thinking cocktails, which are never simple nor basic, and that works just fine with Gillian's culinary background.
"At Bazaar, their innovative outlook onto the cocktail scene always interested me," Georges explains. "I was always envious of the bartenders. And here [at 1886 Bar] I could show off my guns and show what I can do."
Her culinary background allows her to use molecular techniques, which really made her stand above the pack during the summer when 1886 Bar really hit a homerun pouring a truly impressive array of drinks. Gillian's summer cocktails included pickle backs and sangrita shots using sodium alginate to encapsulate the chaser. I only wish my high school chemistry class could have been this interesting. Her sangrita mix was encapsulated into a gel that popped in your mouth like an egg yolk. This winter she's using espuma (foam) for her delicious Patty O'Green hot chocolate libation.
Another Gillian Georges creation that is a hit this winter season is her Bull's Eye, which she describes as "a husky Manhattan." A potent mix of Buffalo Trace Bourbon, Nocino (walnut liqueur), and Crème de Cassis, this drink really packs a punch.
"I wanted something earthy and cool but that will also warm you up on a cold night," Georges points out. "And I wanted to use Nocino, the green walnut liqueur, and I wanted to use Cassis, because I love blackberries, and I added Buffalo Trace just because it's a really nice, warm bourbon."
Likewise, her Moroccan Exchange is a tantalizing blend of Dos MaderasPX Rum, Nicaraguan 5-year rum, fresh lime and harissa spices, served down on a rock of ice and finished with Smith & Cross. This drink is simply delicious with an adventurous hint of spices that will have you licking the giant ice cube for every last bit of flavor (it's actually a little embarrassing I must confess).
"With the Moroccan Exchange, I wanted to do something with spice. I love harissa, it's one of my favorite spices to use, so I made a harissa simple syrup and used two different types of rum, lime, and a spray of Smith & Cross just to give it a funky nose."
And lets not forget about her fab Patty O'Green, a terrific boozy hot chocolate. "I definitely wanted to do something warm and add a little kick with the Fernet Menta," Gillian explains.
Determined to eventually open her own restaurant (maybe with a rustic Italian flare) and run her own bar program, there's no stopping this bartender on the rise, even in a male-dominated business. "I used to say by the time I'm 28," Gillian says about when she'd like to be her own boss, "but I'm 25 now. I'll stick with 28 but maybe 30."
"My mentality is always to go in and be the hardest worker," she adds. "It's definitely a male-driven area and there were a couple of times in the culinary side where there were hardships but nothing you can't get over and stand up and say, 'Screw you, I'm in town!'"
It's that determination that impresses Marcos Tello, who oversaw the 1886 Bar program for years and is responsible for setting up some of the best handcrafted cocktail bars all over Los Angeles.
"She's very innovative and has always been super smart," Tello says of his star graduate. "Where you're just realizing that Gillian is now this rising star, for a long time she was very shy behind the bar and we worked with her a lot on the hospitality training and now she can host the room. That's another aspect of the bartender that you look for. She has a huge career ahead of her but one of the biggest accolades I give her is coming a long way with her service and hospitality. There are a lot of bartenders that have one or the other, and she definitely has both. You're just seeing the beginning of Gillian Georges."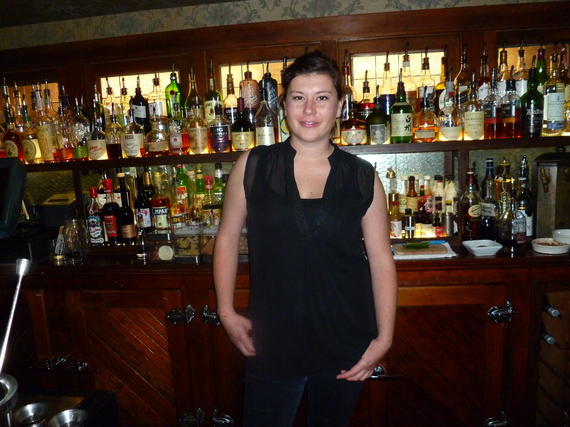 And at this point in her young career the drinks are only getting better. Leave it to the aspiring chef and mixologist to approach bartending from a fresh perspective.
"You just have to find that balance," she opines. "It's almost like a math problem and you just have to plug in the right spirit. You need to make sure your cocktail has the right amount of acidity; right delusion; right sweetness. The downfall of most bars is that the bar looks great but if the cocktail is not balanced, there's no point in going back."
1886 Bar is located at The Raymond in Pasadena at 1250 S. Fair Oaks Ave. Call (626) 441-3136.