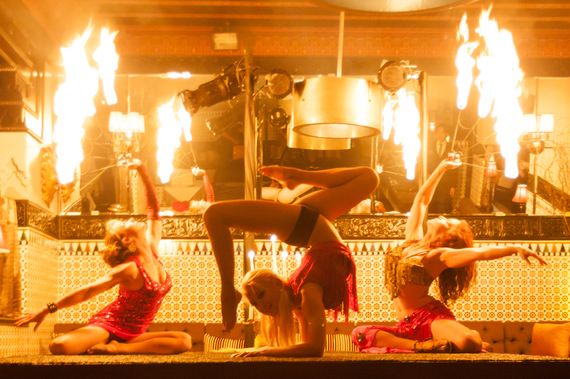 Some people obnoxiously boast, "Don't hate me because I'm beautiful," but even more insulting is grandiosely living the opulent life of a tyrant -- well, unless you're that tyrant. And with the recent premiere of FX's brand-new drama Tyrant, I was treated to the "baller" life of said tyrant.
From Howard Gordon, the Emmy and Golden Globe Award-winning executive producer of 24 and Homeland, comes Tyrant, which tells the story of an unassuming American family drawn into the inner workings of a turbulent Middle Eastern nation. Bassam "Barry" Al-Fayeed, the younger son of the dictator of a war-torn nation, ends a self-imposed 20-year exile to return to his homeland, accompanied by his American wife and children, for his nephew's wedding. Barry's reluctant homecoming leads to a dramatic clash of cultures as he is thrown back into the familial and national politics of his youth. And just like on 24 and Homeland, the drama is taut, and the potential for the series (I've only seen the first episode so far) is great, if you like a shade of brutality in your TV viewing.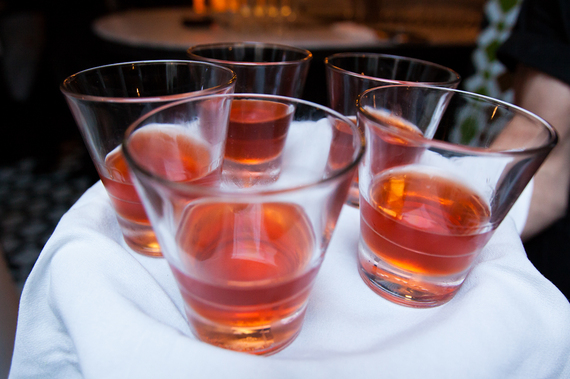 Treated to a luxurious Middle-Eastern-bazaar setting at Acabar (from renowned chef Octavio Bacerra) on Sunset Boulevard, as soon as I walked through the front door, I was greeted with my choice of Prosecco or a favorite of mine, the classic Sazerac (a delicious blend of cognac, Pyschaud's Bitters, and an Absinthe rinse), this night rebranded as the Dictator. I was all about the Dictator. There was also a rum drink called the Jamal, and a Chartreuse Swizzle renamed the Molly.
As drinks flowed freely, so did passed hors d'oeuvres, and even lovely harem girls made the rounds. When it was time for the premiere to start, we sat on fluffy cushions and enjoyed warm nuts and baked chips, as popcorn must be for peasants! There's nothing like the lavishness of the world's most prosperous tyrant. Where do I sign up?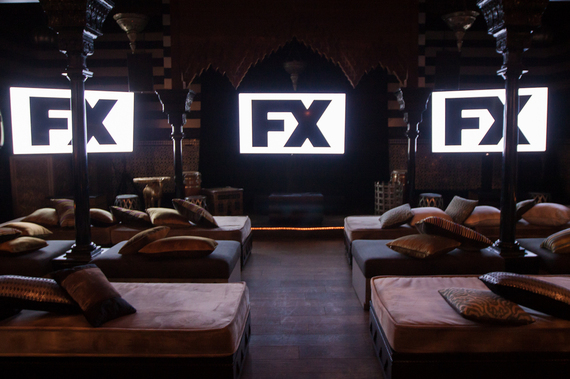 After the viewing of Tyrant, fire dancers and erotic acrobats entertained while we made our way to the dining-room table where a lavish 13-course meal inspired by the show awaited. (The dinner was actually 14 courses, but the first dish, Crudo -- kanpachi, uni, summer truffles and salmon roe -- was passed before the screening.)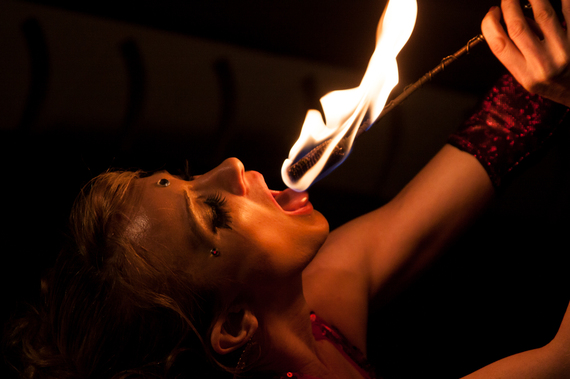 As wine flowed freely, delicious delights started making their way to the table. One after the other, delectable dish after delectable dish came to me for consumption. Sure, this is the life, but the "onscreen reality" that took place during the Tyrant pilot was pretty harsh. It's understandable why the lead character left his home and family so many years ago, especially when realizing he possesses the tyrant instinct. But just for one night, it was good to be king.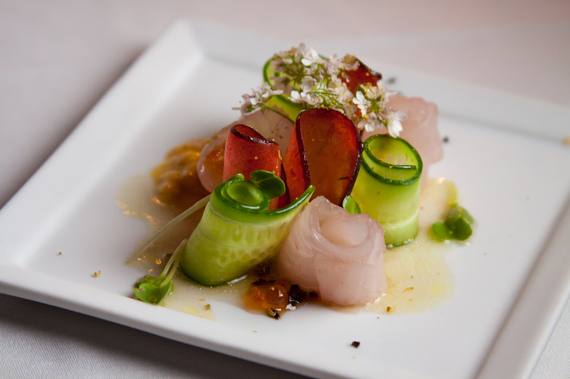 My feast consisted of oysters with caviar; skewered spice prawns; crispy zucchini blossoms with Merguez sausage; caramelized cauliflower; lamb tagine; yellow gazpacho; buttered flatbread; "Wedding Gunshots," otherwise known as quinoa falafel; Poulet Roti -- roasted chicken called "Wedding Chicken"; deep-fried "wedding" white fish; Kelebrek -- a second Wedding Chicken with stone fruit, pistachio and honey labneh; and Farmers Market Stone Fruit -- seasonal stone fruits with Chai meringues, cage free raspberries and plum reduction.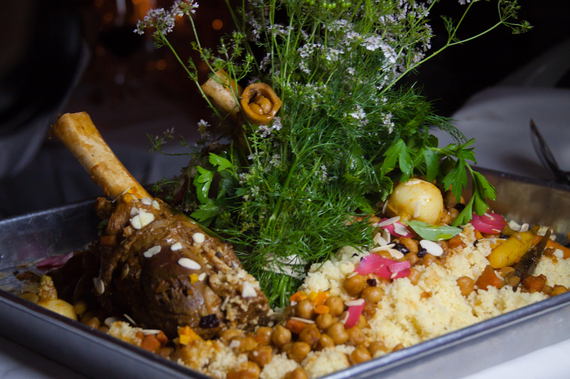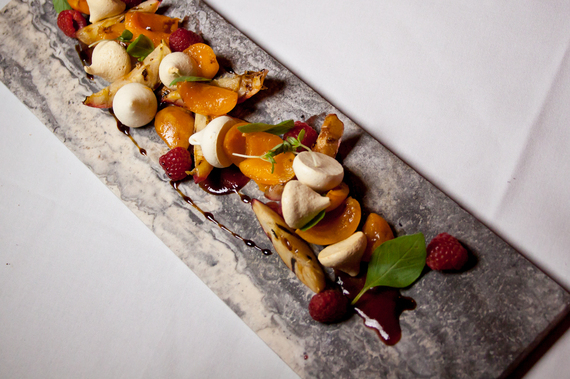 Damn that was some dinner!
With FX teaming up with Truffl, a private members' community designed to inspire tastemakers via intimate gatherings -- think food, music, art, and design to create unique experiences, such as underground dinners, album-listening parties, and classes with renowned chefs and street artists -- the night was decadent, overindulgent and wholly enjoyable. Sure, one can lambast the network for its spending, but I say off with their heads! Well, not really. I was already looking forward to watching Tyrant, but the chance to enjoy such a feast at Acabar was just icing on the world's most outrageous cake. (Speaking of cake, that was all that was missing -- guest that's for the proletariat too.)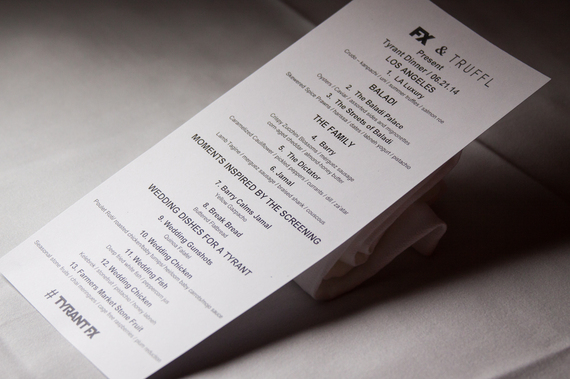 Tyrant airs Tuesdays at 10 p.m. on FX.
Acabar is located at 1510 N. Stanley Ave.
Click here to learn more about TRUFFL.
Photos courtesy of Don Kang