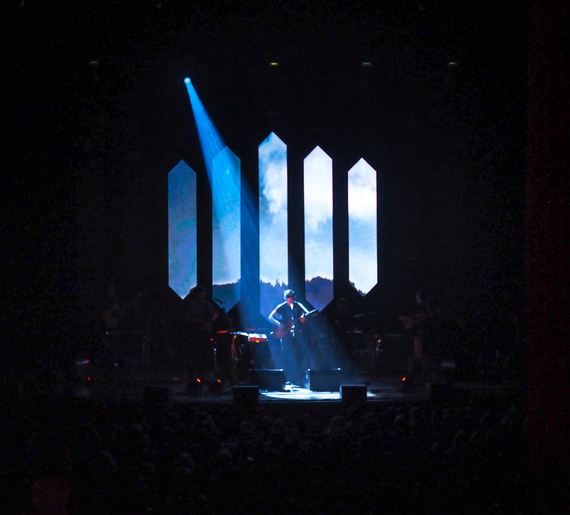 It's often an interesting story how you discover something that ends up being special to you, from how you met your significant other (you always want a good story to tell the grandkids) to how you discovered your favorite drink (I like sharing how I developed a passion for the Negroni) to how you discovered an artist that moves and inspires you.
I vividly remember the first time I heard musician Sufjan Stevens. I was drinking in a Chicago bar and a Chicago themed play list was in full swing. All the songs were either from Chicago artists or were songs about the Windy City. After Sinatra's "Chicago" a song I had never heard of came on. It seemed quirky then lush and finally glorious as a myriad of sounds meshed to create an absolutely gorgeous melody. I quickly grabbed my iPhone to Shazam what I was listening to. It was Sufjan Steven's "Chicago" from his record Illinois. I was mesmerized. I immediately download the record and was hooked. Don't even get me started on the awesomeness of his ode to "John Wayne Gacy, Jr."
So when I heard earlier this year that he had a new release, Carrie & Lowell, coming out, I was eager to hear it. I got the record and got lost in a wave of introspective and moody songs. Then I became anxious to see his live show. After viewing clips on youtube, I loved his performances. They seemed grand and quite the production; a mix of Flaming Lips meets Polyphonic Spree glee and madness. But Carrie & Lowell is more somber in nature as the record is about death and loss and forgiveness.
The Guardian wrote of Carrie & Lowell, it "is a fall-down gorgeous and emotionally devastating masterpiece prompted by the death of his mother, Carrie, in 2012. It features some of the most beautiful music ever made about loss, and some of the most direct explorations of death ever recorded. It is a brutal, extremely sad, relentlessly wrenching record that, because it's so exquisitely crafted, you might keep on a loop for days."
The live show stayed true to the feel of the record. A tight quartet on stage, Stevens, 39, and his band, mostly dressed in black so as not to distract, played in the shadows and sometimes in front of family home movies or awesome landscapes played through what appeared to be church stained glass windows delighting his mostly hipster crowd, some of which even bought his Sufjan tote bag (that's new in the merch world).
Props to Sufjan Stevens for not just playing the hits on his current tour as he performed Carrie & Lowell in its entirety. While the record reflects on the relationship with his mother Carrie who suffered from schizophrenia and alcoholism and abandoned her family when Stevens was a one-year-old, it also shines a light on his stepfather Lowell Brams, an inspiring man who ended up being a beacon in Stevens' life. It was through Lowell that Carrie rekindled a relationship with her children. There was no music in the home Stevens shared with his father and stepmother, but Lowell was an amateur musician and introduced Stevens to the likes of Leonard Cohen, Frank Zappa, Nick Drake, The Wipers, and Mike Oldfield. Lowell now runs Stevens' record label, Asthmatic Kitty, from his home in Wyoming.
After playing for nearly an hour of mostly new material during two sold out shows at Dorothy Chandler Pavilion at the Music Center in downtown Los Angeles, Stevens finally addressed his audience. Soon, the was broken if not shattered as he began shared stories (different each night) about his family, growing up and life in general. You'd swear he has some kind of theater background because he's so comfortable and his timing is so spot-on.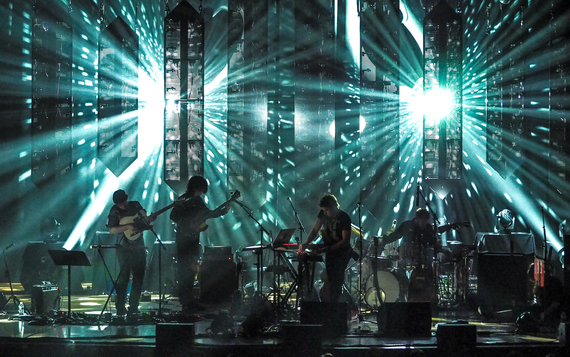 The performance during the second night was at times a little sloppy but genuine nonetheless and sometimes, in those moments, even better than the stellar precision of the first night. A multi instrumentalist, Stevens' band members also seamlessly switched instruments showcasing their dexterity. With harmonies that reminded me of Brian Wilson, comparisons have been made to Elliott Smith and Paul Simon, and Stevens' knack for taking somber songs and suddenly giving them dance beats or an electronica feel reminded me of Moby's ability to fight off being mired in any one style.
While the show wasn't the carnival I had seen online from previous tours (that just wouldn't have meshed with Carrie & Lowell), I did appreciate the sincerity and raw emotion of this tour. By the time Stevens and company finished the show with "Chicago", which they played slower and with more feel instead of the over the top gloriousness that I originally fell in love with, it was still beautiful and marked a maturation that was inspirational. While a wake can be a sad occasion it is also an opportunity to celebrate life and raise some much needed hell as a cathartic breakthrough.
Wednesday, June 3 set list:
Redford
Death With Dignity
Should Have Known Better
Drawn to the Blood
All of Me
Eugene
John My Beloved
The Only Thing
Fourth of July
No Shade in the Shadow of the Cross
Carrie & Lowell
Owl & Tanager
In the Devil's Territory
The Dress Looks Nice on You
To Be Alone
Futile Devices
Casimir Pulaski
Blue Bucket of Gold
Encore:
Concerning the UFO Sighting Near Highland, Illinois
The Predatory Wasp of the Palisades is Out to Get Us!
Chicago
Thursday, June 4 set list:
Redford
Death With Dignity
Should Have Known Better
Drawn to the Blood
All of Me
Eugene
John My Beloved
The Only Thing
Fourth of July
No Shade in the Shadow of the Cross
Carrie & Lowell
Owl & Tanager
Paradise
Heirloom
To Be Alone
Futile Devices
Sister
The Predatory Wasp of the Palisades is Out to Get Us!
Blue Bucket of Gold
Encore:
Concerning the UFO Sighting Near Highland, Illinois
Chicago
Live photos courtesy of Justin Schaible