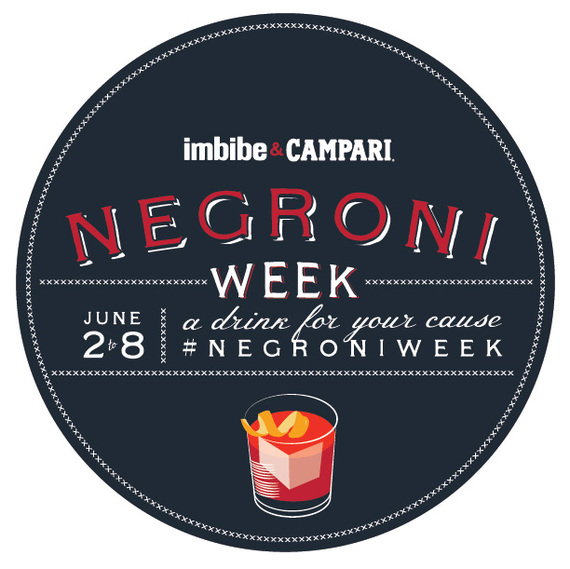 On a recent post about cocktails, I asked the question, What will the end of Mad Men mean to cocktail culture? While the groundbreaking show did wonders for popularizing drinks like the Manhattan and Old Fashioned, I wrote that it's time for classic libations like the Negroni, and Sazerac to come to the forefront.
There's something special about the classics. They're the O.G. (original gangster as Ice-T would say back in the day) that started the fuss. In fact, the Negroni's roots can be traced back to 1919 in Florence, Italy where it originated as a stiffer version of the Americano. Like so many of the classics, the Negroni recipe keeps it simple: one part gin; one part Campari; and one part vermouth (red, semi-sweet) -- always stirred, never shaken.
A word of warning about vermouth, it can go bad so stay away from dusty bottles of sweet vermouth when ordering at a bar. And because it's so simple to make, impress your friends with this tasty drink -- just don't let them see you make it at home.
Filmmaker Orson Welles was a fan of the Negroni. He said, "The bitters are excellent for your liver, the gin is bad for you. They balance each other."
It actually took me years to be able to appreciate a Negroni. While I'm cool with gin, it's the Campari (an Italian bitter aperitif) that always threw me off. I can still recall my first encounter with it. I was at a Campari party and as soon as I walked through the door I was given a shot of the stuff... not to my liking at all. Next I had a cocktail with it (Campari and soda, not any better). Done with Campari, time went by and when I told a bartender about my experience he looked at me funny and said, "You drank it wrong!"
He explained Campari is an ingredient in a cocktail, not the base spirit and convinced me to try a Negroni. I wasn't a convert on the spot but there was hope. Now, a year or so later I've definitely come around. And just in time, as Negroni Week runs worldwide from June 2-8.
Negroni Week was originally started by Imbibe to raise disaster relief for the American Red Cross after the Oklahoma tornado in 2013. Now in its second year, over 1,000 bars and restaurants in 12 countries will celebrate the classic drink, and at least in the U.S. help raise money for charity.
Since I like nothing better than bellying up to the bar and chat with bartenders while watching them work, I've come to realize that bartenders really love a Negroni.
According to Marcos Tello, barman extraordinaire in Los Angeles, responsible for creating bar programs at Seven Grand Whiskey Bar, The Edison, 1886 Bar, Killer Shrimp, The Varnish, and Los Balcones, his fondness for the drink is simple.
"My fascination with the Nigroni is that it's a lower alcohol drink," Tello says. "Campari is a lower alcohol; sweet vermouth is lower alcohol; the only big spirit in it is gin. So it's a great before-dinner-drink because it's not going to crush you or numb your senses. And I like to eat so it's the perfect drink for me because it prepares me to eat."
Order a Negroni at 1886 Bar at The Raymond in Pasadena and just might get asked, do you want it classic or like Marcos makes it? Tello's Negroni is actually 1 oz Campari; 3/4 oz of Carpano Antica; and 1 1/4 oz of Tanqueray Gin or big, bold London Dry Gin.
"Put into a mixing glass, he explains, "stir maybe ten rotations with ice, strain over a big rock in a rocks glass with an orange peel expressed and swapped over it and then tossed. And that's it. And then serve me a big meal afterwards."
"I prefer my Negroni more on the liqueur side with less gin," says 1886 Bar director Brady Weise. "I usually have a Negroni before a meal so I want to keep the harder alcohol behind and have the Amaro in the front."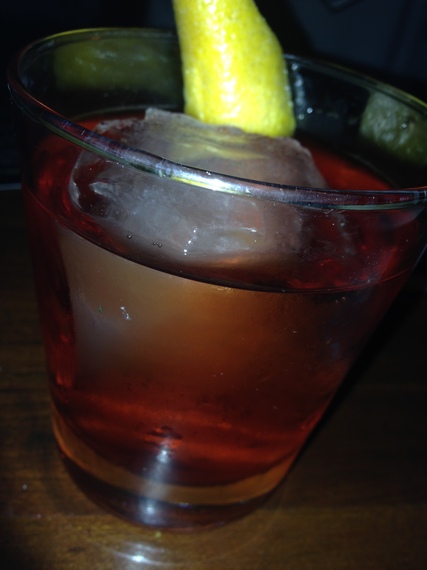 I like the blend of bitter and sweet in a Negroni, and the herbal complexity is nice, not to mention its refreshing taste. Popular the world over, it's appreciated differently throughout.
"Certain cultures gravitate to certain flavors," Weise points out. "The French like sweet. Italians like bitter; they like Aperol, and Campari. Italians like big and bitter and then go to wine with dinner; the French are the opposite. They start off with champagne and wine. In California, the Negroni has become Nuevo cocktail culture. You see people using molecular gastronomy creating deconstructed Negronis. A Negroni is like pizza, everyone has their favorite."
A huge Negroni fan is Adam Weisblatt, bar director for Tunnel Bar (a serious cocktail bar without being a serious cocktail bar), and Tipple & Brine in Sherman Oaks. He loves everything about the drink.
"I love its name!" Weisblatt declares. "And Campari is a magical ingredient in a bar. It's the most indispensible spirit."
Weisblatt's Negroni is equal parts Beefeater Gin, Campari, and Antica on a big rock.
"It's the perfect nightcap," he says. "It's an aperitif and digestif."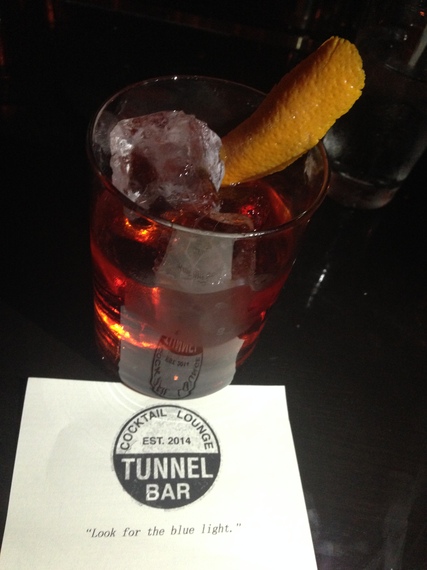 And why is this classic cocktail not on every drinker's radar?
"The Negroni's popularity is still on the lower end," Weisblatt offers. "Campari still scares people; gin still scares people. In bartender culture, it's very popular."
Hopefully that will change soon.
"The Negroni is one of the pillars of classic cocktails," says Dave Karraker of Campari.
When I tell him about my introduction to Campari, he laughs and says, "With Campari, the third time's the charm."
Recently, while having a Negroni at Tart on Fairfax Avenue (General Manager and Sommelier Mary Thompson makes her Negroni with 1 oz Hendrick's Gin, 1 oz Aperol and 1 oz Carpano Antica), I decided to give the Americano -- the precursor to the Negroni made with club soda, Campari and sweet vermouth -- a try. While not the stiffest drink, it blew me away. Talk about the perfect summertime day drinking cocktail. It's light, refreshing and tasty. I see why it was all the rage back in the day. Campari's Karraker says of the long forgotten drink; make sure to ask for it as an Americano cocktail or you're most likely to get a cup of coffee by mistake.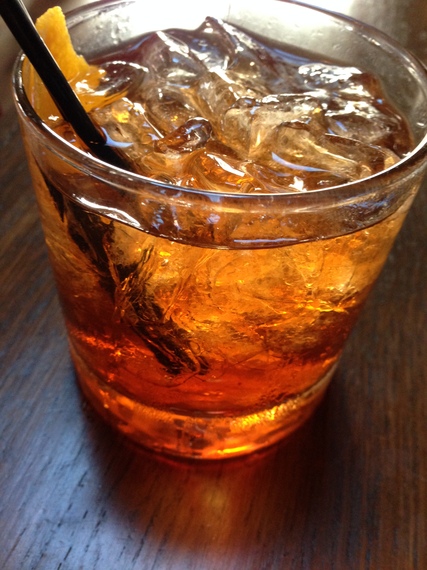 Likewise bar guru Adam Weisblatt introduced me to the Rome with a View, a smooth and refreshing mix of 1 oz Campari, 1 oz dry vermouth, 1 oz lime juice and ᅡᄒ oz simple syrup. Delicious!
While Karraker likes to say that "every week is Negroni Week," he's proud that the cocktail can help raise money for charity (each participating bar gets to choose its own benefiting charity).
"If we can be a catalyst to raise money for any number of causes, that's fantastic."
And how does Mr. Campari like his Negroni?
"It depends on the gin and vermouth, which can add depth," Karraker says. "Traditional London Dry Gin makes a bracing Negroni. Plymouth Gin makes it soft and rounder. Hendricks Gin is almost too floral."
With different variations abound, it's not difficult to create your own Negroni. Substitute the spirit of your choice in place of gin and the possibilities are endless. There's the Negroski (vodka), Kingston Negroni (rum), Tegroni (tequila), Oaxacan Negroni (mezcal), Parisian Negroni (cognac), and Dutch Negroni (Genever). Newer Negroni spinoffs include the Old Pal (Campari, rye whiskey, dry vermouth), Boulevardier (Campari, bourbon or rye whiskey, sweet vermouth) and the Negroni Sbagliato (Campari, prosecco, sweet vermouth).
According to Karraker, the Boulevardier, which he describes as "rich and caramel" is the next Negroni trend for sure.
Here are some more recent Negroni recipes:
NY Sparkling Negroni
Created by Theo Lieberman from Milk + Honey

1 oz. Campari
1 oz. Cinzano Rosso
1 oz. Bulldog Gin
1 1/4 oz. Prosecco

Garnished with a grapefruit twist and served chilled in a bottle.