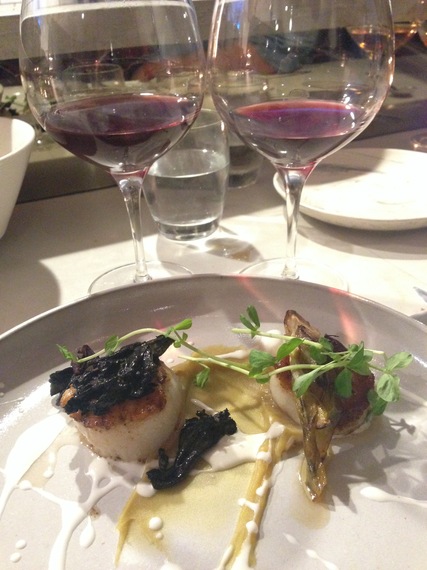 In this town, what's hot is king, especially when it comes to dining and nightlife. Whenever a new restaurant opens it's surrounded by buzz, sometimes deserved and other times it's just a fleeting flash. When word got out about the opening of Saint Martha, the anticipation was high. Located in a Koreatown strip mall, it became an immediate hotspot.
Named after the patron saint of cooks and servants, Saint Martha operates in the tradition of Old World service where Chef Nick Erven cooks Modern American cuisine rooted in European tradition. An added attraction is the impressive wine program created by Sommelier and General Manager Mary Thompson who has put together a list of 50 under-appreciated and unexpected wines by the taste, glass and bottle. Her wine list does not include a single California Chardonnay or Napa Cabernet.
"It's a push-pull of the comfortable and unexpected," Thompson says.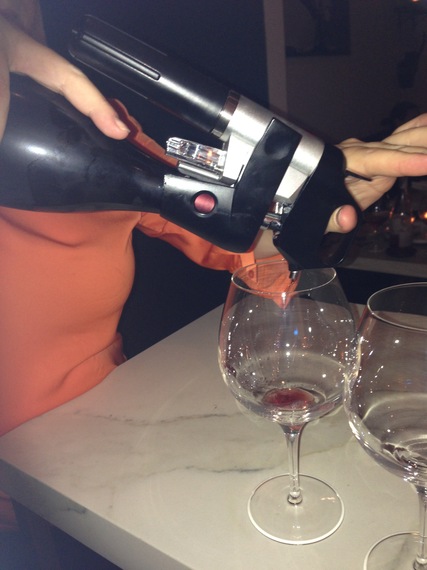 While she prefers to be called "cork dork" or "wine chick" instead of a lofty Sommelier, the fact is that she is offering first rate and mostly unheard of wines by use of a Coravin, a nifty contraption that allows her to pour wine via a long, thin needle without ever removing the cork, which means she can pour by the glass wines that would normally only ever be available by the bottle (wines by the glass range from $6 to $120).
"Without the Coravin, we'd only be able to offer high end wines by the bottle, which would be a disservice to the wine geeks who enjoy coming in," Thompson explains. "We wouldn't be able to offer 50 wines by the glass. I want people to come back for really dynamic wines. We have wines from Israel, Long Island, Canada, Augusta, Missouri, Croatia, Georgia and Slovenia."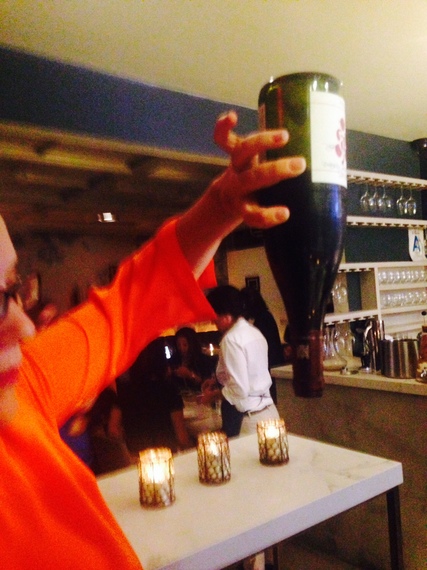 While enjoying creative and adventurous dishes like octopus with Koshihikari rice; sea urchin "tataki" with avocado mousse, hearts of palm and seaweed Doritos; and steak and oyster tartare with champagne sabayon and bone marrow beignets, Thompson's wines really elevate these already delicious items.
And that's where the Coravin really comes into play.
"It's the enabler," Thompson admits, "the linchpin whether we'd be able to pull this off. It really makes it possible so you can enjoy a $120 glass of wine without worrying about its quality."
Back in May 2014, the Consumer Product Safety Commission issued a recall of the Coravin to repair its wine-accessing system. The recall came after Coravin reported incidents of wine bottle ruptures caused by the device. As a remedy, the company issued nearly 40,000 neoprene sleeves to its customers. In fact, the day before Saint Martha's opening this summer, Thompson was actually out of her two Coravins.
"I broke both of our Coravins before we opened," she recalls. "I broke a needle in one. I was able to fix one and we borrowed one from a rep. I had a panic attack; mini heart attacks."
While Thompson's wines constantly rotate, I wondered how that changes the dining experience from one visit to the next.
"It gives people a reason to come back," Thompson stresses. "I'm a wine geek and I'd love to go somewhere I can always have something different. Nowadays, we all want something cool and new, and we want it now! We want instant gratification. I always say great meals make me giggle. And although we take our food very seriously, I hope guests get lost in conversation and get transported they haven't been before. You can order a wine you like but it will come from somewhere new and different, and that's the unexpected factor."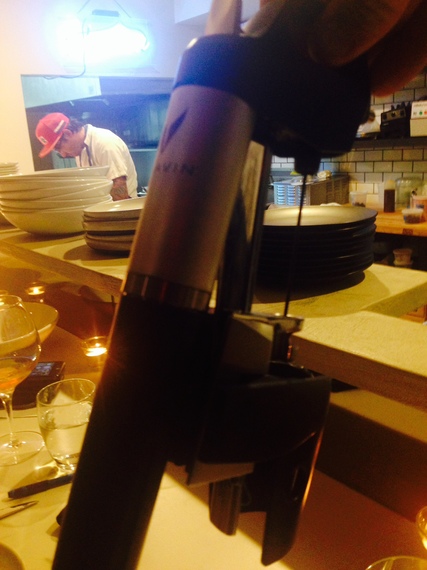 Saint Martha is located at 740 S. Western Ave. Hours: Tuesday - Sunday 5pm to 11pm. Free parking in lot. Call 213-387-2300.

Click here to read Jose Martinez's full Saint Martha dining feature.