Every ship needs its captain, every plane its pilot and every outstanding cocktail program an inspired craftsman leading the way. I say "craftsman" but that's just an expression as the ladies behind the bar are just as savvy and talented as the gents. And in the case of Culver City's fine farm-to-table Muddy Leek, Sommelier and beverage director Sara Kay Godot not only knows her wine but is making a name for herself for her wondrous handcrafted cocktails.
Originally from Florida, Godot moved to Chicago in 2005 with a BFA in Theater. "I quickly realized you can't make a living in live theater," she says in between sips of an Old Fashioned. She soon was hired by a recreational cooking school, which was hands on with demonstration classes and had a wine program. The gregarious Godot taught chefs how to become a people person, a trait many chefs lack.
She also took all the wine and cooking classes that were offered, for free (nice perk), and learned her taste surpassed her means pretty quickly.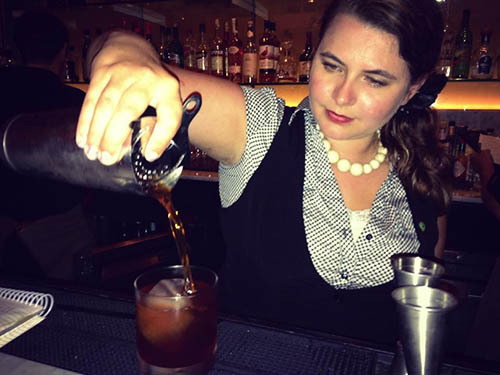 A certified Level 3 Sommelier, Godot ran two bars in Chicago in 2013, one at the Hotel InterContinental on ritzy Michigan Avenue. "I fell into the whole food and wine and cocktail scene, and Chicago was one of the forefront of bringing handcrafted cocktails back," she says.
Making the move out west to Los Angeles, Godot set up shop at Muddy Leek where her scratch cocktail program, which focuses on high quality spirits and locally sourced ingredients (the juices that find their way into each cocktail are fresh pressed every day, and the simple and flavored syrups, including ginger and pomegranate are made in-house too) really compliment Chef Whitney Flood's cuisine.
"I'm a wine and whiskey lady -- anything in a barrel, Godot says with a laugh. "I'm a wine person with a passion for cocktails and I approach cocktails from a sommelier perspective as far as flavor profiles. It is one thing to know how to make a classic cocktail and it's quite another thing to create a classic cocktail. For me, it comes natural, but that falls back on my culinary roots. I've always liked to create dishes instead of just following recipes."
Personally, I'm a big fan of Godot's Ice Balls where the bar maven flavors her own giant ice cubes if you will. Per her recommendation, I opted for a glass of my favorite Jameson with an Angostino ice ball. The combination changed the taste of my beloved whiskey entirely, creating an almost Old Fashioned cocktail. Can you say new favorite drink?
It's that kind of creativity that inspires Godot's cocktail menu. "I feel because of our concept, our cocktails are fun. And I want people to have the most flavorful experience. Actually, the chef and I are going to do cocktail flights with paired bites instead of happy hour soon. We'll do mini cocktails with food to go with it."
Because of Muddy Leek's no GMO (genetically modified organism) at Muddy Leek, the bar program stays away from Kentucky bourbons; doesn't serve Barcardi or Tanqueray, and that's just fine with Godot.
"If you only drink Tanqueray," Godot will tell customers, "close your eyes and drink this and you'll never know. The only thing I can't make is Coca Cola. And I'm actually not sad that we don't serve Coca Cola."
Recently, Godot took second place in the Esquire/Woodford Reserve Manhattan Challenge for her Manhattan Transfer, which has now been modified into a wonderful mix of Cedar Ridge Iowa Bourbon, Carpano Antica Formula Sweet Vermouth, peychaud bitters, homemade candied ginger soaked in pomegranate juice, Meyer lemon zest, orange zest, stirred and served in a chilled coupe.
A cocktail expert who never uses simple syrup in her drinks, Godot is quick to answer when asked what makes the perfect cocktail.
"I like to taste my booze. I hate sweet drinks. For me, it is being able to approach the spirit like wine, to understand every note in that actual based spirit and then figure what flight element will highlight it in an interesting way. That's where my sommelier background comes into play. A lot of times mixologists come from an old school bartender experience where they learned how to make a cocktail just one way."
A bar lady on the rise, Godot does admit there have been naysayers about a woman in a "man's world."
"I would not say it's an even playing field," Godot reflects. "There's an advantage in that there aren't a lot of us that stick with it for a long period of time so there are more doors to open. But I will say, especially in the sommelier world, there were frequently times where I would enter a tasting with fifty men in black suits and me and I would get asked for my credentials at the door because people thought I was lying that I belonged. It's not even the spirits community that is pushing us out. It's now becoming a more respected field that people don't scoff at a woman."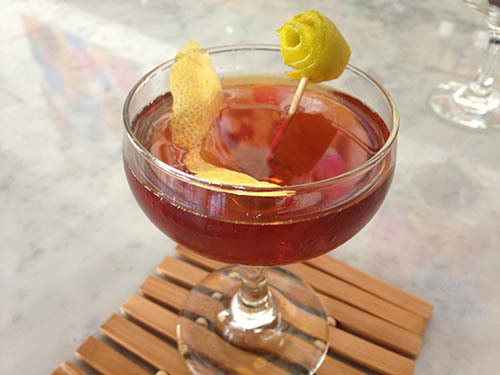 Dine at Muddy Leek with Godot at the bar and she'll recommend pairings such as Lamb Shank with her Manhattan Transfer, or Seared Duck Breast with the Lorne, Godot play on a Sea Breeze made with vodka, pomegranate, grapefruit, ginger, Rosewater and cardamom bitter. In fact, Godot says the most underrated drink, besides a well made cocktail, is the Sea Breeze.
Ask her what the most overrated libation is and she says daiquiris. "The most improperly made drinks are daiquiris. People tend to think of them as blended and tropical."
And while her savory cocktails are winning new fans everyday, there's still one reaction that always puts a smile on this bartender's face.
"Any time anybody says they love a drink," a beaming Godot admits. "The other day, a guy came up to me and said I have to shake your hand because that was the best Manhattan I've ever had."
Muddy Leek is located at 8631 W Washington Blvd in Culver City. Call (310) 838-2281.Happy Hour runs Tuesday-Friday from 4-6pm.