I had my first "taste" of a successful partnership seven years ago when I cultivated a mutually beneficial partnership between an oral health nonprofit and a major medical device company. The partnership that emerged supported the nonprofit's mission to educate dental professionals, the medical device company's marketing goals, and promoted greater societal awareness regarding the importance of HIV testing. Multifaceted efforts like this lead nonprofits and their for-profit siblings to having the greatest positive impact on society. When the mission of a nonprofit is well-aligned with the social impact goals of a for-profit partner, together they can help to develop innovative and sustainable solutions to the most pressing social and economic problems.
These types of partnerships are possible in practically any nonprofit setting. When I worked at an organization focused on educational technology, the nonprofit's leadership team successfully developed relationships with leading Fortune 500 technology firms that leveraged the expertise of their employees to support the nonprofit's mission. Specifically, employees volunteered on a regular basis at family trainings regarding the use of computers and educational software in a way that allowed them to use their professional expertise to help improve the educational outcomes of low-income children.
At the human services agency I currently work for, we worked with a major telecommunications company on a product related to supporting individuals with developmental disabilities. Specifically, the company included the nonprofit as an educational resource on the software package they created; in this way, the placement of the organization within the software package helped to ensure that families had access to a supportive resource while also helping to increase awareness about the nonprofit. At this agency, we've also worked to recognize those companies that have made social impact a key aspect of their business model. Each year, we honor a company that has developed a product or service that's supported individuals with disabilities in achieving greater independence. Although honoring a company may be viewed as a "weaker" partnership model, I would argue that it actually serves a critical purpose: Encouraging the for-profit sector to invest in social impact products and services that are good for business and society. Further, these early stage efforts could help to identify synergies between a company's social impact goals and a nonprofit's mission, which could lead to future partnership opportunities.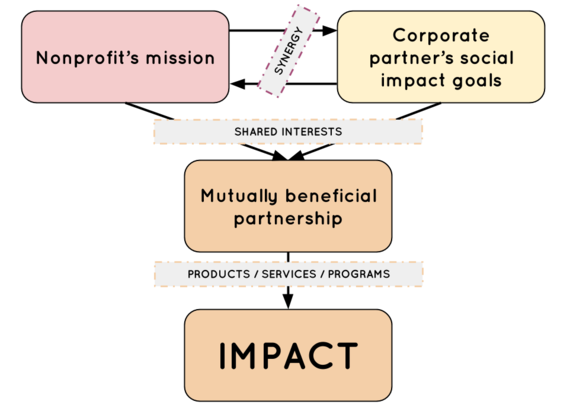 The relationship between nonprofits and corporate partners should no longer be based solely on corporate philanthropy, but rather should embrace a model that seeks a more robust return for the nonprofit, the corporate partner, and society. This model will result in strategic partnerships that help both parties involved realize greater return and achieve a mutually-shared measurable impact on society. Nonprofits should work with their for-profit peers to help them identify synergies between their organizations in a way that allows them to realize a return on investment that's good for society and business. To this end, nonprofits can be a valuable resource for helping corporate partners reach and support key constituencies by providing opportunities for philanthropic activity and helping them to identify needs for products and services to effectively respond to social and economic problems.
The sustainability of the nonprofit sector will require that it reevaluate how it engages its funders, so as to ensure a deeper level of engagement. As funding becomes limited, it will be critical for nonprofits to work with corporate funders to identify opportunities for mutually beneficial partnerships that ensure the greatest return on investment and perhaps even begins to work toward a measurement of success based on the partnership's ROS (return on society). By aligning their goals, nonprofits and corporate partners can usher in a new era of impact as both sectors combine their efforts to achieve even greater impact.