The AP reported that the Department of Defense estimates that more than 19,000 military men and women were sexually assaulted by fellow troops in 2010 while serving in the United States armed forces, and that at least 20 percent of servicewomen and 1 percent of men -- an estimated 500,000 troops -- have experienced sexual trauma while serving.
These troubling statistics motivated documentarian Kirby Dick and producer Amy Ziering to make The Invisible War, a film that examines the epidemic of rape within the military, how it affects victims and why so few cases are prosecuted. You can watch the film's trailer here, and an interview with the film's Academy Award-nominated director, Kirby Dick, along with Trina McDonald and Kori Cioca, two subjects of The Invisible War, here.
Politicians such as U.S. Sen. Barbara Boxer of California, U.S. Rep. Jackie Speier, Lt. Gov. Gavin Newsom and U.S. Rep. Mike Turner of Ohio attended the premiere this weekend at the 2012 Sundance Film Festival, where it won the Audience Award. Grammy winner Mary J. Blige pledged to write an original song for the film.
This comes on the heels of a press conference that Secretary of Defense Leon Panetta recently held on the subject. Rep. Jackie Speier responded to the Secretary's confronting the problem, "I offer loud applause with a caveat and distinct warning that the Department of Defense's new military sexual trauma policies are not bold enough."
The Coming Home Project has held two 4-day retreats specially for women veterans. Our first, in 2009, on Tomales Bay, near the Point Reyes National Seashore, drew 600 applications for 60 spaces. The second, in 2011, at Mission San Luis Rey in Oceanside near Camp Pendleton, drew 250 applicants for 50 spaces. The retreats were inspiring, powerful, heartwarming and heartbreaking. Approximately 40 percent of the participants experienced some form of military sexual trauma, including rape. Their stories closely resembled the stories of the two women documented in the film. Similar experiences included the disabling helplessness and despair that follows, not just being disbelieved, but the inability to receive assistance and adjudication given that many incidents involve superiors to whom the woman is unable to turn.
Then Chairman of the Joint Chiefs Admiral Mike Mullen sent the retreat participants a personal message. The first Coming Home™ women vets retreat at Tomales Bay was covered by the VFW magazine. Our second, in Oceanside, was covered by the Los Angeles Times."Treating Female Veterans of War" is a training video produced by the Coming Home Project and UCTV and presented by an expert on women veterans, Dr. Darrah Westrup. Developed for health professionals, this video, along with the others in the series "Treating the Invisible Injuries of War," have been downloaded over 2,000,000 times.
At the Oceanside retreat, 50 women vets came together for a truly "purple" gathering: all branches were represented, and status varied from Guard and Reserves to Active Duty to Veterans already separated. There was a rich diversity in terms of age, rank, type of military experience, marital and parenting status, and sexual preference. A group of twelve volunteer therapists facilitated small groups where participants shared their stories and experiences in an atmosphere of safety, trust and mutual respect. Like all Coming Home™ retreats, this one was not psychotherapy, but there was much reconnection, healing and outpouring of joy in the presence of other women vets who "got it." A participant noted that even in the larger group she felt a sense of intimacy, as if we were gathering in her living room. We created conditions of safety and belonging that enabled truly open sharing. All the staff were female, except for me. Meditation, qigong, expressive arts like journaling, drawing, movement and dance, an outing to a nearby ranch for an Equine-Assisted wellness experience and a nature walk at Batiquitos Lagoon with a National Geographic photographer and guide rounded out the 4 day program.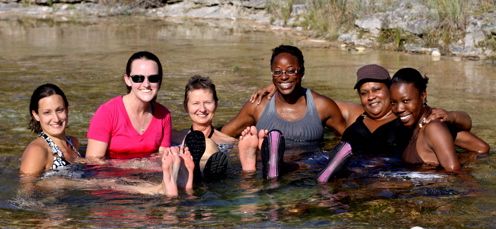 KPBS interviewed two retreat participants and me after the retreat. During the interview I was asked, "How are women's reactions to the stresses of war different (than men's)?" First I became flustered and didn't respond well. Later I retrieved what I knew: Brains, bodies, minds, hearts and souls, male and female, respond more similarly than differently to the impacts of service. The range of post-traumatic stress reactions are the body-mind's normal reaction to extraordinary, overwhelming experiences. What is different are the stressors that women face during their service, including the higher incidence of military sexual trauma (MST) and an often hostile and indifferent culture. Many female veterans feel they have to work twice as hard for half the recognition in a "man's military." Not only do rates of MST for women far exceed those for men, MST is associated with a series of serious mental health consequences. Women don't have "special problems" due to their "special reactions" to the same circumstances, requiring "special solutions." Based on my experience, what women veterans need is fundamental respect, recognition, and understanding of the unique stressors of their service experience. They need humane, integrative treatment, and some programming solely with and for their fellow women veterans, where they can feel safe, accepted and understood. They urgently need serious, comprehensive change in the culture of how women are seen and treated in the military. This would benefit not only women service members and veterans but our entire military and all of us.