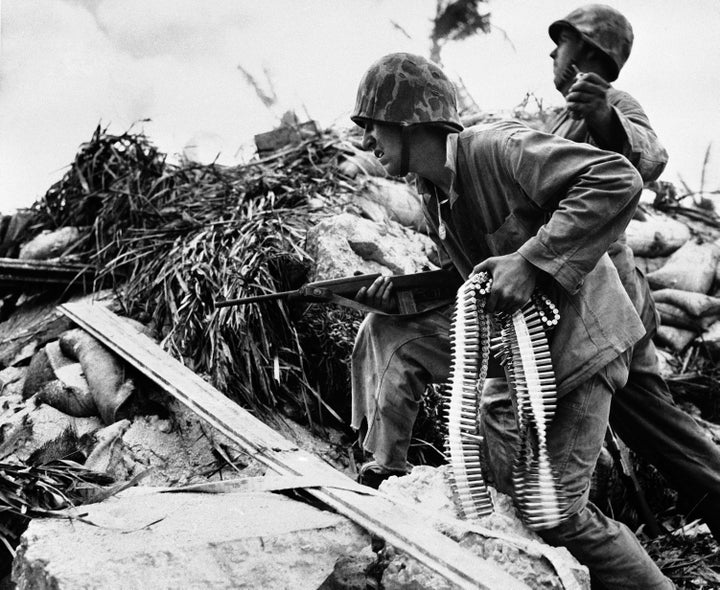 He never talked about his day at the beach. He wasn't a storyteller and I was not a prober. As a result, I don't know if he went ashore at Juno, Utah or Omaha.
Other than a nod provoked by a World War II film or newsreel, he never gave me a hail-of-shot-and-shell account of what he experienced on June 6, 1944.
In an unguarded moment, he spoke softly -- unexpansively -- about going over the side of a troop ship that was pitching in rough seas. He may have mentioned the rope ladders, and how they swung away from the side of the troop ship; how the gear on his back made the descent all the more harrowing. He may have mentioned being pounded by the waves as his landing craft made its way to the beach. He may have mentioned slogging through the water to get to shore. But it was through motion pictures, and the replaying of newsreel footage and recorded oral history, that I got some sense of what he must have heard, seen and felt.
He wasn't disposed to talking about himself -- not about his four plus years in the Army, nor about his forty plus years working for the same company. But in both careers, it is clear that he performed yeoman service -- loyal, steadfast, conscientious, unheralded service. I wish
I had pressed him for details.
What I know about my dad's service is gleaned almost entirely from his honorable discharge record: His date of induction was 29 March 1941. He entered active service that same day, at Camp Lee, Virginia. He was separated from the military on 23 August 1945, at Indiantown Gap
Military Reservation in Pennsylvania.
He was an Administrative Specialist 502, who had qualified as Marksman Rifle 03 Carbine. He never spoke about carrying a rifle, let alone firing one. I must have pressed him a bit on this, perhaps after watching a war flick. All I learned was that in addition to carrying a very heavy pack and a trenching tool, he carried a typewriter. He was a company clerk -- and was almost 38 years old when he waded into Normandy's European Theater of Operations.
He was abroad for 2 years, 4 months, and 22 days. His battles and campaigns are designated "GO 33 & 40 WD 45, Normandy, Northern France, Rhineland."
I was not surprised that he had received the Good Conduct Medal and the American Defense Service Medal. I wish I knew what kind of conduct or service merited the award of the European African Middle Eastern Service Medal with Bronze Stars. Perhaps it was nothing more
heroic than surviving with commendable poise and composure. He never talked about it.
On at least one occasion, I was able to extract a recollection. It was probably after we watched a war movie or a documentary produced to coincide with the 40th anniversary of the Normandy landing. I must have felt especially emboldened and must have pestered him about his encounters with enemy forces.
Reticently, with no animation, he briefly mentioned that three German soldiers had surrendered to him -- because he happened to be the first G.I. they encountered on the day they had decided that their part of the war was over. I got the sense that he was quite relieved to turn the Germans over to MPs. He was never given to boasting.
My father was separated from the military's 2512th Army Air Force Base Unit as a Staff Sergeant on 23 August 1945, after 4 years, 4 months, and 26 days of "Honest and Faithful Service to this country." Three days later he married the woman who would be my mother.
He returned to his job at Warner Bros. -- selling, booking, distributing motion pictures. There were no pieces of military memorabilia in his office or in our home. He was a member of the
American Legion, and another Veterans' organization, I believe, but he didn't march in parades. He was married in his uniform, but the attire, apparel, and trappings had all been discharged by the time I arrived.
Had he lived to witness the 50th anniversary commemorations of D-Day, he might have given me more of a picture of his WW II experience.
Current conflicts and "rattlings" abroad may overwhelm 70th anniversary commemorations. But 60th anniversary commemorations provided me with a bit of the history that he was part of. I am grateful to those whose recollections have been recorded and preserved. Through those accounts I have a sense of what my dad must have heard, seen and felt. I thank those veterans (many now departed) for that legacy -- for that Father's Day gift.
Joseph H. Cooper was editorial counsel at The New Yorker from 1976 to 1996. He teaches ethics and media law courses at Quinnipiac University. His "Pauses and Moments" columns appear at PsychologyToday.com.