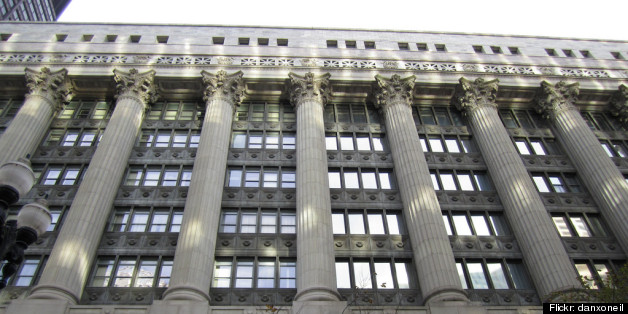 One would think that in a city that can't afford to keep its public schools and mental health clinics open, where the extreme poverty rate is the third-highest in the nation and where the unemployment rate has been essentially stuck around 10 percent for the past four years -- and that rate is much higher for black men in particular -- a 28-year-old able to snag a well-paying gig in the Mayor's Office would have some degree of humility.
Or not.
A publicist with Elle recently e-mailed me and asked that I take a look at a July 8 "Fashion Spotlight" feature on Anna Valencia, who is described as "Rahm Emanuel's right hand."
Valencia, pictured wearing a look costing over $5,500 from head to toe, is quoted in the short feature as saying her favorite designers are Michael Kors and Jason Wu, though she adds that "you don't make a lot as a public servant" so, presumably, she goes without those A-Listers' duds.
What qualifies as not "a lot" to Valencia? According to the city's database of current employees' salaries, that amount would be an annual salary of $64,992.
That salary, per GlassDoor.com data, is roughly $25,000 -- or nearly two-thirds -- higher than the median $40,000 salary of a Chicago-area administrative assistant. It is also roughly $37,000 -- or about 230 percent -- more than Chicago's current per capita income, or income per person, of $27,940.
This isn't really about Valencia, though. I don't personally know Valencia or her situation and I don't doubt that those dollars aren't hard earned -- as Valencia herself points out, the mayor is known for being fast on his feet and having, yes, something of a short temper. Her boss is also known in some circles as "Mayor one percent" and has been criticized in op-ed after op-ed as being out of touch with the needs of ordinary citizens. He is said by many to care more, instead, about the interests of the members of his so-called "millionaire club," such as those who successfully pushed for the city to chip in $33 million for a private university's new $173 million arena near McCormick Place.
Above all, Valencia's statement is yet another example suggesting where the mayor's priorities lie. It's difficult not to interpret it as an affront to all those other hard-working people who directly serve the public and who, thanks largely to both the city and state's frail financial health, are working to do so much more with so much less to help those in need day in and day out.
Teachers, staff and volunteers at any number of non-profit organizations and advocacy groups who feed the hungry, house the homeless, find treatment for the ill. Those are the people we, as a city and world, should be figuring out a way to pay what they truly deserve. Until then, those of us lucky enough not to worry about where our next meal is coming from or how we'll pay that next bill should take a moment to check our various privileges.