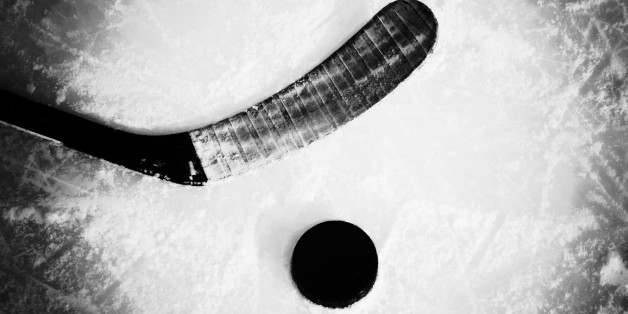 Every good thing comes to an end.
Last Thursday I played the last game I would ever play in a Thomas sweater. The team that I have come to know as my family will forever be that way. Club or varsity, it does not matter. I have been hurt and pushed through the pain for the man next to me, and the man next to him. I'm not completely leaving my dysfunctional family I call a team. I will no longer be out on the ice as Rocco.
I will never stop playing hockey till the day I die. It just won't be with my "Family". I will however be now known as coach Rocco. Just thinking about it gives me the chills. I am glad to pass on the knowledge of the game and passion for the game to younger generations, but nothing will ever feel the same as being on the ice with your brothers. No feeling will ever be as fulfilling as winning. No feeling will ever leave me as heartbroken than losing a big game that you poured your heart and soul into.
I honestly never thought I'd see the day where the words on the letter would be my own.
The numbers have changed on the back of my jersey a handful of times, but the passion and the love for the game hasn't. My stats are nothing that will get me recognized by the NHL, or any pro organization. The stats are just numbers -- they mean nothing. They are just numbers that basically say I was there when something happened or the reason that something happened.
For over 20 years, I have been playing hockey at a competitive form. The countless places I have been, and the countless people I have met all have left their mark in their own special way. The 27 guys I played with, who won a cup, I will never forget them.
No achievement in this game has been one that was done by one person. So to my teammates, I would like to say thank you. I could not think of a better group of guys to spend these 20-plus past years with. To my coaches, I would like to say thank you as well. Thank you for pushing me, thank you for helping me get to where I am now. I would like to thank the coaches that believed in me, and helped me get a "C" on my jersey. None of my achievements will ever begin with an "I", they begin with a "we". A team is a team for a reason. No one person makes up a team in the game of hockey. The good, the bad and the ugly are all part of the team, and each part of that group is what makes a team successful. I am going to end this letter here. But before I do I have a quote to use. Last one, I promise
"You've got to love what you're doing. If you love it, you can overcome any handicap or the soreness or all the aches and pains, and continue to play for a long, long time." -- Gordie Howe
Good bye, old friend.
Joseph Rocco Caraglia