Before last Saturday, the closest I had ever come to a surfboard was reading The Pump House Gang by Tom Wolfe circa 1969 when I was in college. But then I attended the premiere of an exhibit called Surf City Santa Cruz: A Wave of Inspiration at the Museum of Art & History at the McPherson Center in Santa Cruz, California.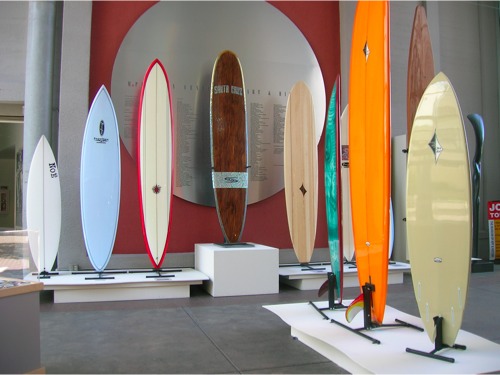 Paintings, posters, photographs, and videos of surfers doing their thing filled the three-story space in elegant fashion. But the highlights were the surfboards: a few highly polished plain wooden ones, some covered top to bottom with autographs, others painted in a dizzying array of psychedelic shapes and colors. Who knew that surfing could be such an aesthetic enterprise? I certainly didn't, so I was pleasantly surprised by the remarkable things I saw.
A stunning photograph taken in 2009 by Ken "Skindog" Collins titled "Inside Looking Out" shows the surfer himself "shooting the tube from the inside out." We see him on his board, obviously holding the camera behind him -- although of course it's not in the shot -- riding the inside of a massive curl. The extraordinary clarity of the picture is breathtaking. Skindog mentions in the explanatory tile next to the photo that photographs like this one convinced his formerly skeptical mother that surfing was indeed a worthy pursuit. Any photograph that persuades a mom that her son risking his neck is a good idea has to be a profound work of art.
One poster informed me that Prince David Kawananakoa, "the first board surfer on mainland at the San Leandro river mouth," practiced his craft back in 1885. So there were surfer dudes long before Ridgemont High's Jeff Spicoli. The boards were rather primitive back then, as an excerpt from the Santa Cruz Daily Sentinel of June 25, 1885 makes clear: "They had Redwood logs cut into slabs from the Grover lumber mill in the San Lorenzo Valley in Santa Cruz. Then [they] shaped them into surfboards."
Another poster invited me in spooky-looking blood-red capital letters to a "St. Valentine's Day Massacre Invitational Surf Shoot-Out," which apparently takes place every year. Another boasted "Mermen," with a colorful picture of Neptune holding his trident. These were fantastic: I thought I was looking at R. Crumb movie posters. But all of these works of art were created by real surfers, which goes to show that surfer dudes indeed prevail on many levels of cool.
Part of the exhibit was devoted to the legacy of the five Mitchell Brothers (the original Santa Cruz Surf Rats -- not to be confused with the infamous San Francisco brothers of the same name) who, in the 1950s, transformed a hobby into a business called Mitchell Bros. Surfboards. Their classic "longboards" are still among the most sought-after in California. And it's no wonder: they are sleek, colorful, skillfully-made labors of love.
We all know that music and surfing are familiar cohorts -- can you say Beach Boys? Yet I was intrigued to discover that singer-songwriter Jack Johnson is a surfer. One of his concert posters was on display, and it reminded me of what originally enticed me, a know-nothing when it comes to surfing, to visit this exhibit in the first place. It was another musical connection: Ginny Mitchell, the daughter of one of the Mitchell Brothers. My wife has known Ginny since grade school, and I know her through her two wonderful CDs, A Wild Rose and Just to Hear Your Voice. (She's a magnificent singer who falls about halfway between Joan Baez and Lucinda Williams; coming from me, that is the highest praise.) Yet neither my wife nor I knew of Ginny's association with surfing until a few days ago. You think you know a person, and then ... well, it's a familiar tale: People, as well as museum exhibits, sometimes pleasantly surprise you.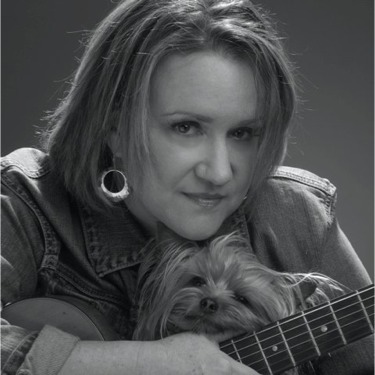 Ginny and her husband, Marty Collins, are co-founders of the Digital Media Factory in Santa Cruz, and they have enhanced the surfing exhibit with another labor of love: a video interview with surfboard builders Al Mitchell and Johnny Rice, which can be seen on the exhibit's main floor. The men seem quite pleased as they reminisce about the birth of the local surfing scene.
So there I was, a boy from Upstate New York, steeped in the alien world of surfing, surrounded by images of men and women seemingly walking on water, riding massive waves to celebrate being alive. What ran through my mind was a sense of wonder at the diversity and perhaps the frivolity of human endeavor.