Sports are increasingly used as a tool to reach international development objectives, like fighting drug addictions or the global obesity epidemic. But sports can also serve a national aim, such as peacefully protesting an unpopular government decision. Read on to learn more about initiatives using sports for development in six cities across the globe -- from Nairobi, Mumbai, Mexico City, Rio de Janeiro, Cairo, and Jakarta - and join the conversation on URB.im, the community for just and inclusive cities.
In response to the increasing violence that has spread around Cairo in the wake of the second anniversary of the January 25 revolution, President Mohamed Morsi implemented a curfew from 9pm to 6am, and a state of emergency law in certain governorates. Political activists immediately began mobilizing residents to take to the streets starting at 9pm. However, the one initiative that received the most media attention was not the "million man march," but the football (soccer) tournament, announced via social media, mostly Twitter and Facebook. By taking place in a public square just as the curfew was supposed to start, the tournament was a way to bring people onto the streets in a different manner than traditional protests, while still making a statement against the President's unilateral decision. It gathered support, online and offline, because it allowed Egyptians to come and cheer for each other, rather than protesting violently and congregating in anger or spite.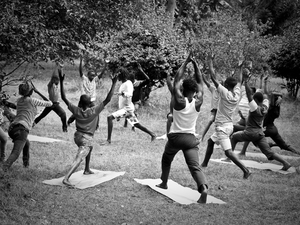 Every Thursday at 10am, a group of disadvantaged youth gathers in a park in Nairobi to engage in an intense two-hour session of power yoga. This African Yoga Project started as a way to provide therapy for the youth who lived through the post-election violence in 2008, and has continued to provide a calm respite from the chaos of living in a slum and in poverty. The project's goals are far-reaching; the objective is not only to give slum dwellers the chance to discover yoga, but also to provide employment for the teachers and, where possible, to invest in the community.
In Mumbai, drug and alcohol addiction is a common consequence of slum dwellers seeking relief from their high-stress lives. Rahul Pol's personal struggle with addiction while living on the streets led him to start an organization dedicated to using sports to help other young addicts. Athletics, Pol believes, teaches discipline, structure, teamwork, and, above all, gives young people a healthy outlet for spending their time. His organization also offers group and individual counseling, and once the recovery process happens, Pol connects the youngsters -- most of whom have dropped out of school -- with vocational training programs.
Four out of every ten primary-school children in Mexico City are overweight. The problem is strongly related to poverty: children living with low food security are 61 percent more likely to be overweight. The Mexican government and the Mexican Soccer Federation launched the "11 Plays for Health" program to promote healthy habits for children in vulnerable communities, which are taught to children through sports sessions in schools. Although the program is too recent to evaluate its impact, it is based on the "11 for Health" strategy implemented in various African countries, to great success.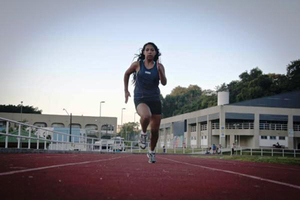 In Rio de Janeiro, the government has devised numerous programs that successfully integrate sports and education. 71 percent of the city's municipal schools offer sports activities, and there are a dozen "Olympic Villas," all located in low-income neighborhoods, which offer various sports programs to different age group, as well as recreational activities for the physically and mentally disabled. The "Rio fit for the Olympics" program provides neighborhoods that have low educational test scores with free sports and recreational activities led by experienced trainers. In addition, a new and innovative public sports facility provides low-income students who have exceptional sports skills with quality academic and sports training.
In Jakarta, the MILO School Competition is Indonesia's only school-level badminton tournament. Funded by Nestle, the competition exists not only to teach children important life values like teamwork and confidence, but also to develop the next generation of badminton champions. Primary and secondary school children all over the country participate, and the finalists attend a training camp that teaches them badminton skills as well as sportsmanship and leadership skills. This competition has existed since 2002 and has already produced notable badminton athletes, including two world champions.
Sports are therefore more than just a recreational activity, they are effective tools in making change, at the personal, local, or national level. Join us on URB.im, the global community for just and inclusive cities, to read more on this topic and to add to the conversation.