Mass rapid transit networks may be all the rage for municipal governments looking to revitalize broken transportation systems, but even these lauded 'low-cost' options often remain beyond the budgets of poor commuters. In these instances, cheaper informal transportation options arise to meet demand and create employment opportunities. Motorbikes, tricycles and rickshaws can constitute affordable alternatives, at the same time as they offer flexible routes and mobility through traffic to commuters of all income brackets. These vehicles are particularly essential to cities across the Global South, from Lagos and Delhi to Ho Chi Minh City and Jakarta.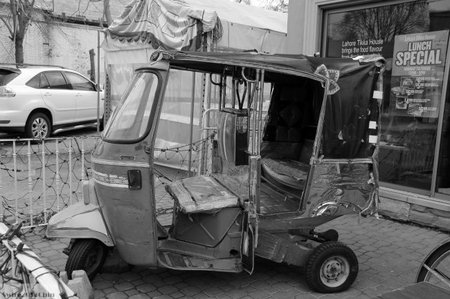 In Lagos, poor urban residents need affordable means of transport that can navigate through narrow, poor quality streets. Formerly popular "okada" motorcycles have been banned and, in their stead, a motorized tricycle called "Keke NAPEP" has arisen as the informal transportation sector's latest innovation. The Keke NAPEP is considered safer than the motorcycle because riders sit in a more enclosed vehicle. It also allows operators to carry multiple riders at once, earning more money with each journey. The vehicle's prevalence is a result of the government's National Poverty Eradication Programme (NAPEP), which provided poor citizens with these tricycles for free or at subsidized rates to equip them with earning opportunities. Endangering the initiative's appeal to drivers, however, are high union dues and the prevalence of corruption; the city authorities must find ways to regulate the sector to minimize exploitation.
Three-wheeled vehicles also play a crucial role in Delhi. An electric tricycle known as the E-Rickshaw provides affordable transport between the public metro and bus systems to areas ignored by formal services. Although E-Rickshaws were recently banned for not meeting the motor vehicles department's requirements, the Ministry for Road Transport reversed that decision in June on the grounds that they constitute non-motorized vehicles. Currently, however, the restrictions of the ban remain. The absence of urgency in returning the E-Rickshaw to the street suggests that the government does not fully recognize the informal transport sector's critical contributions to poverty alleviation. In contrast, an initiative called the Rickshaw Bank focuses on precisely that potential of informal transportation. Its traditional but newly designed rickshaw is paired with efforts to provide rickshaw pullers with affordable insurance and licenses.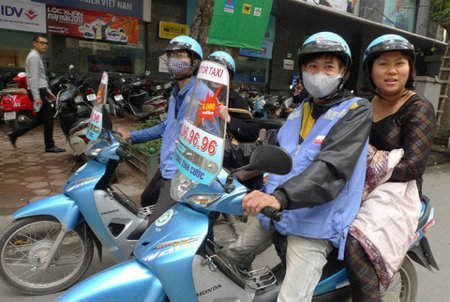 Ho Chi Minh City is no stranger to motorcycle or scooter taxis, but "smart" moto-taxis are a relatively new phenomenon. Emerging in 2012, smart moto-taxis are installed with taximeters to avoid bargaining disputes and GPS devices that allow companies to monitor their drivers' locations. Like earlier motorcycle taxis, smart moto-taxis are more affordable than formal transportation and they maintain the mobility to navigate through traffic or narrow lanes, but now professional companies guarantee driver quality and bike safety. Monitoring by the taxi companies has created safer opportunities for more women to find work as drivers. However, because the taxi services remain beyond the official domain of the Department of Transportation, drivers are excluded from unions and the guarantees of certain labor laws. Critics also note that the growing popularity of individual taxis serves to put more vehicles on the streets.
Taking formal public transport in Jakarta risks getting stuck in traffic for hours. The "ojek", or motorcycle taxi, has long been a popular means of traveling faster by winding through traffic jams. In the past, ojek travelers have had to forego safety and comfort for speed, but in 2010 a multi-service business named Go-Jek was founded to professionalize the motorcycle taxi industry. Go-Jek guarantees its customers improved safety and comfort as well as fixed rates to avoid bargaining disputes. Existing ojek drivers are recruited into the Go-Jek business, from which they receive training and regular salaries along with bonuses based on commissions. In addition to the regular service of transporting people, Go-Jek also offers document deliveries, laundry pickup, food delivery, and even visa pickups from the consulate.
Clearly not without their unique sets of limits and challenges, informal means of transportation still provide innovative and affordable alternatives that can alleviate the burden of poverty. Check out more of the discussion on transportation and work on URB.im and share your thoughts.
Photo credits: Canadian Pacific, and Hoang Diep - Vien Su