The best solutions are often those that effectively tackle multiple problems at once. Around the global south, cities struggle to provide electricity and energy to all their residents, and unsurprisingly, the poorest residents are most likely to remain disconnected from formal power systems. Many of the same cities also face an immense garbage challenge: what to do with overwhelming amounts of unsanitary and even toxic waste that increases as both population and consumption levels rise. Nairobi, Cairo, Rio de Janeiro, and Surabaya offer four models of projects that aim to address both these issues: transforming waste into an affordable source of fuel.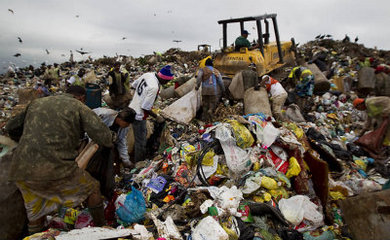 It is estimated that the average household in Nairobi spends around USD $100 a month on charcoal for cooking. The price spikes further in the rainy season, and charcoal contributes to deforestation and climate change. At the same time, the practice of open defecation also poses environmental and health risks. Founded in 2007, the organization Umande Trust addresses both these issues by operating 72 biogas centers across Kenya -- 44 of them in Nairobi's informal settlements -- that provide improved sanitation options, income-generating opportunities and an affordable and highly sustainable source of fuel for cooking for tenants of informal settlements. Each biogas center has an underground digester that uses bacteria to digest human waste, which converts into an acid and then liquid before being piped out to communal kitchens and sold to individual residents. This fuel costs households only $4 per month.
With a 7-percent annual rise in electricity consumption in Egypt over the past decade, the country has faced increasing numbers of energy shortages since 2010. The demand rate is now more than the actual power-generation capacity. The development initiative SolarCities has helped households in one of the poorest and most populous districts of Cairo, Al-Darb al-Ahmar, build green technologies made from recycled materials and use solar power to heat water and cook. The project started with workshops on the creation and installation of solar hot-water systems using recycled waste, as well as biogas usage and rooftop gardening. Then the project helped residents identify the best technologies for their own homes and helped them build solar hot-water heaters and biogas digesters from waste, enabling them to turn regular kitchen waste into clean fuel.
About 1 million Brazilians still do not have access to energy. At the same time, Brazil is the fifth largest producer of solid waste on the planet, and its informal garbage dumps receive approximately 79 tons of debris daily -- potential raw material for the production of biogas, a biofuel produced with methane from the decomposition of organic matter. Since 2011 the Saropedica Waste Treatment Centre has stored and processed approximately 9,000 tons of debris daily that used to be discarded at the Gramacho dump, which has been converted into a biogas plant. The production is significant: 70 million cubic meters a day -- a volume that could supply all commercial establishments and residences in the state of Rio. For now, the bioenergy generated in Gramacho is used at an oil refinery, Reduc, but it's soon expected to supply its surrounding neighborhoods, areas of extreme poverty.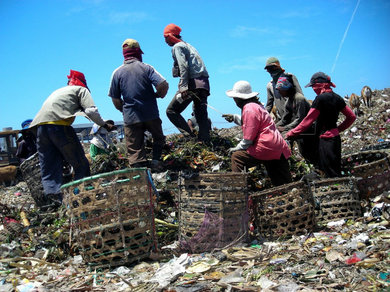 The issue of urban waste is serious in Surabaya. The problem stems not only from the lack of public awareness about keeping the environment clean but from the weakness of the government in terms of waste management. Surabaya produces 1,300 tons of waste daily, which is stored in final-disposal sites or landfills throughout the city. The adoption of zero-waste technology provides an alternative for urban waste such that it is not disposed but reused in some way: Items with economic value are recycled, waste waters are processed, and the rest is composted and used as material for power plants. With increasing amounts of waste, the government will soon install waste-based power plants in two other locations so that the electrical energy generated can help more of Surabaya's citizens, particularly those who cannot currently afford reliable electricity from traditional power plants.
Check out more of the discussion on light, heat, and energy powering poor communities on URB.im, and contribute your thoughts.
Photo credits: Extinto lixão de Gramacho, Folha de São Paulo; Anton Muhajir