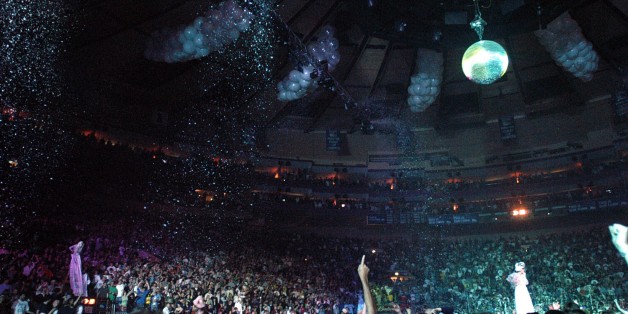 "It is so amazing to be standing out here in the middle of this whole thing with you guys," says the man on the stage.
Twenty thousand people roar.
"'Cause we've been standing on one end for 30 years," he continues, "just trying to get our message, our message across to you all. That's what we do up here. You know, through the music, we have a message. We have a message that we'd like to try and get to you. Vibrations from our hearts to yours."
Twenty thousand people sway, some with hands raised to the heavens.
"Now, the thing is, some of you aren't getting the message," he says. "And it's pissin' us off. So, you know, we're here, tonight -- TONIGHT! -- in the middle of Madison Square Garden, to give you the f*cking message."
Twenty thousand people flail and scream and fist-pump in devotional ecstasy like the man on stage didn't just insult their listening skills.
That's because the man on stage is Trey Anastasio and the 20,000 freakers-out are celebrating New Year's Eve in their favorite way ever: with Phish at MSG.
So, are they getting the message?
In the documentary Bittersweet Motel, director Todd Phillips gets Anastasio to read negative reviews, including the following gem: "Phish could urinate into it's fans ears and tell them it's music. The fans, in turn would be there with tape-recorders to capture the moment."
Phish's critics rarely get the message. The New York Times' coverage of their four-night run at Madison Square Garden focused on how many fans were arrested outside of the sold-out shows -- as though drug arrests at a Phish concert is somehow newsworthy -- while neglecting to mention that these were the band's 28th, 29th, 30th and 31st performances at the legendary arena since 1994 and that they marked Phish's 30th anniversary of playing music together.
Some fans, too, have a hard time hearing the message.
"I don't think our fans do happily lap it up," Anastasio said in Bittersweet Motel after reading through that bit of journalistic micturition. "I think they go online and talk about how it was a bad show."
In fact, in the years since the Internet's infancy, fan-written commentary about or inspired by Phish has ballooned. A fan base as devoted, critical and prolific as this would be hard to find. However, rather than burst, as over-blown bubbles threaten to do, the creative community surrounding Phish online and at shows seemed, in 2013, to bloom and bear multi-colored fruit.
No longer was it about proving which show is the "best ever" or why such-and-such years were golden while this-or-that era was uninspired. Instead, the mantra became, simply, "thanks," and the years of divisive criticism gave way to collective praise.
Ultimately, we got the message. So when Anastasio admonished the crowd about not listening, the 20,000 people who got the joke screamed in delight, and those few who didn't probably went home and wrote a bad review on the some forum that's really not worth your time.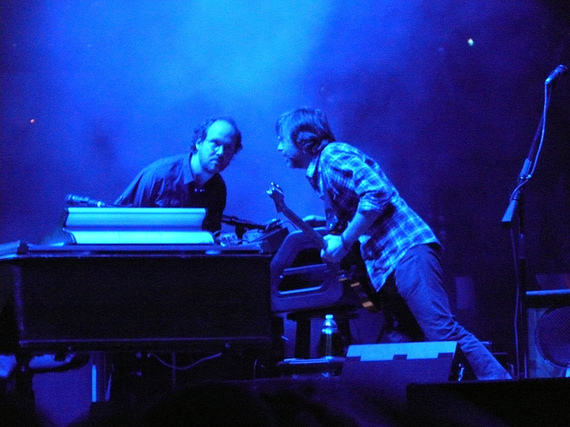 via flickr/ebutter
Hear, O Phishheads
"As a leader," Joey Weisenberg writes in his book about using music powerfully in Jewish prayer, "you must continually demonstrate both how to lead and how to listen."
Before I learned about listening in a Jewish prayer context, I learned about it in the shul of Phish. As a young fan, and amateur guitar player, theirs was an infinite well of ear-training, heart-opening music. I learned a lot about music from listening to the members of Phish listen to each other. Traveling to show after show, spending hours dreaming of the next setlist, airing my disappointment (or elation) with friends about song choices, listening and re-listening endlessly afterward -- this process of fanatical exploration taught me that it wasn't, isn't and will never be about me (or, for that matter, them). Listening with intention trained my heart and opened my ears to the moment. Expectations not included.
In Hebrew, each letter in the alphabet has a numerical value. The letter "Lamed" equals 30, and the word lamed means both "to learn" and "to teach." In this, the 30th year since Phish formed, I hope to complete the first iteration of the Phish Talmud, a compilation of everything I've learned from listening to this band's music and how that wisdom is paralleled in the Jewish tradition. Of course, this is my spiritual path, so any synchronicities I've noticed are subjective. (I wasn't surprised, for instance, that the reporters who wrote the abovementioned NYT article are named Rosenberg, Schwirtz, Goldstein and Goodman. Jews are fans and critics both.) I'm listening with my heart, and trying to contribute to the conversation in the only way I know how. Point is, whatever Phish wants to play is all right with me. I get the message.
"Now, if we're gonna keep blaring it out to you and you're not gonna get it, I've gotta make one suggestion," Anastasio said from the makeshift stage in the middle of MSG next to bandmates Jon Fishman, Mike Gordon and Page McConnell. "If you can't get it from us, there is a book that you can all read."
The 20,000 people who cheered in response were not, as much as it would make my job easier, screaming for the Torah. People of the Book they may be, but Anastasio was preaching about the Helping Friendly Book, something he made up as a kid with some friends and is now part of a beloved song cycle Phish has been playing since the early days.
In this fairy tale, the Helping Friendly Book, which contains the secrets needed to keep the world in a state of utopian peace, has been stolen by an evil dictator, who uses the ancient wisdom to enslave all the people of the land. These sad souls forget everything: why they are here, the reason everyone smiles and cheers, the purpose of living. The beating of their own hearts they can't hear. They ignore their inner voices, choosing to become violent, aggressive, depressed and complacent. They become critics. They kvetch. They enter a sort of death.
It's true that haters gonna hate. It's also true that the music never stopped. The message is: Choose the side of song. Get swept up by the melody, and sing along.
As the good book says, the trick is to surrender to the flow.
Josh Fleet, a former editor for Religion at The Huffington Post, is a Jerusalem-based writer completing a book about Phish and Judaism. To contribute to the project, reach out on Twitter: @PhishTalmud.
PHOTO GALLERY
Juggalos, Phans and the Bands They Love