Yesterday, I went to the Dadaab refugee camp in Kenya with a delegation including longtime ONE supporters Cindy McCain, NBA legend Dikembe Mutombo and musician K'naan. We were there to learn how aid agencies are responding to the crisis and talk to those living in the camp about the situation.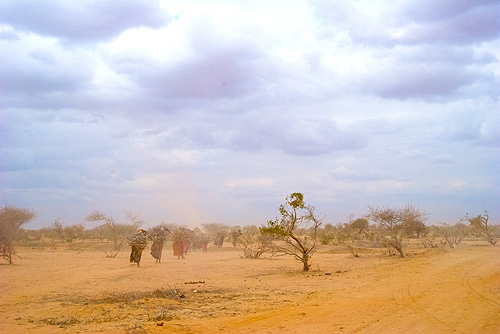 Women gather wood to make fences around their tents.
Dadaab is the largest refugee camp in the world and is growing at approximately 1,200 people per day. Most of the people there have walked hundreds of kilometers through a climate that takes the term "dust bowl" to the extreme. A deep breath with an uncovered mouth is uncomfortable and unhealthy. There is nothing edible growing and frequent wind gusts suffocate and blind everyone. Despite this, the place has an eerily peaceful and uncomfortably permanent feel to it.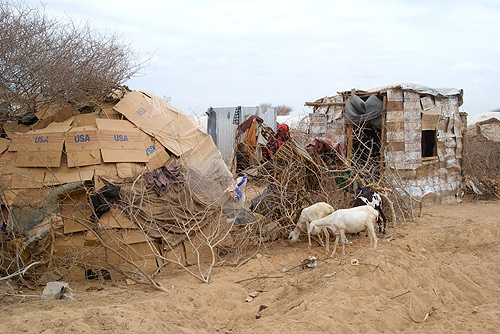 Nothing goes to waste.
Tens of thousands of people have lived in the camp for 20 years, and many who were arriving at the camps openly shared their sentiments that they would be there for years, if not the rest of their lives. They fled drought, but more they fled a conflict that has been under-reported and under-responded for a decade. Some in the camps are Kenyan, but nearly all are Somalis who have been under-served (rather, "unserved") by the lack of a functioning government and unresolved conflict in their country. The solutions are therefore complex. But, here are some clear takeaways from my conversations.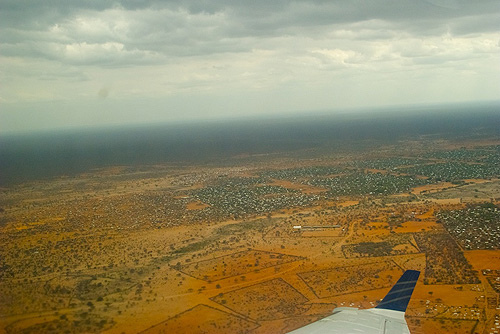 An aerial view of Dadaab.
Dadaab camp should be called Dadaab City. Though not politically sensitive to say, if looked at that way, it is now the fourth largest city in Kenya. The camp has been there for 20 years and with no end in sight of the political turmoil in Somalia, it will be there for a long time and will grow from the 420,000 people in the camp now to more than 500,000 in the next several months. Aid workers, including those from the World Food Program, the UN High Commissioner for Refugees (UNHCR), CARE, Oxfam and others are doing heroic work in the most challenging situation. They are delivering 3.5 metric tons of food every day and providing health services to nearly half a million people (beyond those in the camp). Though there have been larger refugee camps in history, many workers who have been in several camps said to me that this is one of the more difficult settings to do their work.
The current rate of refugees arriving is expected to continue for six months. UNHCR needs 45,000 more tents to house people as they arrive; they only have 11,000 now. They need those tents by late this year if the current rate continues. There are two additional major concerns on the horizon. First, at the current rate, the camp may reach the boundaries set by the Kenyan government which could mean turning people away. Second, though the region is facing a drought, there are expected to be flash floods in four to six weeks. Those who are waiting to be registered at the camp and are currently living at the outskirts are in flood planes and risk losing their possessions and lives if they are not registered and moved into the camp (which is slightly elevated above the surrounding area). UNHCR is prioritizing the registration and assigning of plots and tents to those who are in the highest flood risk areas, but are racing against time.
Despite heroic efforts by aid workers, these living conditions are unacceptable. Long-term solutions are needed. This crisis will be protracted. It will require long-term resources to support the camp and political will to help prevent a famine from happening again, like investments in agricultural productivity and ensuring easier access to food. The critical component is finding a long-term path to peace and progress in Somalia. Nearly everyone I spoke to conveyed a sense that there will not be either of those things in Somalia anytime soon. That is what leads to a sense of permanency among those arriving and settling in the camp. I am not an expert on Somalia; I know too little about an enormously challenging security and political situation. But as this crisis unfolds, we must keep it in the public's attention and ensure that the media coverage, advocacy and eventually solutions are not allowed to escape from their responsibility of supporting a process that returns stability to the Horn and supports, rather than stifles, the entrepreneurship of Somalis.
I've traveled across Africa during the last several years and seen the progress being made on this continent, including in the Horn of Africa: brilliant scholars, creative entertainers, entrepreneurs and a generation of people looking to change the narrative of the continent with their actions. Dadaab is a throw back to the images of Africa nearly 30 years ago during the famine in 1984. Africa has changed a lot since then and the signs are everywhere, but this crisis demands more attention than it is getting. Without that, the crisis threatens the progress made in the region and will set back progress for years.
Take action against the Horn of Africa crisis and tell our world leaders to help stop the starving and its causes now.