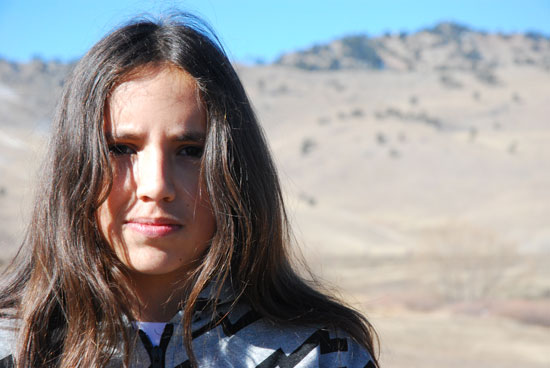 Xiuhtezcatl Martinez, a 12-year-old musician and activist from Boulder, is featured in the seventh annual Colorado Environmental Film Festival in Golden, Colo.; Feb. 21 to 24, 2013. PHOTO: Joshua Berman

GOLDEN, COLO. -- I first learned of Xiuhtezcatl Martinez's unique story in a short film called Stories of Trust: Colorado. The eight-minute film, directed by Kelly Matheson, is one of 50 stories featured in this year's Colorado Environmental Film Festival (CEFF, February 21-24, 2013) at the American Mountaineering Center in Golden.
Xiuhtezcatl Martinez -- his name honors his father's Aztec heritage -- is a 12-year-old middle school student who lives in Boulder. He is a musician, public speaker, and above all, an activist. Last summer, Martinez was the youngest speaker at the Rio+20 United Nations Conference for Sustainable Development in Brazil.
"Our government has this thing called 'the public trust,'" Martinez says in the video, "and it says the water and the air should be protected for everybody to enjoy."
In the film, Martinez discusses why he joined the Atmospheric Trust Litigation, a class action lawsuit brought by 400 young plaintiffs from across the country against the government. The suit maintains that under the Public Trust Doctrine, our government is obligated to take more aggressive action to battle climate change.
When I meet Martinez outside a coffee shop, he sits up, leans into the sun, and speaks with the same passionate, almost urgent tone that filled his voice in the video. He just returned from meeting with fellow environmental activists in Australia, and he is freshly inspired.
"I think we will play a huge role in waking up other generations," Martinez says of his fellow millennials. "The movement has to begin with us because we will be the most affected."
The groundbreaking ATL lawsuit is one of many stories viewers will hear in Golden at the seventh annual Colorado Environmental Film Festival. Shawna Crocker, an environmental educator with the Colorado State Forest Service and one of the founders of the Colorado Environmental Film Festival, reports, "We have lots of ultra shorts this year, and a couple of films we're excited about, including Scars of Freedom, by Celine Cousteau, and the festival's opening feature film Watershed: Exploring a New Ethic for a New West, executive produced by Robert Redford, and shot mostly in Colorado."
"People will recognize the places and events," she says. The film discusses how the Colorado River, "the most dammed, dibbed, and diverted river in the world" is struggling to support thirty million people.
Drought and water play major roles in this year's festival. Remains of a River, for example, directed by Will Stauffer-Norris, follows two men as they float and follow the Colorado River from source to sea, traveling 1,700 miles from Wyoming to Mexico and witnessing firsthand the effects of human pressure on the river.
Another highlight of this year's Colorado Environmental Film Festival is the world premiere of Rocky Mountain PBS's new television series called The Urban Conversion. The show follows host Rodman Schley, "a city slicker businessman trying to understand what it takes to make a smaller carbon footprint in the world."
Festival organizers expect between 2,000 and 3,000 people to show up in Golden to view films and attend the Call2Action Eco Expo, a gathering of local businesses offering answers the question, "What can I personally do to affect this issue?"
The festival isn't all about Colorado and the West. The water theme makes CEFF very much an international affair. I'm looking forward to the 60-minute documentary film My Village, My Lobster, shot and produced over four years by Joshua Wolff and Brad Allgood. It tells the action-driven story of indigenous Miskito lobster divers in northeast Nicaragua. The viewer actually boards their rickety boats and sails with the men who risk their lives diving for the Caribbean spiny lobster.

The seventh annual Colorado Environmental Film Festival is Feb. 21 to 24, 2013, at the American Mountaineering Center in Golden. More than 100 films were screened from around the state and the globe; 50 will be shown, with awards given in the following categories: Spirit of Activism, Best Feature, Best of Fest, Best Short, and Best Youth Film. For more details, including the full program, vendor, volunteer and sponsorship opportunities, visit: www.ceff.net.
On Monday, February 25, 2013, I'll be hosting the Boulder Premiere of My Village, My Lobster, and a screening of TRUST: Colorado, featuring a live appearance by the filmmakers and by youth activist Xiuhtezcatl Martinez, at the Nomad Theater. Please come.