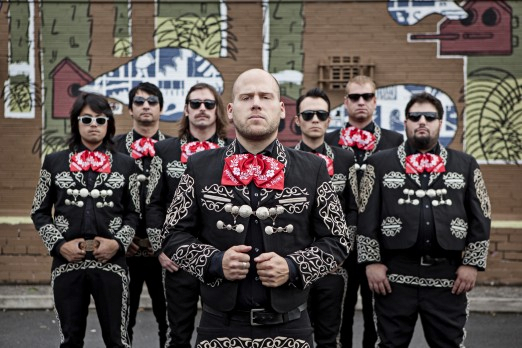 The Bronx is a hardcore punk rock band from Los Angeles. Their music is "abrasive and aggressive," as Matt Caughthran, the lead singer, describes it. Not so the band's alter ego, Mariachi El Bronx. That's what the The Bronx will become when they don their traditional trajes de charro and take up Mexican folk instruments and rhythms, in a concert with Two Gallants this Thursday, May 17, at the Fox Theater (9 p.m., tickets are $17 at the door).
What began as a bit of a prank -- playing mariachi style when The Bronx was asked to do an unplugged set a few years ago -- has turned into a journey of learning the music, producing two albums and going on tour as both bands. NPR music critic Tom Moon called Mariachi El Bronx "A lively and surprisingly kitsch-free take on a music steeped in tradition."
I talked to Caughthran about his upcoming show and why his band was drawn in this direction.
"Mariachi music," he said, "is every bit as much a part of the soundtrack to southern California as punk."
What was it like, I asked, for his band to learn an entirely new genre on new instruments?
"It was the most rewarding thing we've done as artists and musicians," he said. The biggest challenge was "to take a style of music you love and give it the respect it deserves [so that] no one thinks you are shitting all over a genre or culture."
In punk music, says Caughthran, you "plug in and play and everything is loud is awesome, and there aren't many rules." With mariachi music, however, it is the opposite. "There are rules, and certain rhythms you have to abide by." For Mariachi El Bronx members, that has meant learning and sticking to the rules and then writing original music with English lyrics within them.
"You have to be genuine and you have to be authentic," said Caughthran. Fake shit doesn't fly, and that's the way it should be. Mariachi music comes from the heart, from the soul -- you have to come at it from a real place."
The band had their charro suits hand-tailored in Boyle Heights, ground zero for mariachi culture in the United States. "We've been wearing the same suits for years now," he said, performing at all kinds of venues and festivals. [Our charro suits] stink, but the feeling of putting them on is like nothing else. Those suits have been around the world and then some, and when you put them on, you know it's time to go work."
Mariachi El Bronx is ready to go to work in Boulder this Thursday. "We always have a fucking blast in Colorado," he said.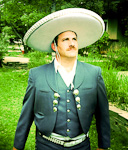 Joshua Berman is a freelance writer based in Boulder, CO. He owns a blue traje de charro which he bought out of the trunk of a musician's car in Mariachi Plaza, on 1st Street and Boyle Avenue in Los Angeles.