The short narrative film Volar en línea recta ("Fly in a straight line") by The Ninth Octave Films, introduces the talents of nine young northern Nicaraguans who had never acted before. Norman Flores, Walder Casco López, Anajhenci Gutiérrez Merlo, Jorge López Herrera, Janner Padilla Huete, Junior Mejía Padilla, Lenin Baez Moralez, David Uriel Nolasco Rodriguez, and Jarling Flores, first met Director Douglas Cushnie during his annual trips to San José de Cusmapa, their town in northern Nicaragua, near Somoto and the border with Honduras.
For years, Cushnie had worked with youths and students through the Fabretto Children's Foundation, a well respected non-governmental organization operating throughout Nicaragua. Volar en linea recta is a uniquely grassroots film project, partly in coordination with Fabretto Children's Foundation itself (they also helped with logistics), and successful crowdsourcing campaigns to fund each stage of production.
Volar, writes Cushnie, "is loosely based off of the poem 'Las Loras,' (The Parrots) by Ernesto Cardenal, as well as the real life stories of many of the actors involved in the film."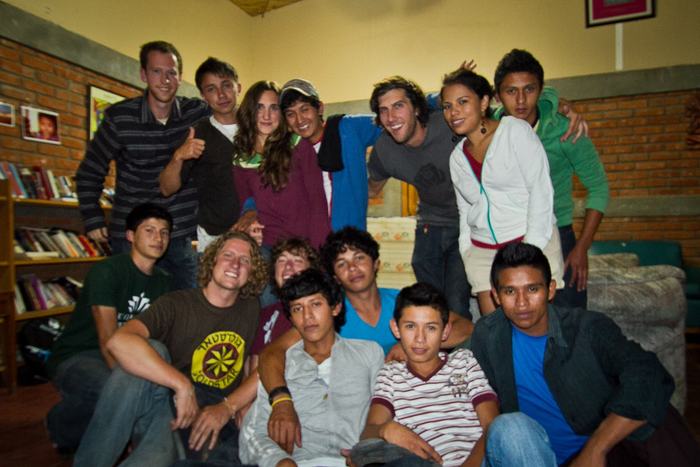 Wrap party with cast & crew in Cusmapa, August 2012
"They killed it beyond belief," said Cushnie of his untrained actors and former students, "because they worked hard and made the parts their own."
Post-production on the film is nearly complete, as soon as Cushnie raises enough cash in a Kickstarter campaign for the next phase of the film, i.e. "to make a couple more beautiful things happen in the world of post-production."
# # #
Related: Music Video Premiere of "Guerra Solo Muertos" by Moisés Gadea
Joshua Berman is the author of Moon Nicaragua and other guidebooks; he is assisting with press efforts for the film "Volar en línea recta"