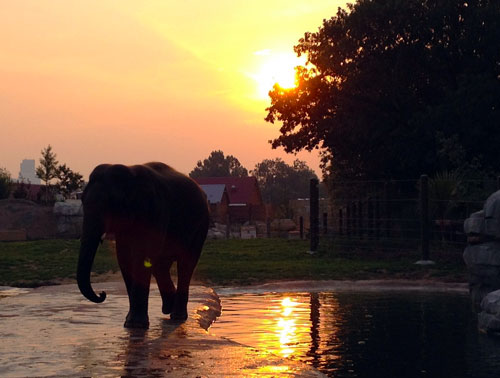 I am walking beneath Tibetan prayer flags at dusk, watching an Asian bull elephant bathe itself with grass and straw in front of a dusty orange ball of a sun. Two gibbons swing hand-over-hand across vines above; flying foxes with four-foot wingspans creep across branches inside; and around the next corner, clouded leopards prowl for food.
This is my first visit to the Denver Zoo's $50 million effort to create an otherworldly experience with their groundbreaking 10-acre Toyota Elephant Passage. They succeeded. In addition to Asian elephants, Indian rhinos and Malaysian tapirs, the visitor's path is embellished with details like giant Buddhist prayer wheels, stacks of Sri Lanka tea crates and other touches. Then, in less than an hour -- and without having needed shots or a passport -- I'm back home in my own bed.
Don't get me wrong: If you have the time, means and money to get out of the state and/or country -- go! But if you don't, less obvious travel opportunities are around every corner.
A few nights after my Coloradan-Asian safari, I hear African drums snapping and popping outside my living room window. That's how close I live to Nomad Theater, a community event space, where the stage is often transformed into other countries. It's not uncommon to find musicians and dancers in costumes from all over the world, milling about the backstage door at the end of our shared parking lot, speaking some fast, unidentified language and laughing as my daughters and I walk by with groceries.
I love these reminders that travel is more than a one-way road, more than typical cross-cultural clumsiness and the bliss of being a foreigner in a strange land. There are foreign perceptions of that person while abroad; there are the ways the traveler represents his or her homeland; there is how, after returning from their journeys, travelers tell their stories and show photos to their friends and family, a part of the process as integral as the trip itself.
On this evening, I heed the call of the drums. My daughters are asleep and my work is done, so I pad across the parking lot to the theater entrance. As I suspected, the event was organized by Kissidugu, a local drumming and dance troupe with the mission of inspiring people "to connect to themselves, to one another and to their community through music, dance and dialogue."
Whether it's using elephants, four-pound flying foxes, music or movement, "to connect" is a noble mission, I think. I happily contribute a ticket fee and my presence to it, and then I am in the front row, staring up at a rural village in West Africa. Guinean dancers slide and prance across the stage in front of a giant painted backdrop of a market scene. The colors are primary and flaring in every direction. Loud costumes, loud drums, driving marimba and excited shouts all bring this little neighborhood theater to life and fly it somewhere far, far away.
# # #
This essay originally appeared as a travel column in The Denver Post. Joshua Berman is the author of "Moon Nicaragua" and "Moon Belize." He can be found on the Web at JoshuaBerman.net and on Twitter at @tranquilotravel