While it might seem passé to talk about food and New York City in the same sentence... Somehow, the New York City Wine and Food Festival (NYCWFF) continues to astound me and this year did not disappoint as it breathed a sense of foodie urgency into the crisp city air that caused an unmistakable rumbling in this "New Yawker's" stomach. I admit it the hairs on the back of my neck stood up when I entered the likes of Burger Bash and plunged into carnivorous nirvana trying to act unphased as Guy Fieri nonchalantly asked me, "Do you like MY hamburger?" Taking to the Upper West Side this year most of the festival activities were a continuous ride on the Foodie Express.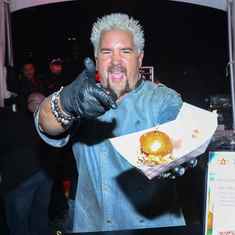 Photo Credit: Billy Farrell Agency
Founder, friend and fellow eating buddy Lee Schrager was once again nearly omnipotent with appearances at every event materializing arm and arm with Food Network celebrities and mingling with guests in an unscripted ebb and flow where bonds were forged and friendships were built.
In a city with so much to see and one that has seen so much, the Annual New York City Wine and Food Festival reminded me that despite my protests, it takes but a good meal to strip away my self-imposed walls and in the name of all things edible allowed me to turn my life over to a power greater than me -- food, friendship and this year my favorite event Burger Bash.
The Blue Moon Burger Bash on Pier 92 brought a unique twist to 27 burgers ranging from iconic classics to the more exotic Asian inspired where nothing was off-limits and where Tater-Tots and chocolate covered potato chips entered into an unapologetic bromance to create some over-the-top pairings. It was a night to celebrate the burger and those who build them and, according to The Food Network,
"For the first time in the Burger Bash's history, two chefs shared the most coveted prize of People's Choice: Guy Fieri and Josh Capon. Judges' Favorite went to Paul Denamiel of Le Rivage for his French Onion Soup Burger. Guy's burger was a multi-layered comfort food smorgasbord that Guy himself claimed contained 22 ingredients."
Add to this Marc Murphy's offering, the "Sweet Cheesus," which basically summed up the event and finally allowed me to embrace a simple truth: "My name is Joshua and I am addicted to hamburgers." I am told admitting I am powerless is the first step in recovery.
PHOTO GALLERY
New York City Wine and Food Festival: What A (Burger) Bash
Note: Permission and credit for all photos courtesy of Billy Farrell Agency - photographers of record.